Erstens können beginnen mit dem, was Hang zum Bitcrushing ist. Denken Sie an die alten Tage der Synthese, Speak
Aber es war nicht nur elektronische Geräte zur elektronischen Musik, ein Geräusch wie dieses hatten ausgerichtet. Es gab auch Loop-Pedale für Gitarren, die eine sehr LoFi-Sound hatte, frühe digitale Gitarre Pedale, Verzerrer, bestimmte Verstärker, etc. Wirklich, wenn man darüber nachdenkt, alle zehn Jahre, dass die digitale Aufnahme (80s, 90s) eingesetzt hatte eine bestimmten Sound.
Also, noch einmal, was ist Bit Crushing? Es ist ein Prozess, durch den Sie unten die Sample-Auflösung und die Bitrate der Aufzeichnung. Zum Beispiel: Änderung der Aufnahme von einer Audio-CDwhich hat eine
Warum Bitcrush Anything?

Aber nochmals, warum sollte man dies tun?! Ich kann die Antwort:
Pristine sound = Classical track.

Pristine sound + bit crusher = Dirty, growly recording with a lot of character.

Denken Sie daran, es ist nicht für jeden Song, jedes Instrument, etc. Die für die Spuren, die einen rohen, bösen Charakter braucht.
Schritt 1

Werfen wir einen Blick auf die Logic Bitcrusher jetzt und auch ein wenig zuhören vor und nach: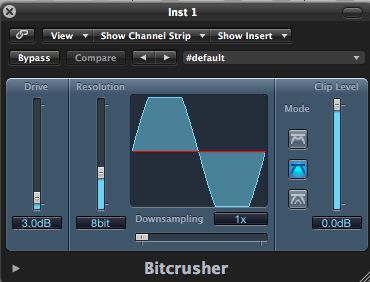 Die trockene Audio-Sample:
[Audio-id = "6970"]

Zu betrachten dieses Plug-in, könnte man meinen, es wäre besser geeignet für Raum-Zeit tobt durch die Stratosphäre. Es würde Drachen hier zu sein.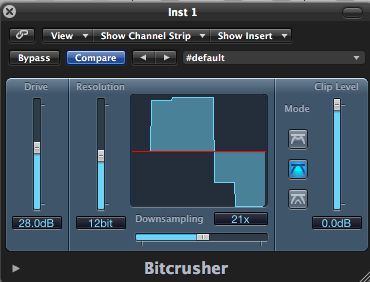 Schritt 2

Der Drive Regler ist, was Sie zu einem Overdrive-Effekt in Ihren bitcrushed track vorstellen verwenden. Wenn Sie ihn zu erhöhen, youll feststellen, dass die Grafik in der Mitte ändert. Grundsätzlich youre immer, dass verzerrte Lautsprecher-Sound, ohne dabei machen die Signalspitze. Ja, es erhöht die gesamte Signal, aber kein ton. Ich würde noch empfehlen slapping einen Limiter auf dieser bad boy. Perfekt für böse Drum-Loops, Gitarren, Synths knurrig, etc.
Hören wir diese Bass-Synth mit dem Drive gekröpften:
[Audio-id = "6972"]

Schritt 3

Als nächstes wäre die Neuberechnung, die den simulierten Sample-Frequenz steuert, und die Auflösung Schieberegler, mit dem Sie stellen Sie die Bitrate ermöglicht werden.
Lets Stellen Sie die Auflösung und Downsampling Schieberegler und sehen, was weve bekam.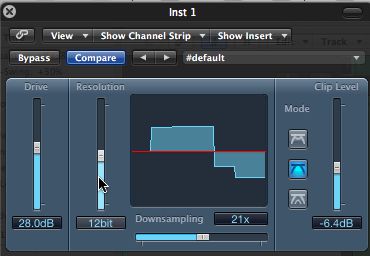 Niedrigere Auflösung Probe:
[Audio-id = "6971"]

Schritt 4

Schließlich bekam youve die Mode-Tasten, die die Art der digitalen Verzerrungen, Sie werden immer zu bestimmen. Diese Modi sind viel mehr Spaß, wenn Sie tatsächlich experimentieren mit ihnen, anders als darüber zu lesen. Aber der Clip-Ebene ist entscheidend für die Abdeckung, da sie die Schwelle des Channel-Strip im Grunde, wo die Verzerrung beginnt Sets. Und, wenn Sie auf den Pfeil am unteren Rand klicken, können Sie tatsächlich die Mischung von wie viel Hang zum Bitcrushing angewendet wird.

Okay, theres meine Predigt. Hoffentlich hat dieser ein Interesse an der Erprobung der alten Bitcrusher ausgelöst. Bei der Suche youre ein wenig Schmutz in Ihrer Aufnahme, couldnt erhalten Sie eine schmutziger Partner in Logic Pro !