Subvert is a savage 3-Channel distortion processor designed to facilitate the decimation of the frequency spectrum. Based around 5 effects; multimode distortion, FM ring modulator, digitizer, metalizer and multimode filter, Subvert generates anything from subtle harmonics to relentlessly brutal distortions. Offering three channels of each effects chain and a wealth of modulation options, Subvert is our take on the ideal tool to inject your productions with a sinister and aggressive edge.

Driving its core are 2 envelope followers and 4 LFOs with optional tempo sync, which can have their output inverted or combined using up to 4 mixers. The final output of the plugin can also be sculpted with the on board master Equalizer. Subvert features 80 factory presets from sound designers Ivo Ivanov, Nicholas Yochum, Daed and Subjex. From subdued, hostile overtones to deadly seething noisescapes, Subvert will bring an extensive range of vicious effects to your audio arsenal.
FEATURES:
3 Channels of Multimode Distortion

3 Channels of FM Ring Modulation

3 Channels of Sample Rate and Bit Reduction

3 Channels of Metalizer Delay

3 Channels of Multimode Filter

4 LFOs, 2 Env Follwers, 4 Mixers, 2 Inverters and Master EQ

80 Factory Presets from our top sound designers

Cross-platform compatibility (PC/Mac '" VST/AU 32bit & 64bit)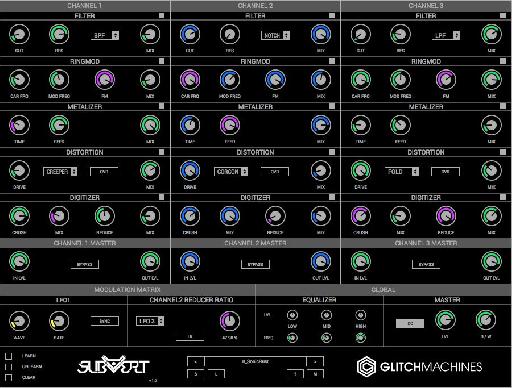 Glitchmachines Subvert interface.
Glitchmachines Subvert Crossgrade Discount for Gorgon Users
If you had previously purchased Gorgon you can get Subvert with a discount of $20 on the regular price ($39) by following these steps :

Go to http://www.glitchmachines.com/products/subvert

Click on « Add to cart » at the bottom of the page

You'll be redirected to your cart. In the « Coupon » field, paste your Gorgon invoice ID (you can find it in your purchase confirmation email).

Click on « Update Cart », the order total should now be $19 (if you only have Subvert in your cart).

Click on « Submit Order » to get a download link for your product(s).