Cataract is a Segment Multiplexer plugin geared toward electronic music production and experimental sound design. Cataract features an arsenal of sample scanners with integrated modulation sequencers and morphing functions. This makes it possible to construct architecturally complex patterns ranging from nuanced percussive articulations to intricate particle sound effects and all out generative hyper glitch chaos.
Infinitely transform your audio files with Cataract's extensive randomization and modulation options. Warp pitched samples into parallax melodies or redistribute loop segments into generative polyrhythms. Whether you are sculpting articulate percussion patterns for an electronic music EP or designing high- tech cyborg effects for a sci-fi game, Cataract will give your projects a unique cutting-edge twist.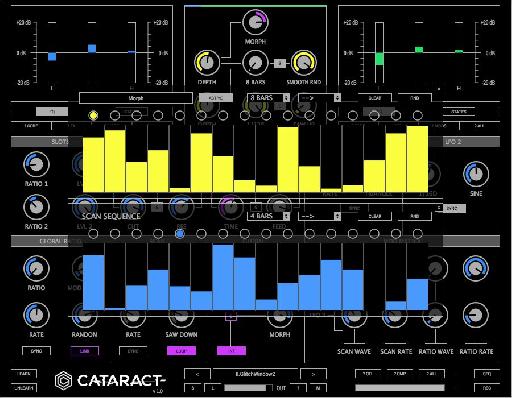 The Glitchmachines Cataract audio plug-in interface.
FEATURES:
2 monophonic scanner modules with dual sample slots

Integrated modulation and scan sequencers

2 LFOs per scanner with dedicated modulation matrix

1 Multi-mode filter per scanner

1 Delay effect per scanner

3-Band graphic EQ per scanner

Extensive global and per-scanner randomization tools

Morphing section with dedicated X-MOD LFO

Dynamic color-coded user interface

Sample pack with over 130 new loops and 200 new sound effects

Presets from Ivo Ivanov, Nicholas Yochum and Daed

Cross-platform compatibility (PC/Mac '" VST/AU 32bit & 64bit)

Cataract is available now for $49.
Web: http://www.glitchmachines.com/products/cataract/