Para muitos que são novos para a gravação de áudio com computadores, e até mesmo alguns que trabalharam com eles por um tempo, mas são um pouco tímida; automação tem aparecido como quase uma arte escura. Para alguns, uma vez que já programou a automação em uma música, eles não tem certeza de como se livrar dela, se eles não gostam disso. Para outros, pode ser apenas um pouco mais do que aquilo que eles querem mexer.
Se você cair em qualquer categoria listada acima, deixe-me dizer-lhe que Propellerhead Record Aplicação faz realmente divertido, automação e muito fácil.
Within this tutorial, I'd like to show you a quick, and easy way to get going with Record automation. So, sit back, and let's have a look!

This tutorial will also work for people that only have the Record demo, which includes the demo song from 'the Baguettes', known as 'We Get it On. At this point, go to File and select 'Demo Song - We Get it On.'
Passo 1
Uma vez que a música demo é carregada, localize a trilha Snare na extremidade esquerda da Mixer. Se você passa o mouse sobre o mixer, mantenha pressionada a tecla Shift e mova a roda de rolagem, você verá que o Mixer rolará automaticamente.

Passo 2
Agora, ou direita - Clique, ou de controle - Clique no Fader Snare e "Automação Editar 'select.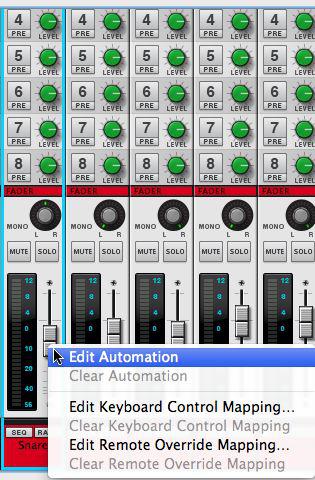 Passo 3
Depois de selecionar "Editar Automação 'uma caixa verde aparece ao redor do fader Snare. Além disso, abaixo na janela Sequencer, você verá uma pista de automação apareceu debaixo da pista Snare conhecido como Level.

Passo 4
At the moment, the automation lane is quite small. By holding down the Option+Command buttons and moving your mouse's scroll wheel up, or down, you can increase the width. By holding down Shift+Option+Command, you can change the length.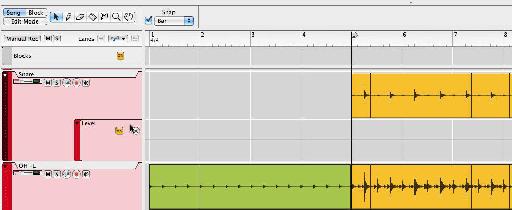 Como você pode ver, você tem acesso fácil a edição da automação do nível Snare agora. E se você usar a ferramenta lápis, você pode desenhar em automação. Mas e se você decidir que não quer qualquer automação de todo?
Passo 5
Botão direito do mouse sobre o Fader Snare no Mixer novamente e escolha 'Automation Clear'.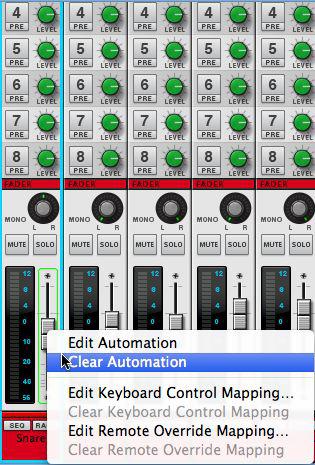 Muito fácil, hein? Além disso, se você estiver usando uma música não-publicada no prazo de Record, você tem a habilidade para pressionar registro, e simplesmente virar o fader, botão, etc, e Record vai 'Record' os movimentos botão. Cometer um erro? Basta clicar sobre o botão, fader, etc e escolha 'Automation Clear'.
Esperemos que, depois de ver como é fácil criar e excluir automação na Record, você pode querer saltar e se divertir um pouco mais com ele.
Se você tiver alguma dúvida, confira nosso tutorial Registro 101 .