Per molti che sono nuovi per la registrazione audio con i computer, e anche alcuni che hanno lavorato con loro per un po ', ma sono un po' timida, l'automazione è apparso quasi come un arte oscura. Per alcuni, una volta che hanno programmato di automazione in una canzone, non sono sicuri di come sbarazzarsi di esso, se non piace. Per altri, potrebbe essere solo un po 'più di quello che voglio pasticciare con.
Se si rientra in alcuna categoria di cui sopra, lasciate che vi dica che Propellerhead Record di applicazioni realmente fa prendere in giro l'automazione, e abbastanza facile.
Within this tutorial, I'd like to show you a quick, and easy way to get going with Record automation. So, sit back, and let's have a look!

This tutorial will also work for people that only have the Record demo, which includes the demo song from 'the Baguettes', known as 'We Get it On. At this point, go to File and select 'Demo Song - We Get it On.'
Fase 1
Una volta che la demo song viene caricato, individuare la traccia rullante all'estrema sinistra del Mixer. Se si posiziona il mouse sopra il mixer, tenere premuto il tasto Shift e muovere la rotella di scorrimento, troverete che il Mixer automaticamente scorrimento.

Fase 2
Ora, sia a destra - Clicca, o di controllo - Clicca sul Fader Snare e 'Automazione Modifica' selezionare.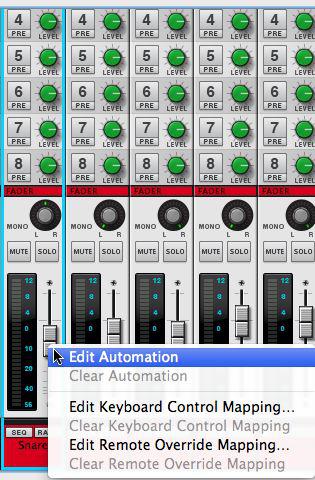 Fase 3
Dopo aver selezionato 'Modifica Automation' una scatola verde apparirà in tutto il fader Snare. Inoltre, al di sotto della finestra Sequencer, noterete una corsia di automazione è apparso sotto la corsia rullante noto come Livello.

Fase 4
At the moment, the automation lane is quite small. By holding down the Option+Command buttons and moving your mouse's scroll wheel up, or down, you can increase the width. By holding down Shift+Option+Command, you can change the length.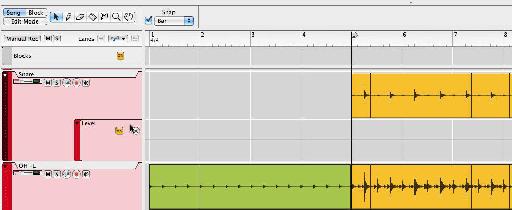 Come potete vedere, si ha facile accesso alla modifica del livello di automazione del rullante ora. E se si utilizza lo strumento matita, è possibile disegnare in automazione. Ma cosa succede se si decide che non si desidera alcuna di automazione a tutti?
Fase 5
Right-Click sul Fader Snare nel Mixer di nuovo e scegliere 'automazione Clear'.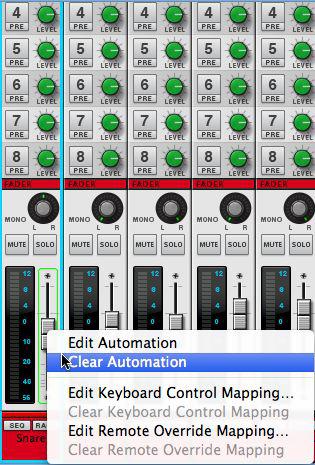 Molto facile, eh? Inoltre, se si utilizza una non-canzone pubblicata nel record, si avrà la possibilità di premere registrare, e semplicemente girare il fader, manopola, ecc, e di registrazione saranno 'Record' i movimenti manopola. Commette un errore? Sufficiente fare clic destro sulla manopola, fader, ecc e scegliere 'automazione Clear'.
Speriamo che, dopo aver visto come sia facile creare e cancellare automazione Record, si consiglia di saltare e divertirsi ancora un po 'con esso.
Se avete ulteriori domande, controlla i nostri Record 101 un'esercitazione .