Para muchos que son nuevos en la grabación de audio con las computadoras, e incluso algunos que han trabajado con ellos durante un tiempo, pero son un poco tímidos, la automatización se ha presentado casi como un arte oscuro. Para algunos, una vez que se ha programado la automatización en una canción, no están seguros de cómo deshacerse de él, si no te gusta. Para otros, sólo puede ser un poco más de lo que quieren meterse.
Si usted cae en alguna de las categorías enumeradas anteriormente, déjenme decirles que Propellerhead Record de aplicación hace realmente divertido de automatización, y muy fácil.
Within this tutorial, I'd like to show you a quick, and easy way to get going with Record automation. So, sit back, and let's have a look!

This tutorial will also work for people that only have the Record demo, which includes the demo song from 'the Baguettes', known as 'We Get it On. At this point, go to File and select 'Demo Song - We Get it On.'
Paso 1
Una vez que la canción de demostración se carga, localizar la pista de lazo en el extremo izquierdo de la mesa de mezclas. Si pasa el ratón sobre la mesa de mezclas, mantenga pulsada la tecla Mayús y mueva la rueda de desplazamiento, usted encontrará que el mezclador se desplazará automáticamente.

Paso 2
Ahora, ya sea la derecha - Haga clic en, o de control - Haga clic en el Fader para caja y "Automatización Edición 'seleccione.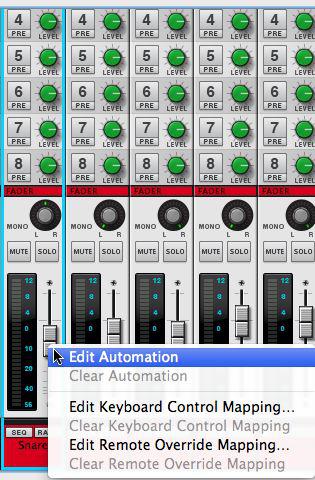 Paso 3
Una vez que hayas seleccionado 'Edit Automation una caja verde que aparecen alrededor de los faders trampa. Además, a continuación en la ventana del secuenciador, te darás cuenta de un carril de la automatización se ha presentado bajo el carril para caja conocida como Nivel.

Paso 4
At the moment, the automation lane is quite small. By holding down the Option+Command buttons and moving your mouse's scroll wheel up, or down, you can increase the width. By holding down Shift+Option+Command, you can change the length.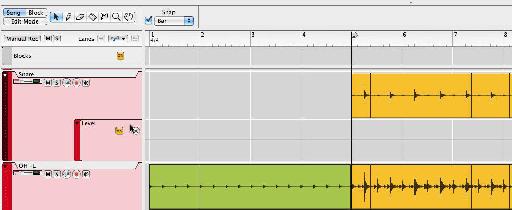 Como puede ver, tiene fácil acceso a la edición de la automatización de nivel para caja ahora. Y si utiliza la herramienta de lápiz, se puede dibujar en la automatización. Pero lo que si usted decide que no desea que la automatización en todos?
Paso 5
Haga clic derecho en el Fader para caja en la mesa de mezclas y elegir "Borrar de automatización".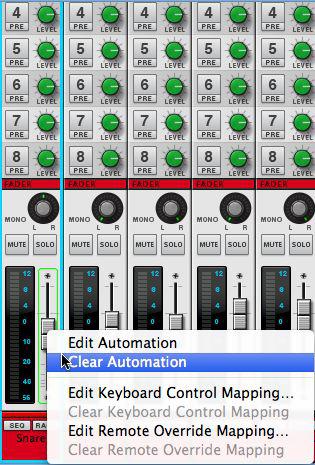 Muy fácil, ¿eh? Además, si usted está usando una canción no publicada en Registro, usted tiene la capacidad de presionar grabar y gire el fader, mando, etc, y Record 'Record' los movimientos de mando. Comete un error? Simplemente haga clic derecho sobre el botón, fader, etc y elegir "Borrar de automatización".
Esperemos que, después de ver lo fácil que es crear y eliminar la automatización en el Registro, es posible que desee saltar y divertirse un poco más con él.
Si usted tiene alguna pregunta adicional, visita nuestra Registro 101 tutorial .