Für viele, die neue, um die Tonaufnahme mit dem Computer sind, und sogar einige, die mit ihnen für eine Weile gearbeitet haben, sind aber ein wenig scheu, die Automatisierung ist fast wie eine dunkle Kunst erschienen. Für einige, wenn sie einmal Automatisierung in einem Song programmiert, sie sind unsicher, wie man es loswerden, wenn sie es nicht mögen. Für andere kann es nur ein wenig mehr als das, was sie wollen, dass die Messe mit.
Wenn Sie in keine der oben aufgeführten Kategorien fallen, lassen Sie mich Ihnen sagen, dass Propellerhead-Rekord Anwendung funktioniert tatsächlich machen Automatisierung Spaß, und ganz einfach.
Within this tutorial, I'd like to show you a quick, and easy way to get going with Record automation. So, sit back, and let's have a look!

This tutorial will also work for people that only have the Record demo, which includes the demo song from 'the Baguettes', known as 'We Get it On. At this point, go to File and select 'Demo Song - We Get it On.'
Schritt 1
Sobald die Demo-Song geladen wird, suchen Sie die Snare Spur an der weit über den Mixer gelassen. Wenn Sie über den Mischer schweben, halten Sie die Umschalttaste gedrückt und bewegen Sie das Mausrad, werden Sie feststellen, dass der Mixer automatisch scrollen.

Schritt 2
Nun, entweder rechts - klicken oder Control - auf der Snare Fader und wählen Sie "Bearbeiten Automation" klicken.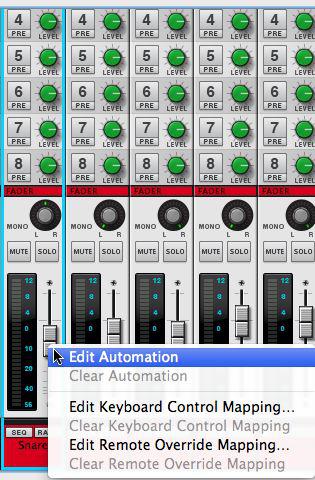 Schritt 3
Sobald Sie ausgewählt haben 'Edit Automation "ein grünes Feld rund um die Snare-Fader erscheinen wird. Auch unten im Sequencer-Fenster, werden Sie feststellen, eine Automatisierung Lane hat unter der Snare Lane als Level bekannt erschienen.

Schritt 4
At the moment, the automation lane is quite small. By holding down the Option+Command buttons and moving your mouse's scroll wheel up, or down, you can increase the width. By holding down Shift+Option+Command, you can change the length.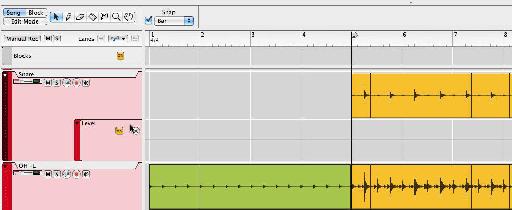 Wie Sie sehen können, haben Sie einfachen Zugriff auf die Bearbeitung der Automatisierung der Snare Ebene jetzt. Und wenn Sie das Stift-Werkzeug verwenden, können Sie in der Automatisierung zu ziehen. Aber was, wenn Sie sich entscheiden wollen keine Automatisierung überhaupt?
Schritt 5
Auf der Snare Fader im Mixer erneut mit der rechten Maustaste und wählen Sie 'Clear Automation'.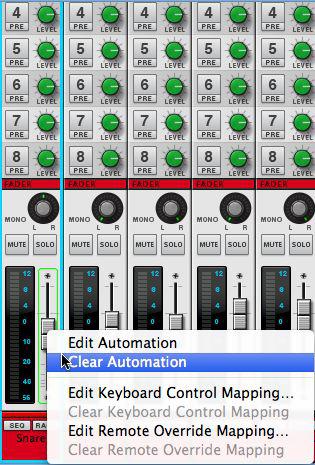 Sehr einfach, nicht wahr? Auch wenn Sie mit einem nicht veröffentlichten Song in Rekordzeit, haben Sie die Möglichkeit zur Aufzeichnung drücken und drehen Sie einfach den Fader, Regler, etc, und Record wird 'Record' der Knopf Bewegungen. Einen Fehler machen? Klicken Sie einfach auf den Knopf, Fader, etc. mit der rechten Maustaste klicken und wählen Sie 'Clear Automation'.
Ich hoffe, nachdem er, wie einfach es erstellen und löschen Automatisierung in Record ist, können Sie ins Wasser springen und haben noch mehr Spaß mit ihm.
Wenn Sie weitere Fragen haben, lesen Sie in unseren Rekord 101-Lernprogramm .