بالنسبة للكثيرين الذين جديدة لتسجيل الصوت مع أجهزة الكمبيوتر ، وحتى بعض الذين عملوا معهم لفترة من الوقت ، ولكنها مترددة قليلا ، وقد بدا التشغيل الآلي تقريبا كفن الظلام. بالنسبة للبعض ، مرة واحدة انهم المبرمج الآلي في أغنية ، فإنها لم تكن متأكدا من كيفية التخلص منه ، إذا كانوا لا يحبون ذلك. بالنسبة للآخرين ، قد يكون قليلا أكثر من ما يريدون الفوضى معها.
إذا كنت تندرج في أي فئة المذكورة أعلاه ، اسمحوا لي ان اقول لكم ان Propellerhead في سجل التطبيق في الواقع لا يجعل متعة الآلي ، وسهلة جدا.
Within this tutorial, I'd like to show you a quick, and easy way to get going with Record automation. So, sit back, and let's have a look!

This tutorial will also work for people that only have the Record demo, which includes the demo song from 'the Baguettes', known as 'We Get it On. At this point, go to File and select 'Demo Song - We Get it On.'
الخطوة 1
بمجرد أن يتم تحميل الأغنية التجريبي ، تحديد المسار فخ في أقصى اليسار من خلاط. إذا كنت تحوم فوق خلاط ، والاستمرار في الضغط على زر Shift وتحريك عجلة التمرير الخاص بك ، ستجد أن خلاط سوف انتقل تلقائيا.

الخطوة 2
الآن ، سواء اليمين -- انقر فوق ، أو التحكم -- انقر على ترويسة فخ ثم اختر "تحرير التنفيذ.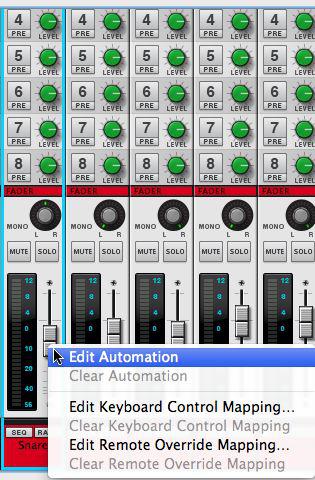 الخطوة 3
بمجرد أن قمت بتحديد "تحرير أتمتة" مربع أخضر سوف تظهر حول ترويسة فخ. أيضا ، وأدناه في إطار التسلسل ، فسوف تلاحظ وجود ممر الأتمتة ظهرت تحت لين فخ المعروفة المستوى.

الخطوة 4
At the moment, the automation lane is quite small. By holding down the Option+Command buttons and moving your mouse's scroll wheel up, or down, you can increase the width. By holding down Shift+Option+Command, you can change the length.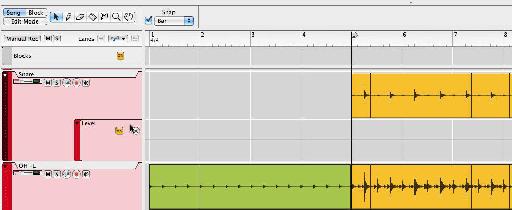 كما ترون ، لديك سهولة الوصول إلى تحرير أتمتة مستوى فخ الآن. وإذا كنت تستخدم أداة القلم ، يمكنك رسم في الأتمتة. ولكن ماذا لو قررت أنك لا تريد أي الأتمتة في كل شيء؟
الخطوة 5
على ترويسة في فخ خلاط انقر بالزر الايمن مرة أخرى واختر "أتمتة تشفير".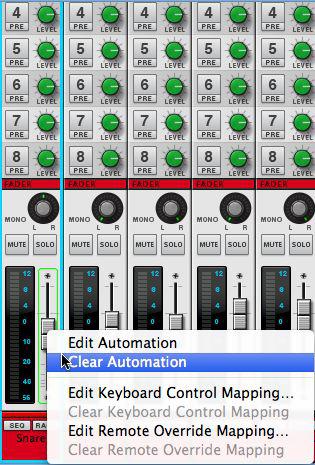 من السهل جدا ، إيه؟ أيضا ، إذا كنت تستخدم أغنية غير منشورة ضمن القياسي لديك القدرة للضغط على السجل ، وتتحول ببساطة ترويسة ، مقبض الباب ، الخ ، وسجل وسوف 'سجل' الحركات مقبض الباب. أخطأت؟ ببساطة انقر بالزر الايمن على مقبض ، ترويسة ، الخ ، واختر "أتمتة بدون تشفير".
نأمل ، بعد رؤية كم هو سهل التشغيل الآلي للإنشاء وحذف في السجل ، قد ترغب في القفز والمتعة في بعض أكثر معها.
إذا كان لديك أي أسئلة إضافية ، راجع لدينا سجل 101 البرنامج التعليمي .