For many who are new to audio recording with computers, and even some who have worked with them for a while, but are a little timid; automation has appeared as almost a dark art. For some, once they've programmed automation in a song, they are unsure of how to get rid of it, if they don't like it. For others, it may just be a little more than what they want to mess with.
If you fall in to any category listed above, let me tell you that Propellerhead's Record Application does actually make automation fun, and quite easy.
Within this tutorial, I'd like to show you a quick, and easy way to get going with Record automation. So, sit back, and let's have a look!

This tutorial will also work for people that only have the Record demo, which includes the demo song from 'the Baguettes', known as 'We Get it On. At this point, go to File and select 'Demo Song - We Get it On.'
Step 1
Once the demo song is loaded, locate the Snare Track at the far left of the Mixer. If you hover over the mixer, hold down the Shift button and move your scroll wheel, you'll find that the Mixer will automatically scroll.

Step 2
Now, either Right-Click, or Control-Click on the Snare Fader and select 'Edit Automation'.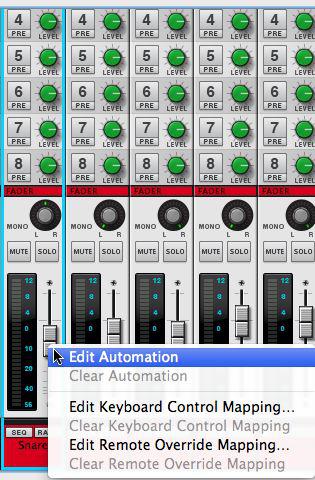 Step 3
Once you've selected 'Edit Automation' a Green box will appear around the Snare fader. Also, below in the Sequencer window, you'll notice an automation lane has appeared underneath the Snare Lane known as Level.

Step 4
At the moment, the automation lane is quite small. By holding down the Option+Command buttons and moving your mouse's scroll wheel up, or down, you can increase the width. By holding down Shift+Option+Command, you can change the length.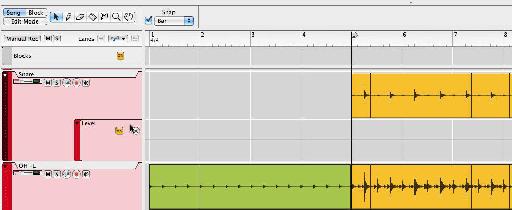 As you can see, you have easy access to editing the automation of the Snare level now. And if you use the pencil tool, you can draw in automation. But what if you decide you don't want any automation at all?
Step 5
Right-Click on the Snare Fader in the Mixer again and Choose 'Clear Automation'.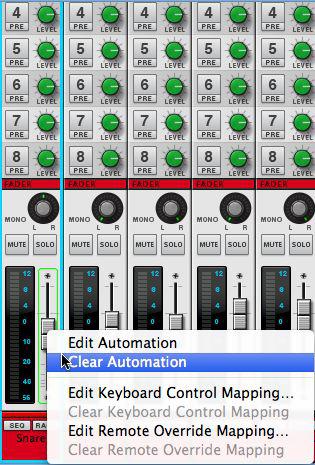 Very easy, eh? Also, if you're using a non-published song within Record, you have the ability to press record, and simply turn the fader, knob, etc, and Record will 'Record' the knob movements. Make a mistake? Simply Right-Click on the knob, fader, etc and choose 'Clear Automation'.
Hopefully, after seeing how easy it is create and delete automation in Record, you may want to jump in and have some more fun with it.
If you have any additional questions, check out our Record 101 tutorial.