Giorgia Angiuli Synth Performance With Sylphyo Wireless Wind MIDI Controller
Weaving melodic synth elements with deep house bass lines, grooves, playful rhythms, curious toys and MIDI controllers is Giorgia Angiuli's speciality. Here's her new track featuring the Aodyo Sylpho.
Giorgia Angiuli is no stranger to using weird, wacky and wonderful MIDI controllers in her catchy synth-infused electronic tracks. Remember her live studio performance of Embrace Me Now that went viral with 2.5 million views? The toy gun is a firm favorite in that track.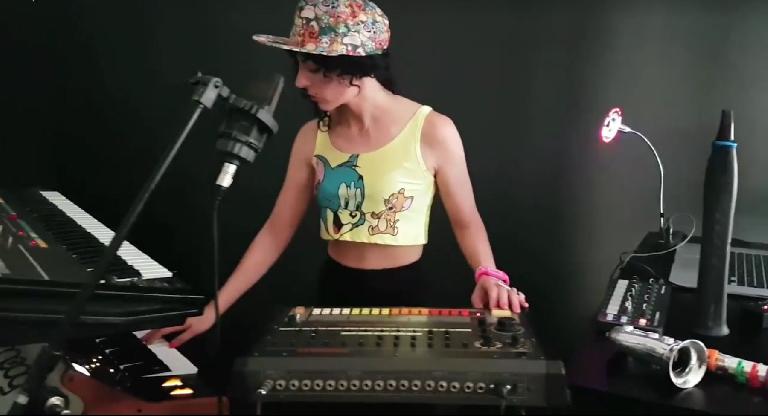 And then there's the more recent Inner Line on Stil Vor Talent records using Ableton Live, Make Makey, Theremini, Moog sub37, Korg MS2000 and Dave Smith OB6.
Giorgia has just released Axial Tilt just released on Stil vor Talent performed live with her Roland Juno 106, Moog Sub 37, Roland TR-808 and something new and cool... the amazing Sylphyo from Aodyo, which she tells us is the first wireless MIDI wind controller.
Watch the video performance of Axial Tilt including Giorgia playing the Sylphyo in this Facebook video:
We talled to Giorgia Angiuli about the Sylphyo MIDI controller to find out more about what attracted her to using it and how she used it on her performance of Axial Tilt:
"During my live sets I've always played breath MIDI controllers, I used the Akai wind controller and the Casio DH-500 MIDI, but I was looking for something new, without cables and more performing.
"Last month, wandering on the web, I found this new instrument (Sylphyo) from Aodyo Instruments, with an amazing design, so I ordered it online! I am very happy about it because it's small and very easy to use, this is the first Wireless MIDI controller and it provides the feeling of an acoustic instrument.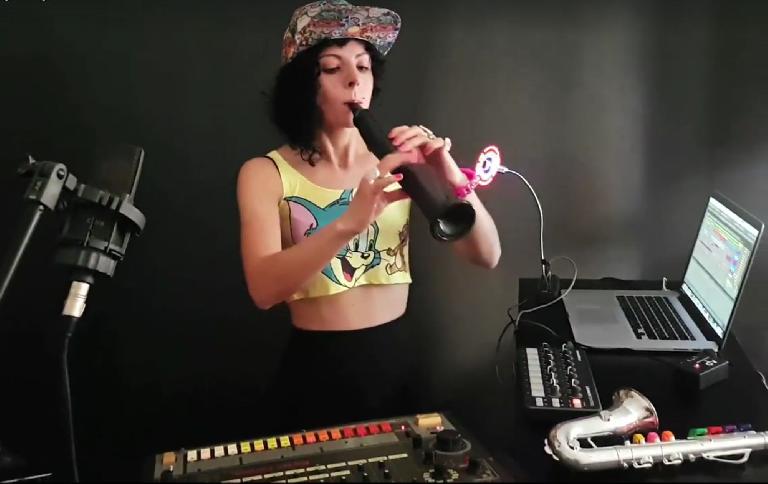 "Its slider and its inertial sensors offer you unmatched expressive capabilities, if you shake it you can activate the inertial mode so you can control sounds by shaking and orienting it in the air. I love it! In this video I play it with ableton live : silk horns synth brass plus reverb, chorus, eq, compressor."