Während die meisten Plug-Ins im Audiosuite-Menü sind offline (Nicht-Echtzeit) Versionen von Echtzeit (Kanalzug Einsatz) Plug-Ins, gibt es eine Reihe von enthalten Audiosuite-Plug-Ins, die don
Es gibt acht von ihnen: Doppelte, DC-offet Removal, Invert, Gain, Normalisieren, Reverse Time Shift und Vari-Fi. Die meisten sind einfache Hilfsprogramme (manchmal mit zusätzlichen Funktionen zu äquivalenten Echtzeit-Optionen hinzugefügt), und ein paar bieten kreative Verarbeitung. ich
Basic Utilities
In der Audiosuite-Menü
DC-Offset Removal ist ein Problemlöser, wenn auch für das, was
Invert dreht einfach die Polarität der Datei (positiv / negativ). Dies kann für eine Aufnahme mit einem falsch verkabelt Kabel hergestellt oder für akustische Probleme zu beheben (das untere Mikrofon auf einer Snare-Drum muss umgedreht werden, um dieses Signal in setzen
Gain ist ein schicker Version derselben Trim-Plug-in. Es enthält eine Analyse Abschnitt, in dem Sie wissen, was die resultierende Ebene wird nach der Verstärkung wird (in der Regel, um Überlastungen zu vermeiden) geändert. Es kann die Audio-Analyse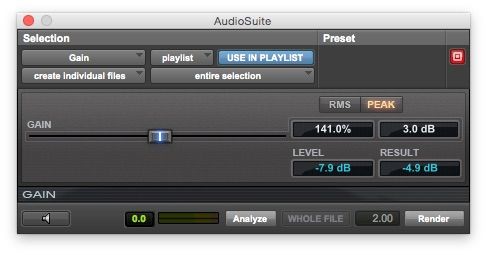 2 Der Gain-Plug-in, mit dem Analysieren Funktion.
Normalisieren Legt den Pegel des Audio so seine maximale Gipfel traf ein bestimmtes Niveau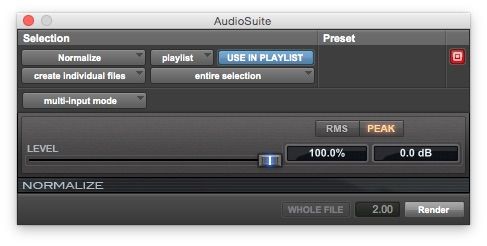 Bild 3 Die Normalize-Plug-in.
Dieser ist in der Regel verwendet, um eine Audio-Aufnahme (wie eine fertige Mischung) zu nehmen, dass
Effects and Such
Reverse tut genau das, was Sie
Audio Beispiel 1
[Audio-id = "36325"]
Unter dem Pitch Shift Untermenü Sie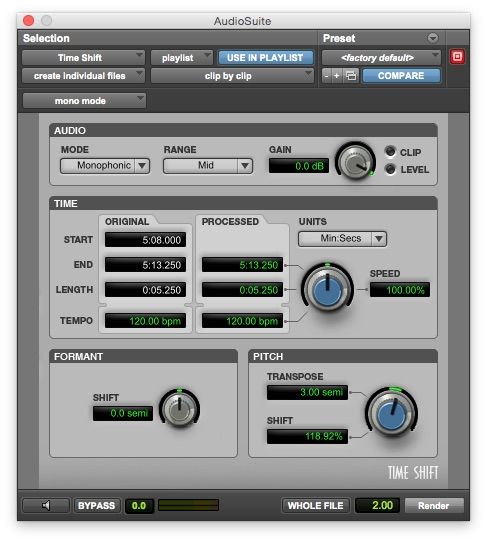 Bild 5 Die Time Shift (
Dieses Plug-in bietet eine Alternative zu Elastic Audio
Der Pitch-Shifting hier bietet etwas mehr als
Audio Beispiel 2
[Audio-id = "36326"]
Schließlich bringt Vari-Fi den klassischen Plattenspieler oder Bandmaschine Varispeed-Effekt an den Tisch (Audio Beispiel 3). Sie können dies mit Elastic Audio als auch zu erreichen, aber ich denke es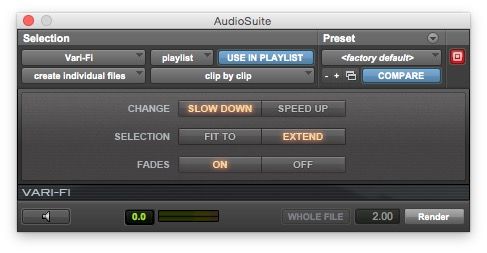 Abbildung 6 Der Vari-Fi-Plug-in.
Audio Beispiel 3
[Audio-id = "36327"]
Das sind also Pro Tools
Take Your Pro Tools Skills to the Next Level in The Academy.