Redrum is simply an awesome drum machine. Even since the arrival of the mighty Kong, Redrum has more than held it's own. The main reason for Redrum's ongoing popularity is the fact that it houses a fully featured step sequencer and totally transparent interface.
Let's take a look at how using these and other features can help you produce great beats. I'll be using the latest current version of Reason (6.02). So if you want to follow this in detail I'd strongly recommend you ensure you are fully up to date.
Starting With The Basics
So, I'm going to build a beat from scratch using the Redrum, some external processors and even a little input from Kong. As we go, I'll demonstrate various methods that can be used to tweak Redrum's output and hopefully help you get the most out of your beat programming sessions.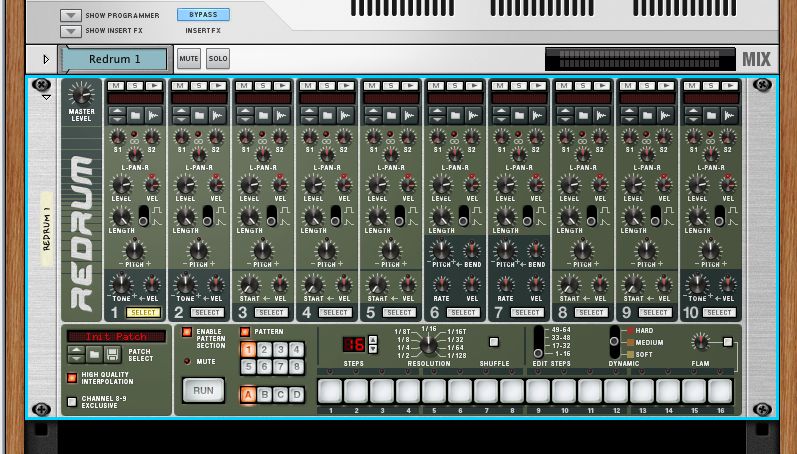 The mighty Redrum is ready to go!
First up let's get the basics in place. I like to start with the kick and snare drum when constructing beats. This gives us a solid backbone to work with and gives you immediate inspiration to push on with the rest of the pattern.
Here I've used the first few 'slots' of Redrum to load up a simple kick and snare sample. The beauty of the file system in Reason is that when you load a sample, all other sounds in the selected folder are available to preview. To do this just click on the sample's name and a drop down menu should appear, allowing to quickly select a new sound.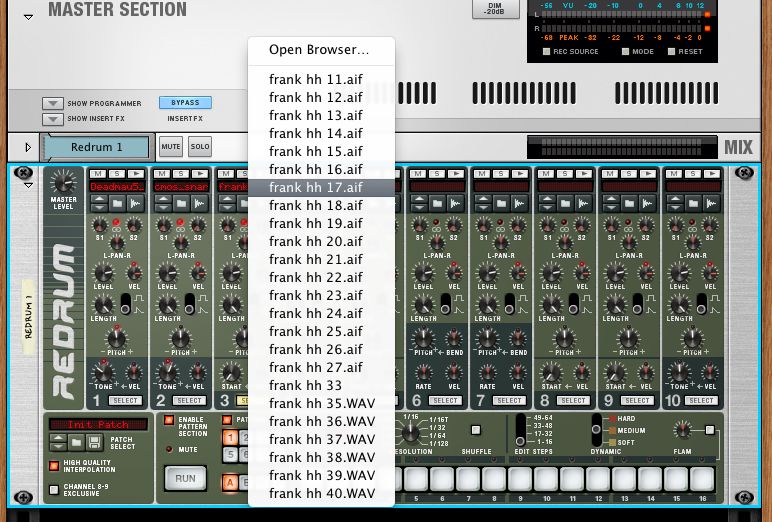 Choosing sounds in Redrum is really straight forward.
A simple kick and snare is added:
I used the step sequencer to create a simple pattern with these initial sounds and I was soon off to a flying start. Immediately after this process I started to add hihat sounds to the next couple of slots. A new pattern was then layered using the step sequencer.

The step sequencer being put to use.
... And some hihats:
It's worth noting at this point that Redrum's slots offer differing parameters. The first two slots of example are ideal for kick and snare drum sounds as they have 'tone' controls. This allows you to add or remove high end snap from these crucial sounds. Other slots allow you to edit start lengths and velocity modulation.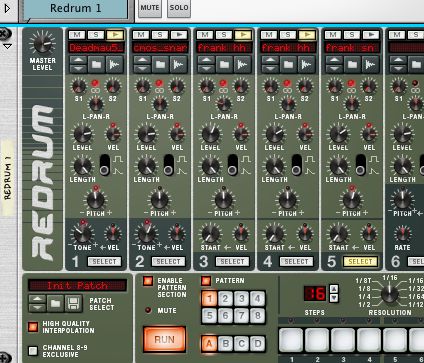 Different slots have different parameters.
Adding Percussion And Using MIDI
The next step was to complete the kit and start adding more sounds to our basic pattern. I continued to drop samples into the slots, attempting to build a balanced kit. I like to use a nice mix of traditional percussion sounds, synth percussion and effects hits.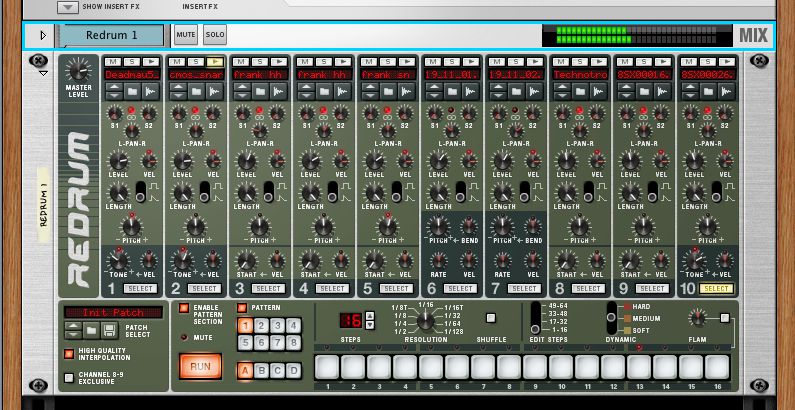 The Redrum is populated with samples.
Once the kit was sufficiently populated I decided to program a percussion part using MIDI. The internal step sequencer is awesome and a lot of fun to use but sometimes you just need to use your keyboard or drum pads to get things down.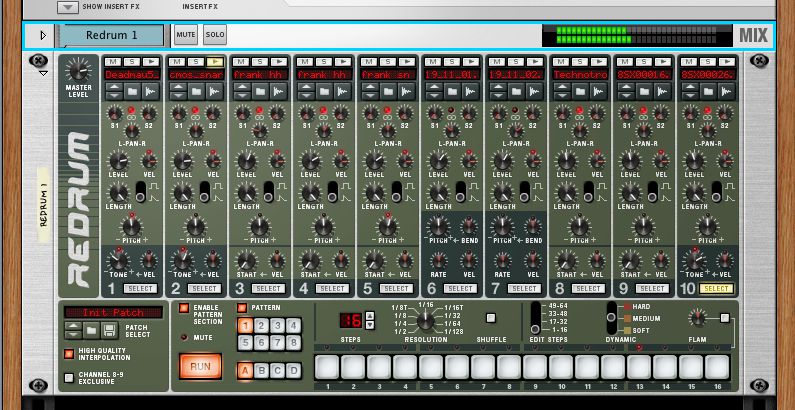 The percussion is added using MIDI.
Simply select the Redrum's MIDI track in the sequencer, ensure it's armed for recording and you are good to go. You can now play in any of the sounds in your custom kit live. These recorded MIDI parts will live quite happily alongside parts recorded using the internal sequencer.

Using MIDI to program some basic percussion.
Before I moved onto the rest of the kit and adding some effects to the loop I wanted to start breaking individual drum sounds out into a mixer. We'll take a look at this next.
Individual Out And Sub-Mixers
One thing I love about Reason devices in general is how flexible they are when it comes to routing inputs and outputs. Redrum is no exception here and on flicking the rack you are presented with a great array of routing options.
Although you can control the individual sound's levels using the volume controls in each slot, breaking key sounds out to a sub mixer gives you a much greater degree of control and the ability to process each channel more effectively.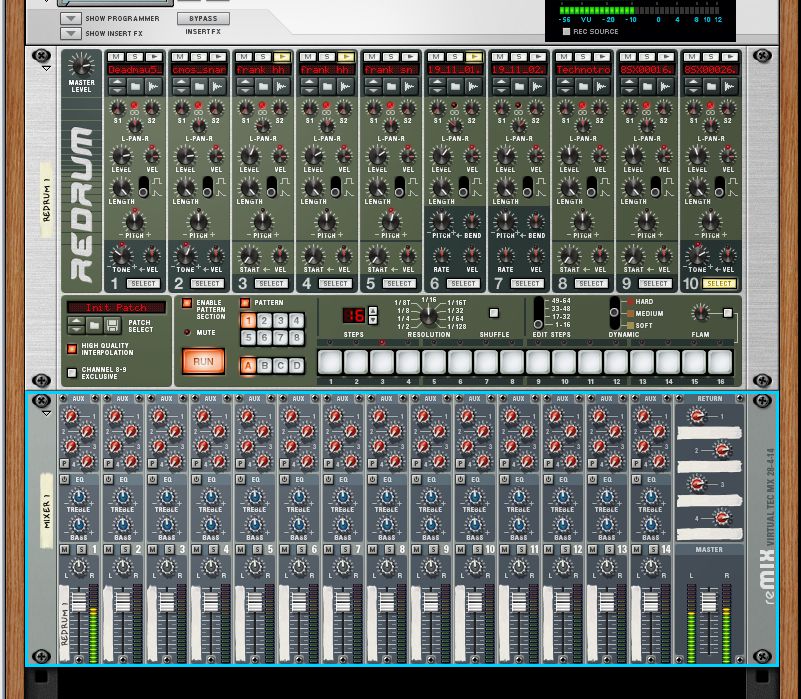 Making a Sub Mixer.
Notice that when you add a sub mixer to a Redrum Reason will automatically route the Redrum's sends to the mixer's chaining auxiliaries. This allows you to use the sends on the Redrum itself, as opposed to the sends on the mixer. You can add up to two separate effects using these micro sends, without even routing any of the Redrum's outputs to the mixer.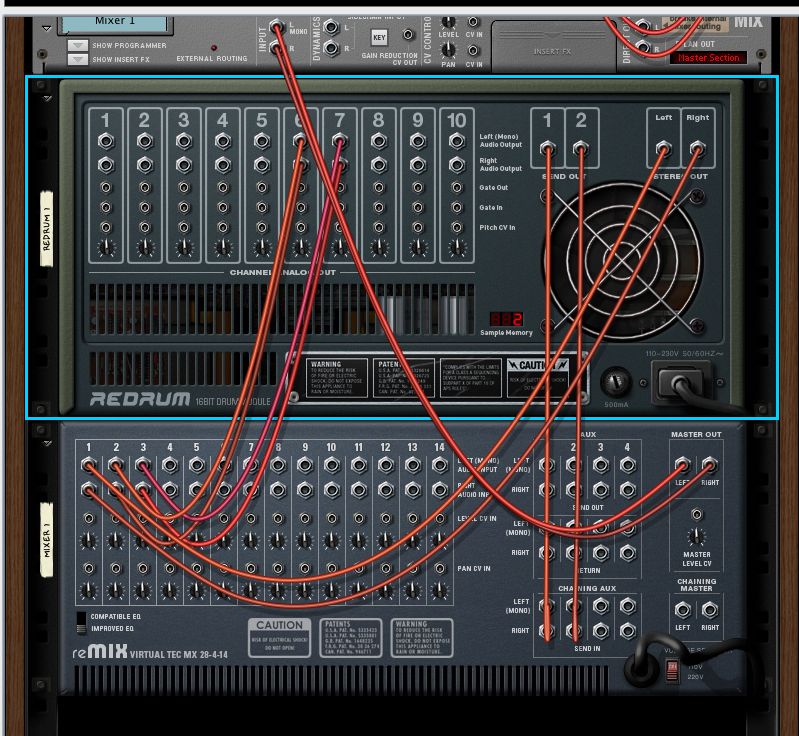 The Redrum's sends are automatically routed.
I created a RV7000 reverb unit and used the first auxiliary send to add some gated reverb to the snare. The result was great and added a real sense of space to the whole mix. Next up I added an echo unit to the mixer and this was routed as a traditional send / return.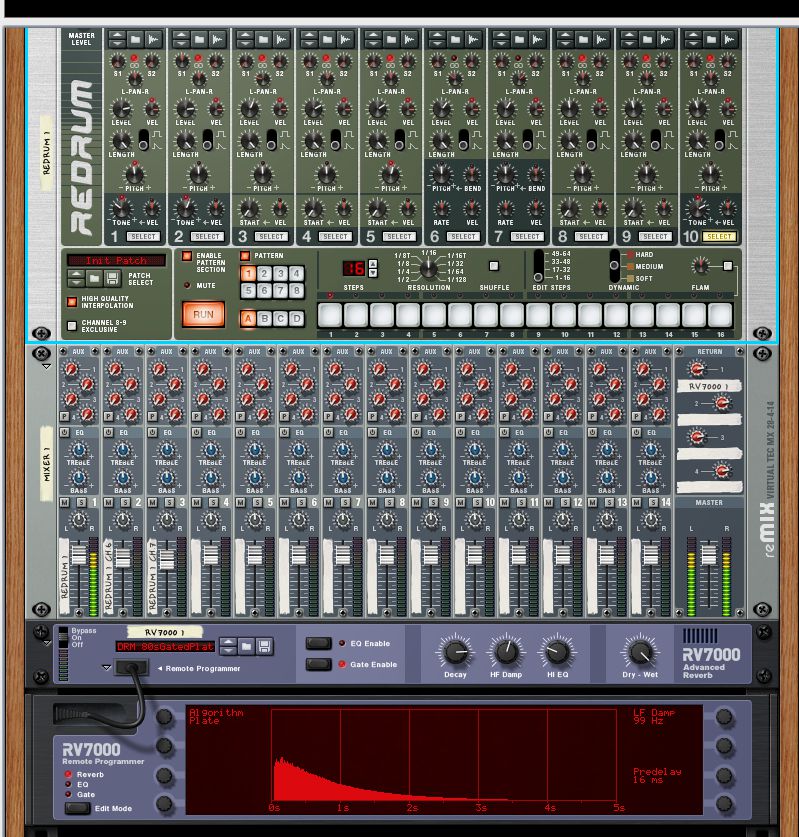 The RV7000 is utilized via the Redrum's micro sends.
The two percussion sounds that were programmed using MIDI in the previous step were routed to two fresh channels in our sub mixer here. This was achieved by flipping the rack and dragging cables from the specific drum slots output directly to the chosen inputs of the mixer.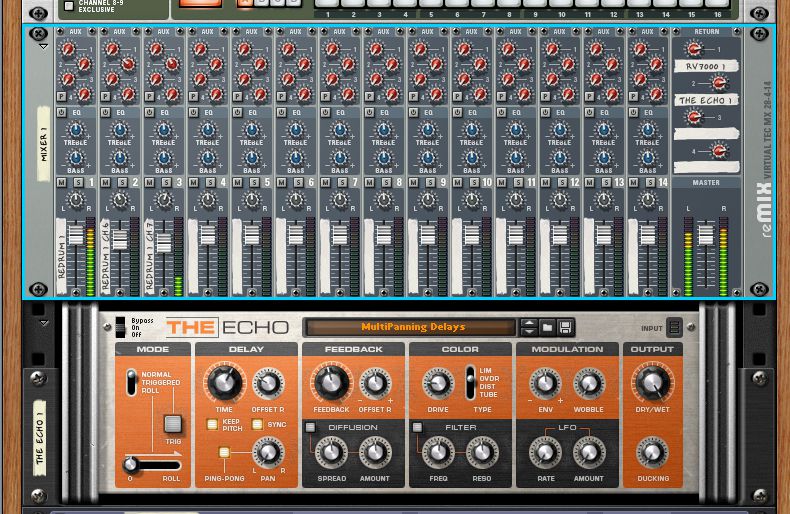 An Echo unit is also added and the percussion processed.
Aux sends were then used to add delay from our newly created echo unit. The delay added some real space to the percussion and helped impart a sense of cohesion.
Triggering Kong Sounds With Redrum
A neat trick that you can achieve by using Redrum's CV / Gate system is triggering sounds in a second instrument. I like to use this system to trigger Kong's analog modeled sound generators.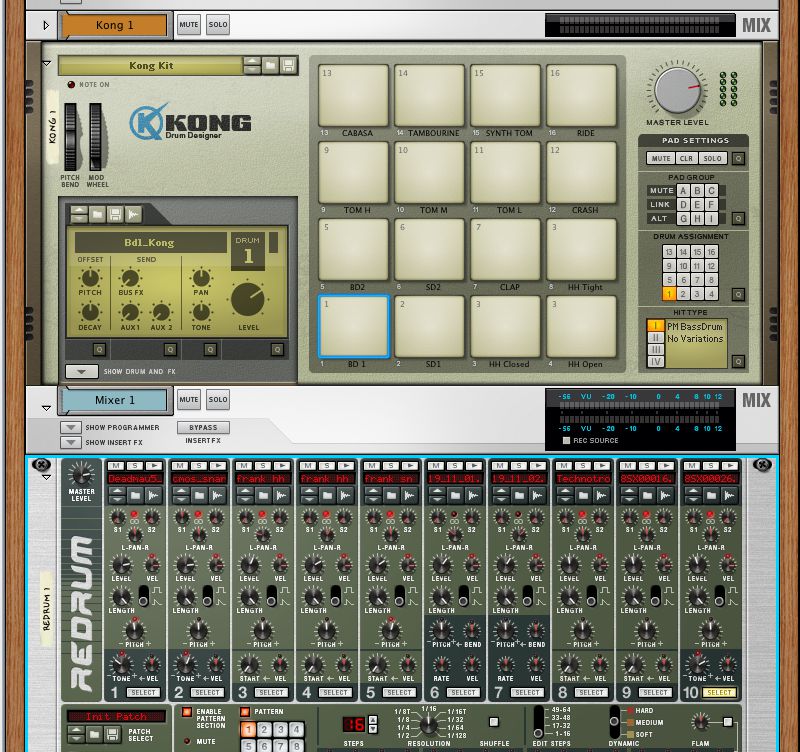 A Kong is added to the mix.
To give you a quick example I've routed the CV out from the snare drum in Redrum to an analog snare module in Kong. The output of Kong is then routed to the next available channel in our sub mixer. The result is mixed and layered with our existing snare.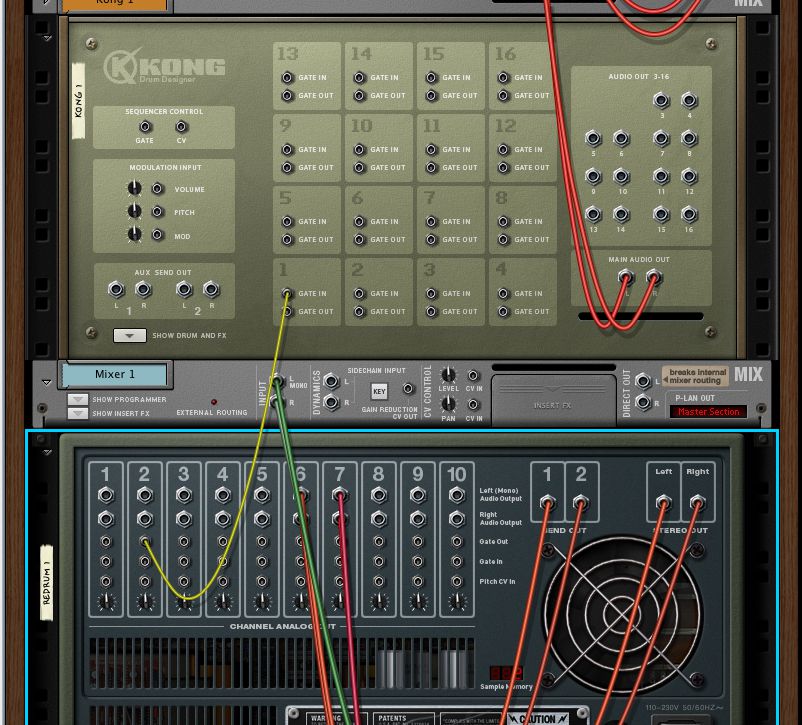 The CV is routed from the Redrum to the Kong.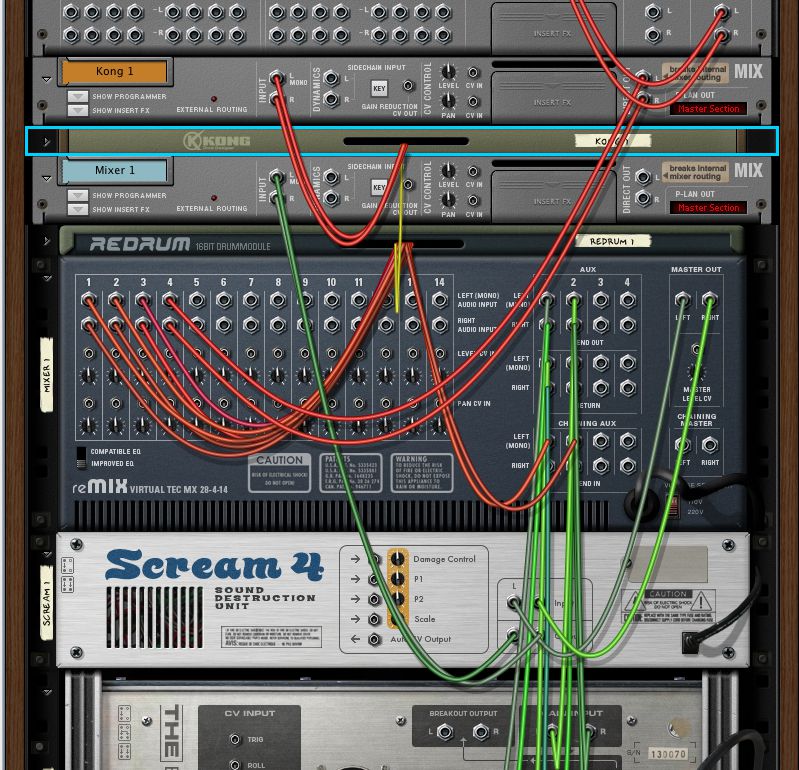 And the Kong's output is routed to our sub-mixer.
This is really just an example but you can use this to layer literally any sound you like. Try using this technique to trigger an entire kit in Kong with Redrum's step sequencer. There is much fun to be had here!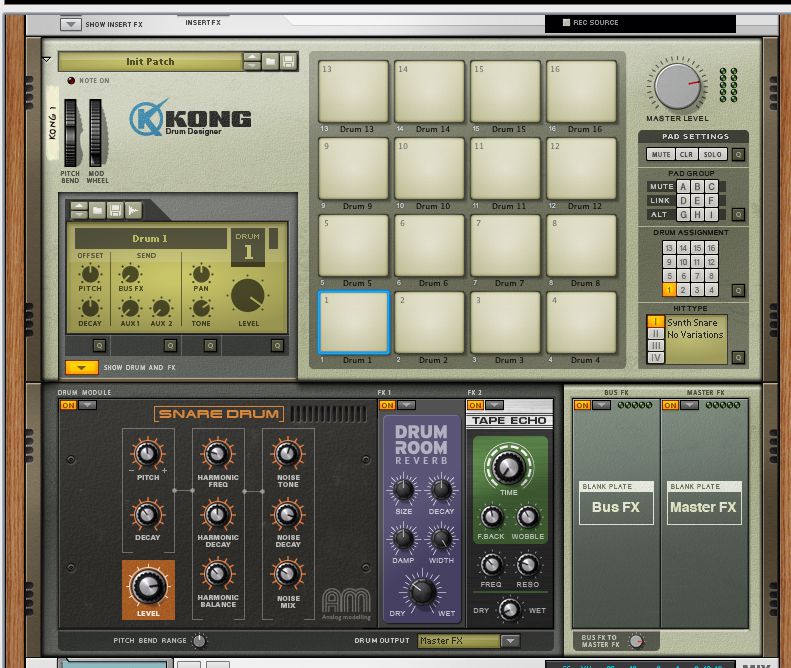 The analog snare used in the mix.
Some Final Processing
With everything in place and the pattern working nicely it was just time to check the levels and apply some final processing. I used the trusty tape algorithm from the Scream 4 to pump everything up, add saturation and some perceived volume.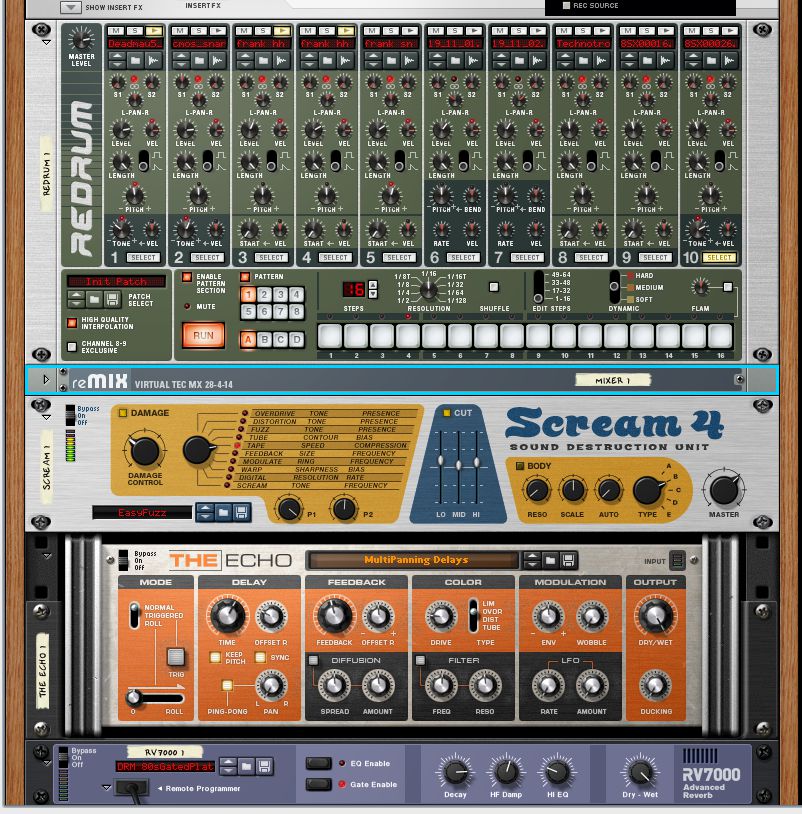 Scream 4 is brought in to add saturation and compression
The final beat with layered snares and processing:
This was simply strapped straight across the output of our sub-mixer, treating every drum sound in our mix. If you prefer things a little tamer you could leave this out or try the pulverizer for something a little more subtle.
Hopefully this has given you a few ideas for when you are next using Redrum and maybe it will help you to squeeze a little more out of this classic virtual drum machine.