GeoShred version 2 came somewhat out of left field for me. After having attended KeyFest 2016, I had been given a glimpse of a new app that moForte and Wizdom Music were co-developing: GeoShred MIDI. At the time, I was under the impression that GeoShred MIDI and GeoShred would be 2 separate apps. In what can only be described as a Christmas Miracle, GeoShred v2.0 has dropped in the App Store, and is a free update to GeoShred users!
What's New
The very welcome elephant in the room with this version is MIDI. GeoShred is now fully MIDI compatible, both in and out, and it's truly amazing. You now can use your iPad with any MIDI device and control your sound source with the incredibly expressive interface of GeoShred. Having a completely configurable control surface on the iPad that can play your highest quality virtual instruments (coughs… Omnisphere 2) is just unbelievable. I had GeoShred hooked up to MainStage in a matter of seconds (check out the video here!) and was able to shred some synth solos on my Mac with astonishing speed.
MIDI out isn't the only trick up GeoShred 2's sleeve, though. MIDI in can be just as gratifying. I'm scratching my head over this one, but I'm still confounded at how Jordan Rudess and the team at moForte got the Roli Seaboard to work so well with GeoShred v2; sometimes even better than Roli's own app! The pitch rounding and expressiveness are incredibly smooth and 'it just works'. There are generic presets for MIDI controllers, and also preconfigured presets for some more esoteric instruments like the Haken Continuum and LinnStrument.
Under the Hood Enhancements
Aside from MIDI, quite a bit has been cranked up to the next level with GeoShred v2. The 'pitch rounding' feels very tweaked, probably to account for the MIDI in and out, and playing both expressively and in tune with GeoShred seems easier. MPE support is also a welcome addition, as is the fact that the control surface can actually be mapped to physical MIDI controls. I had quite a bit of fun mapping the Moog style filters to the strings according to the depth at which I moved my finger in a 'cell'. That's the level of control you can expect from GeoShred v2, and the fact that you can now map that control to the virtual instruments on your computer is just mind-blowing.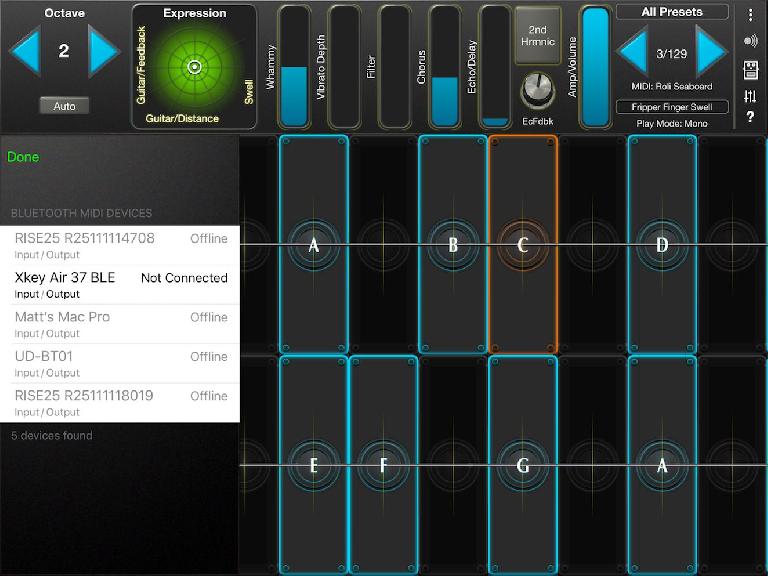 Bonus Round
If you utilize a keyboard workstation that has a built-in audio interface like the Kronos, integrating GeoShred and your iPad into your setup is as simple as snagging the Apple USB Camera kit. I hooked up the iPad to the computer 'input' on the back of my Kronos, enabled the USB bus as a 'live audio' stream on the Kronos, and instantly got a perfectly clear digital pipeline directly from GeoShred to my Kronos. The area on the right side of the Kronos is the perfect size for my 9.7-inch iPad Pro, and GeoShred is now a permanent part of my live arsenal. In the studio, using GeoShred v2 to interface with your VI's is a 'no brainer', and with the wireless options of the Seaboard Rise or CME Xkey air, using GeoShred as a sound source is now a reality in version 2.
Price: Free update/$24.99 for new users
Pros: MIDI control, presets for other alternative controllers such as the Seaboard or LinnStrument, simple preset sharing, new effects, new control over the modeling aspects.
Cons: None to speak of. A feature addition of this size, free for current users? What more could we want?
Web: https://itunes.apple.com/us/app/geoshred/id1064769019?mt=8