Música generativa é um termo cunhado por Brian Eno. Enos objetivo era criar música com uma forma de randomização, onde um pedaço de música não se repetiria, por sua vez, proporcionando uma paisagem sonora que também é único e diferente depois de cada escuta. Cérebro em dia Enos, ele usou vários sistemas de fita laço jogar em velocidades variáveis ​​para produzir este randomização em sua música. Com tecnologia moderna, como Ableton Live, o que proporciona efeitos MIDI com randomizing e ferramentas chance, somos capazes de efetivamente produzir música generativa.
É extremamente gratificante escutar um pedaço que você criou, que nunca é o mesmo da próxima vez. Assim, neste tutorial vou mostrar como criar uma peça geradora de música usando apenas uma nota MIDI, e uma selecção de Abletons MIDI e efeitos de áudio.

Passo 1 - Os Primeiros Passos MIDI
Primeiro, insira uma Faixa MIDI usando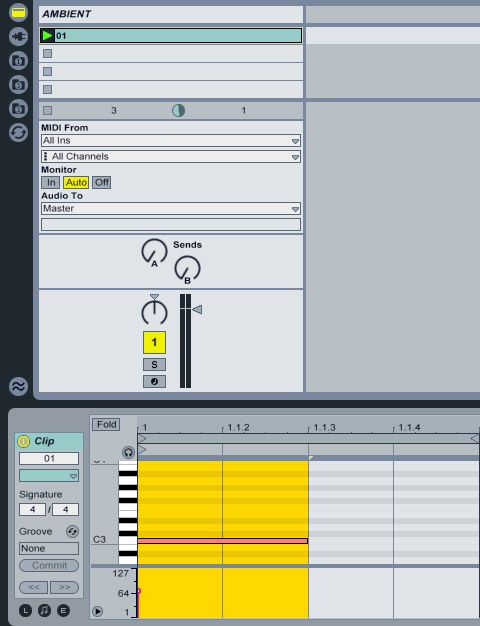 A seguir, vamos criar um rack MIDI e adicionar alguns efeitos MIDI para criar essa aleatoriedade: Arraste o Rack Effect MIDI na pasta Efeitos MIDI e para a faixa MIDI.
Arraste o efeito aleatório MIDI para criar uma cadeia na prateleira MIDI.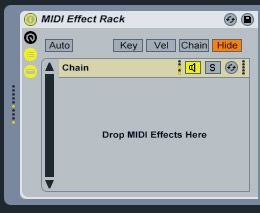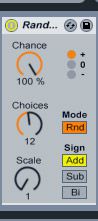 Dentro do efeito aleatório, aumentar a chance de 100%, ea escolha de 12. Isso irá gerar algumas notas aleatórias MIDI, onde você pode ajustar as configurações mais tarde para o seu desejo de permitir que mais notas com o parâmetro de escolha.
Em seguida é o efeito escala MIDI. Escolhendo uma escala permite que as notas MIDI para correlacionar uma progressão musical de forma que as notas MIDI faz sentido musical. Eu escolhi a escala de C Maior.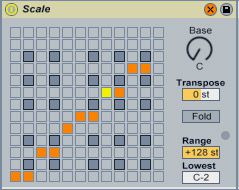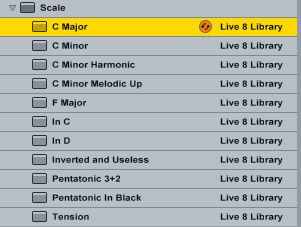 Finalmente, precisamos de algumas Effects Velocity MIDI para disparar as diferentes notas MIDI que são gerados. Com o efeito de velocidade em primeiro lugar, aumentar o parâmetro aleatório para 64, e mudar tanto Out the Hi e Low Out a 64. Para o intervalo, discar 0 e 127. Em Modo, selecione Gate.
Na próxima Velocity fazer o mesmo com o Mode, Random, e Out Hi and Out parâmetros Low. Desta vez, mudar o intervalo para 0 e 64. Isto irá criar alguma aleatoriedade com as velocidades nota MIDI.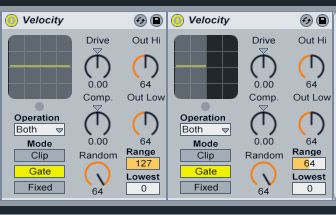 Ok, então você veio até aqui, mas ainda há um pouco mais aleatoriedade para ir!
Passo 2 - Adicione mais Randomness
Só para mantê-lo mais interessante permite adicionar outro rack Efeito MIDI. Este terá duas cadeias e nos permitirá criar efeitos de mais uma chance, quando parâmetros específicos são cumpridos.
Da Cadeia primeiro eu adicionei um efeito de velocidade MIDI. Aumente o parâmetro aleatório para 64. Definir o modo para Gate. Mudar o Out Hi e Low Out ambos a 64 novamente. Agora discar um número aleatório para os intervalos. Eu escolhi 0 e 46.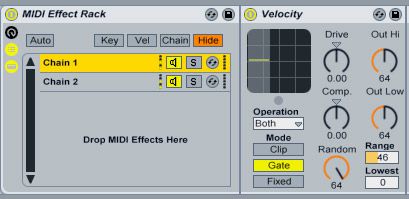 Da Cadeia segundo, adicionar outro efeito Velocity MIDI e marcar nas configurações abaixo (Eu escolhi uma série aleatória de novo):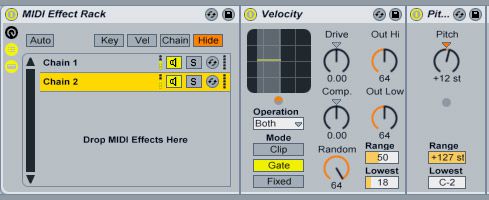 Eu adicionei um efeito de pitch de 12 para a segunda cadeia de modo que há alturas diferentes para as notas MIDI recebidos pela segunda cadeia.
Passo 3 - Tempo para Instrumentos de áudio
Agora é hora de atribuir o MIDI a alguma fonte de áudio. Criar um rack Instrumento (Drop the rack Instrumento sob a pasta de Instrumento para logo após o Efeitos MIDI. Vou criar três correntes dentro do rack Instrumento de áudio com três diferentes fontes de som. Primeiro eu usei o Triangle analógica do Legado 7 Live pacote de amostras (que pode ser baixado do site Ableton aqui ). Este instrumento é encontrado em simples

Cadeia para o meu segundo lugar no rack Instrumento Eu adicionei o Sine Digital, que também podem ser encontradas no pacote do Legacy Live 7. Eu ajustei o volume entre os dois sons mais simples no rack Instrumento. Para o Sine Digital Eu também permitiu que o laço no mais simples.

Cadeia para o meu passado, eu ter adicionado o Kit 808 Drum Rack (Drum Rack

Aperte o play e tomar um ouvir o seu pedaço aleatório Generative. Não é muito surpreendente que pode ser feito usando uma nota MIDI e um par de Abletons built-in efeitos com parâmetros aleatórios e chance?
Passo 4 - Adicionar Alguns Ambience
Agora, para adicionar um pouco de ambiente à parte, vamos criar alguns efeitos Envia e enviar algumas de suas nível para o áudio.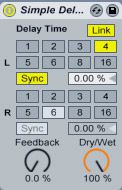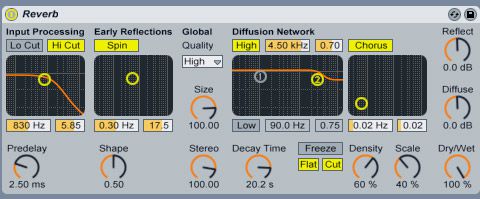 Em seguida, aumentar os níveis Enviar na faixa MIDI a gosto. Eu adicionei bastante de uma boa dose de delay e reverb para o áudio para realmente dar-lhe esse spacey, ambient sentir.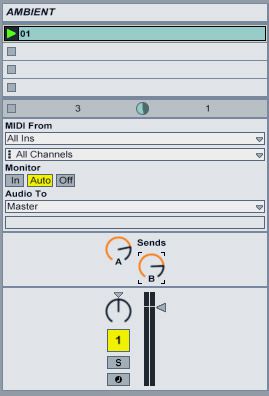 Como é que contribui para o ambiente gerador!
Eu incluí o meu arquivo de projeto Ableton se você quiser mexer com ela. Enlouquecer! Você pode adicionar a ela e adicionar mais correntes e efeitos de áudio para construir a peça geradora.
Download Music Generative no Projeto Ableton Aqui.
Conclusão
Música generativa é uma ótima maneira de adicionar espontaneidade para suas composições. Você poderia saltar um pouco desta saída de áudio e puxá-lo de volta para uma composição de áudio. A peça geradora seria criar um arquivo de áudio que você pode não necessariamente ter pensado. Ele pode realmente ajudar quando você está tendo momentos aqueles do escritor bloco, e pode realmente refrescar-se do momento em qualquer composição de áudio que pode ter precisava de algo especial e aleatória.
Esta é apenas a ponta do iceberg com Ableton e seus efeitos chance. Você pode incorporar Abletons Chord e efeitos Arpegiator MIDI, e construir mais Effect Racks MIDI e de áudio. Você também pode usar mais clipes MIDI que acionam Racks e efeitos diferentes. As opções são infinitas. Então, experimentá-lo e ver o que você venha com.
Fique atento para a Parte 2 ...