Generative Music is a term coined by Brian Eno. Eno's goal was to create music with a form of randomization where a piece of music would not repeat itself, in turn, providing a soundscape that is also unique and different after every listen. In Brain Eno's day, he used multiple tape loop systems playing at varying speeds to produce this randomization in his music. With modern technology such as Ableton's Live, that provides MIDI effects with randomizing and chance tools, we are able to effectively produce generative music.
It is extremely rewarding to listen to a piece you have created that is never the same the next time around. So, in this tutorial I will show you how to create a generative piece of music using only one MIDI note, and a selection of Ableton's MIDI and Audio effects.

Step 1 - The First MIDI Steps
First, insert a MIDI Track using Shift-Cmd-T. Create a MIDI clip on this Track. Draw in a note at C3. This one MIDI note will generate all the random MIDI notes for our generative piece.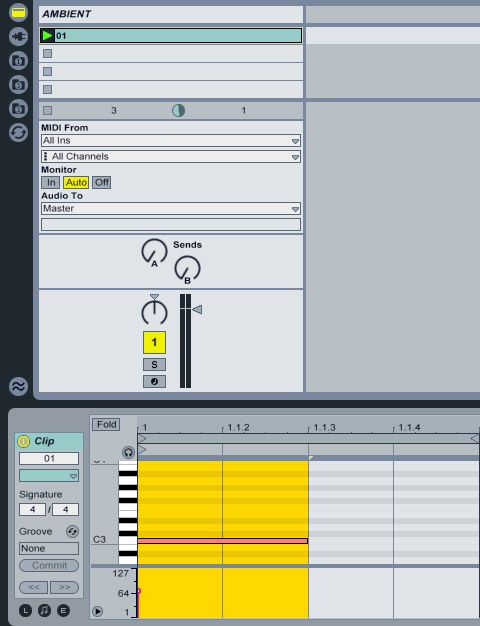 Next up, let's create a MIDI Rack and add some MIDI effects to create this randomness: Drag the MIDI Effect Rack under the MIDI Effects folder and onto the MIDI Track.
Drag the Random MIDI effect to create a chain on the MIDI Rack.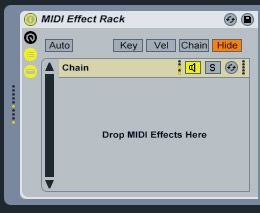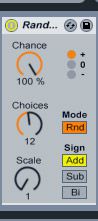 Within the Random Effect, increase the Chance to 100%, and the Choice to 12. This will generate some random MIDI notes, where you can tweak the settings later to your desire to allow more notes with the Choice parameter.
Next up is the Scale MIDI effect. Choosing a scale allows the MIDI notes to correlate to a musical progression so that the MIDI notes make musical sense. I have chosen the C Major scale.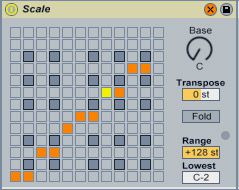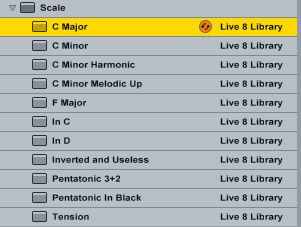 Finally, we need some Velocity MIDI Effects to trigger the different MIDI notes that are generated. With the first Velocity Effect, increase the Random parameter to 64, and change both the Out Hi and Out Low to 64. For the Range, dial in 0 and 127. Under Mode, select Gate.
On the next Velocity do the same with the Mode, Random, and Out Hi and Out Low parameters. This time change the Range to 0 and 64. This will create some randomness with the MIDI note velocities.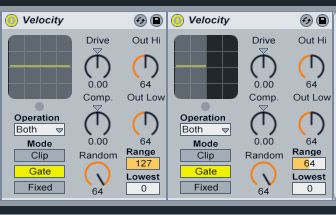 Ok, so you have come this far, but there is still some more randomness to go!
Step 2 - Add more Randomness
Just to keep it more interesting let's add another MIDI Effect Rack. This one will have two chains and will allow us to create more chance effects, when specific parameters are met.
On the first Chain I have added a Velocity MIDI Effect. Increase the Random parameter to 64. Set the Mode to Gate. Change the Out Hi and Out Low both to 64 again. Now dial in a random number for the ranges. I have chosen 0 and 46.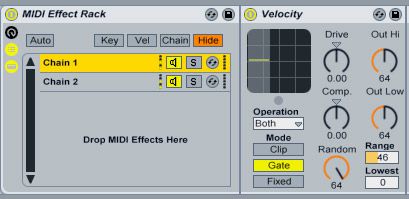 For the second Chain, add another Velocity MIDI Effect and dial in the settings below (I have chosen a random range again):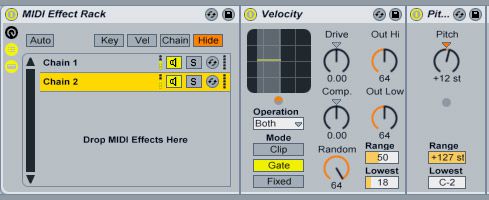 I have added a Pitch Effect of +12 to the second chain so that there are different pitches to the MIDI notes received by the second Chain.
Step 3 - Time for Audio Instruments
Now it's time to assign the MIDI to some audio source. Create an Instrument Rack (Drop the Instrument Rack under the Instrument Folder to just after the MIDI Effects. I am going to create 3 chains within the Audio Instrument Rack with 3 different sound sources. First I have used the Analog Triangle from the Live 7 Legacy sample pack (which can be downloaded from the Ableton site here). This instrument is found under Simpler > Live 7 Legacy > Spectral. I have enabled Loop on the Simpler, so that the sample is continually looping back and creating a continuous sound that does not end abruptly.

For my second Chain in the Instrument Rack I have added the Digital Sine, which can also be found in the Live 7 Legacy Pack. I have adjusted the volume between the two Simpler sounds in the Instrument Rack. For the Digital Sine I have also enabled the Loop on the Simpler.

For my last Chain I have added the Kit 808 Drum Rack (Drum Rack > Kit > Kit-808), This will add some random drum hits, which will give my generative piece an element of attack at times. I have added a Pitch MIDI Effect, and pitched it down -31st so that you can hear some of the drums hit in the drum range. After the drums I have added a Redux plugin to downsample the drum sound, and a PingPong delay to get the drum hits to bounce around a bit.

Press play and take a listen to your random Generative piece. Isn't quite amazing what can be done using one MIDI note and a couple of Ableton's built-in effects with random and chance parameters?
Step 4 - Add Some Ambience
Now to add some ambience to the piece, let's create some Effects Sends and send some of their level to the audio. I have added a Simple Delay to Send 1 and a Reverb to Send 2. Remember to increase the Wet signal on the Reverb to 100% for the full reverb effect.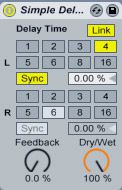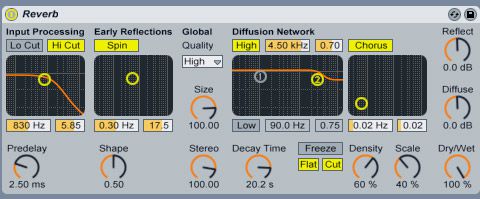 Next, increase the Send Levels on the MIDI Track to taste. I have added quite a good dose of delay and reverb to the audio to really give it that spacey, ambient feel.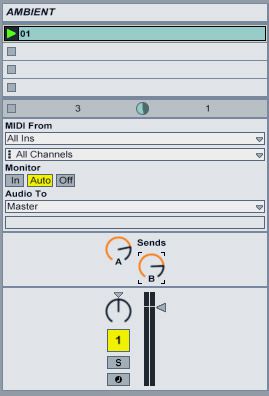 How is that for generative ambience!
I have included my Ableton project file if you wish to tinker with it. Go crazy! You can add to it and add more chains and audio effects to build up the generative piece.
Download Generative Music in Ableton Project Here.

Conclusion
Generative Music is a great way to add spontaneity to your compositions. You could bounce a bit of this audio out and pull it back into an audio composition. The generative piece would create an audio file which you may not necessarily have thought of. It can really help when you are having those writer's block moments, and it can really freshen up the moment in any audio composition that may have needed something special and random.
This is only the tip of the iceberg with Ableton and its chance effects. You can incorporate Ableton's Chord and Arpegiator MIDI effects, and build up more MIDI Effect and Audio Racks. You could also use more MIDI clips that trigger different Racks and Effects. The options are endless. So give it a try and see what you come up with.
Continue the generative journey: PART 2 HERE.