Recentemente, ho preso un iPad 2 il giorno è uscita negli Stati Uniti anche se sono in Canada. Fellow Fortunatamente fan Apple ha reso il viaggio per Buffalo e ottenuto due. La velocità è sicuramente meglio su questi nuovi modelli e per questo, GarageBand per iPad è diventata una nuova dipendenza di miniera.
Continua a leggere saperne di più sulle mie esperienze con GarageBand per iPad e tutti i modi l'ho messo alla prova come strumento in tempo reale e multi-traccia dispositivo di registrazione.
In una Jam live
Sono andato a una serata jam con solo un M-Audio Axiom Pro ei miei 2 iPad con kit di collegamento telecamera USB con GarageBand. I pianoforti erano reattivo e si sedette bene nel mix. Ma il clou doveva essere gli organi B3. Almeno 3 tastieristi altri si avvicinò per controllare l'installazione e rimasti molto colpiti con il suono. Il passaggio tra pianoforte, organo e synth è stato anche veloce.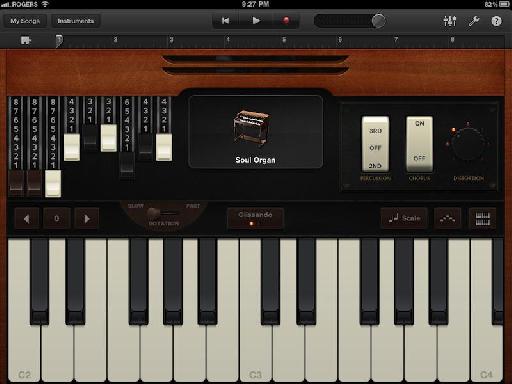 My wish list... layers/split for piano/bass and piano/pad sounds etc., more effects, third party plugins and perhaps more sounds like strings. Heck Apple... just give us a version of MainStage on an iPad! The camera connection kit I used to connect the USB out of the Axiom Pro to the iPad works well but also presents its own set of problems. I found the adaptor pops out of the iPad too easily and it became frustrating to get the sounds playable again from the Axiom Pro without restarting the application or even having to restart the iPad. If you were also customizing your patches or now saving your song and adding a name to it, the connection had to be pulled so that the onscreen keyboard could pop up.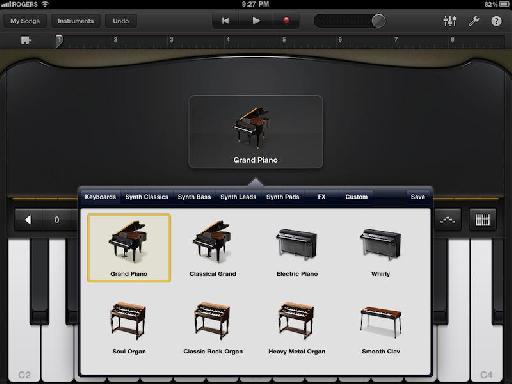 Back in the Studio
Per quanto riguarda la registrazione sul 2 iPad con GarageBand, ero trovarmi sorridente immensamente. Non è perfetto, ma considerando quello che siamo in grado di fare per un app che è meno di $ 5 in un dispositivo sottile difficile anche solo la mia mente. Si ottiene soft synth, amplificatori per chitarra, loop, campionatore e "intelligente" degli strumenti.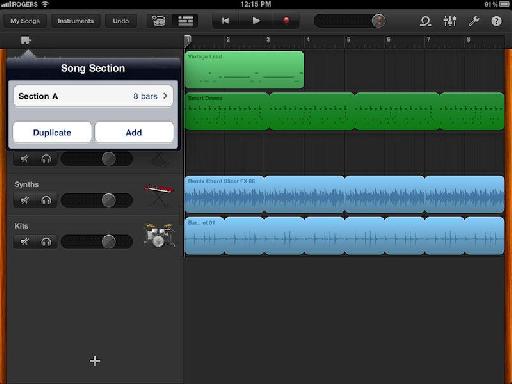 Limitazioni includono la mancanza di altri effetti poi riverbero e delay, il numero di sezioni canzone è possibile aggiungere (10 in totale anche se si potrebbe rinunciare a fare questo modo "automatico" che consente un numero illimitato di barre), nessuna modifica chiave o tempo all'interno una canzone, e una grande nota di editing MIDI / audio dopo aver registrato. Ho anche sarebbe piaciuto essere in grado di assegnare alcuni pomelli di taglio del filtro, risonanza, ecc sulla mia Axiom Pro e registrare le spazza filtro, ma ancora ... stiamo parlando di 5 $ e si può fare un editing più quando si trasferisce la canzone di GB su un mac!
Get Looping
Just like Garage Band on the Mac, the iPad version has Apple Loops. Great for starting off although I find I can identify more and more of these loops in songs, TV, commercials, etc. The set of loops provided are also only a small set from what you may be used to on the Mac version and I hope we can eventually add more including our own loops. One thing that's annoying is when adding the loops is it will take up the whole section from the bar where you dropped it in right on to the end of the section. So instead of a 2 bar loop being only 2 bars, it will fill up a section that may be 8 bars.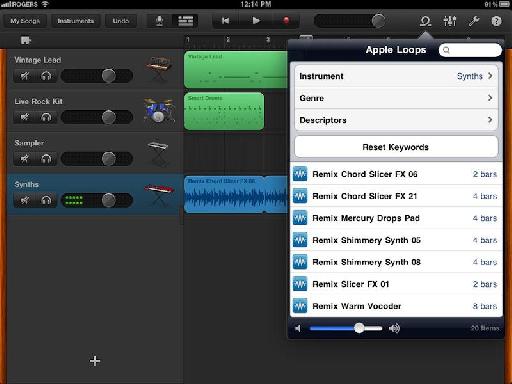 Get Smarter
Apple dice che l'chiunque può essere un musicista con la sua sezione strumento intelligente che ho sempre ridacchiare. Ad un certo punto ho capito dove sta andando con questo ma alla fine è utile conoscere realmente una teoria musica, ecc Un consiglio per il musicista beginner ... tenere traccia dei tuoi cambi di accordo e avrete una canzone molto migliore suono con poche possibilità di conflitti di accordi tra gli strumenti. Ma anche per il musicista informato, l'ispirazione può venire da questi strumenti. Ho trovato particolarmente utili i Tamburi intelligente con la sua "tirare i dadi" sezione di modelli casuali.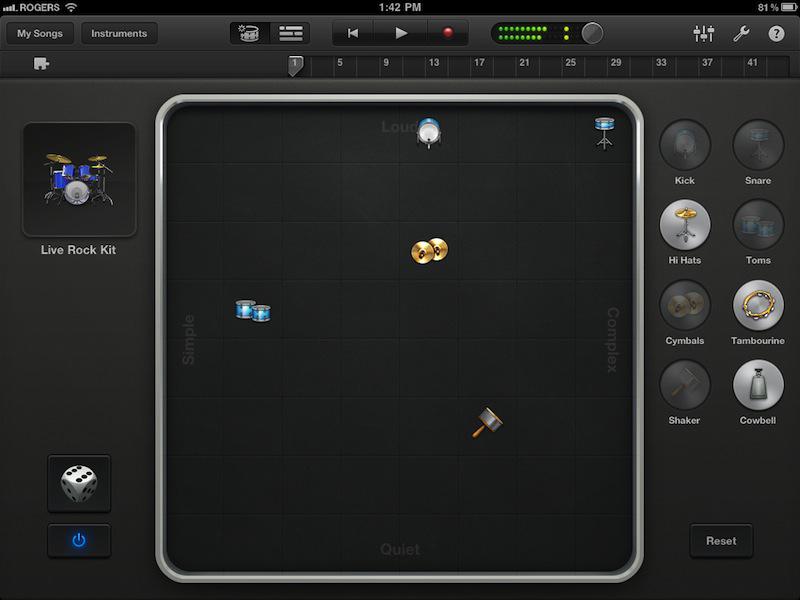 Anche i modelli di pianoforte che non si può avere pensato o forse non si riesce a suonare la chitarra molto ben, ma sono in grado di utilizzare l'autoplay che "strimpella" o "raccoglie" le note per voi.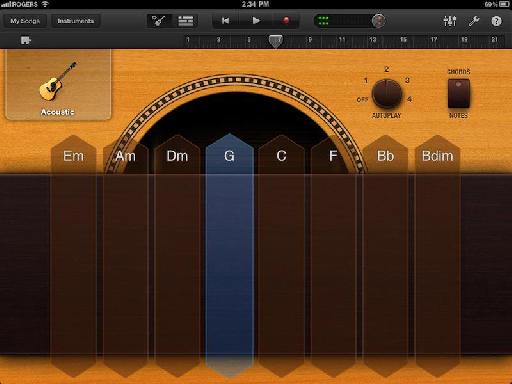 Guitar Input
Se sei un chitarrista, GarageBand possono diventare uno strumento di grande pratica soprattutto con i suoi amplificatori, ma avrete bisogno di ottenere un dispositivo di input come IRIG IK Multimedia o Jam di Apogee per collegare la vostra chitarra. GB offre una sezione di amplificatori Marshall a Orange e anche le opzioni pedale troppo.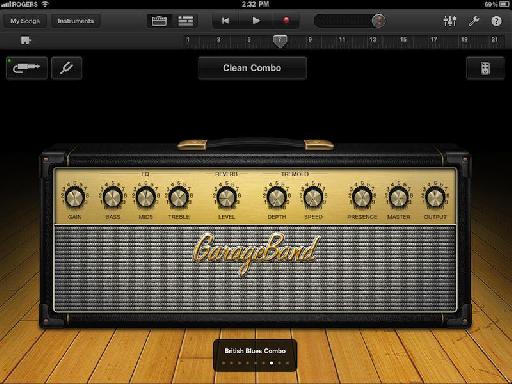 I suoni non sono male e dovrebbe soddisfare la maggior parte chitarristi esigenze soprattutto per provare le canzoni di materiale. In futuro, mi piacerebbe vedere di controllo MIDI dei pedali, ecc attraverso il kit di connessione USB della fotocamera e preset personalizzati.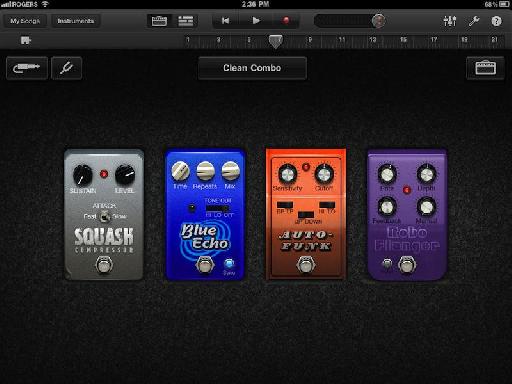 Ingresso vocale
Cantanti possono anche ottenere in azione, ma, ancora una volta, per una migliore qualità del suono, si sta andando a bisogno di qualcosa come nuovo microfono BLU, il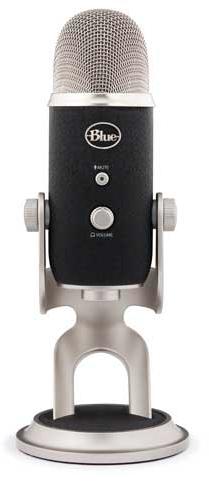 È possibile registrare la tua voce e quindi modificare la voce con effetti come "Telefono", "Bullhorn", "Chipmunk", ecc Forse nella versione 2, Apple potrebbe anche darci ancora un po '"utile" preset per cantautori, anche se la "piccola stanza "e" sala grande "non sono una brutta partenza e qualche compressione di base per il controllo dinamico.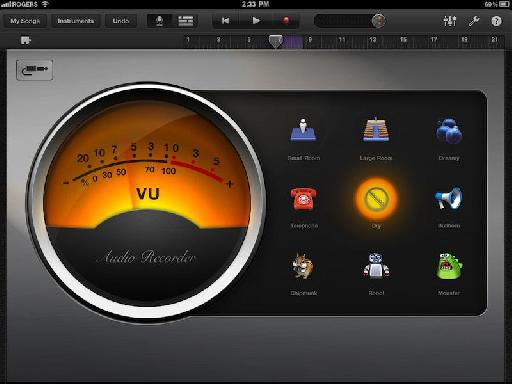 Quello che abbiamo oggi è solo l'inizio e posso vedere gli aggiornamenti provenienti giù per il tubo che renderanno GB più potente. Per alcuni consigli su come usare altri grandi GarageBand sul iPad Verificate articolo Rounik Sethi " 5 punte del flusso di lavoro essenziali per GarageBand per iPad "
Fino alla prossima volta ... scatenarsi!