Recently, I picked up an iPad 2 on it's US release day even though I'm up in Canada. Luckily a fellow Apple fan made the trek to Buffalo and got two. Speed is definitely better on these new models and because of this, GarageBand for iPad has become a new addiction of mine.
Read on find out more about my experiences with GarageBand for iPad and all the ways I put it to the test as a real-time instrument and multi-track recording device.
In a Live Jam
I went to a jam night with only an M-Audio Axiom Pro and my iPad 2 with USB camera connection kit using GarageBand. The pianos were responsive and sat well in the mix. But the highlight had to be the B3 organs. At least 3 other keyboardists came up to check out the setup and were very impressed with the sound. Switching between piano, organ and synths was also fast.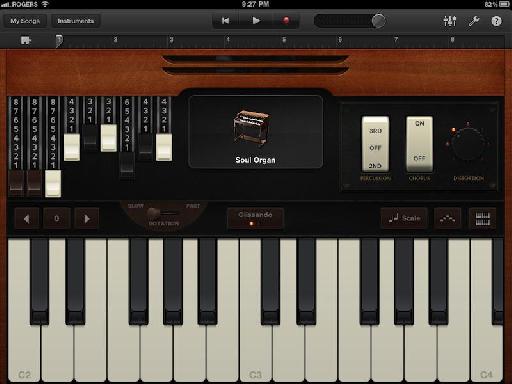 My wish list... layers/split for piano/bass and piano/pad sounds etc., more effects, third party plugins and perhaps more sounds like strings. Heck Apple... just give us a version of MainStage on an iPad! The camera connection kit I used to connect the USB out of the Axiom Pro to the iPad works well but also presents its own set of problems. I found the adaptor pops out of the iPad too easily and it became frustrating to get the sounds playable again from the Axiom Pro without restarting the application or even having to restart the iPad. If you were also customizing your patches or now saving your song and adding a name to it, the connection had to be pulled so that the onscreen keyboard could pop up.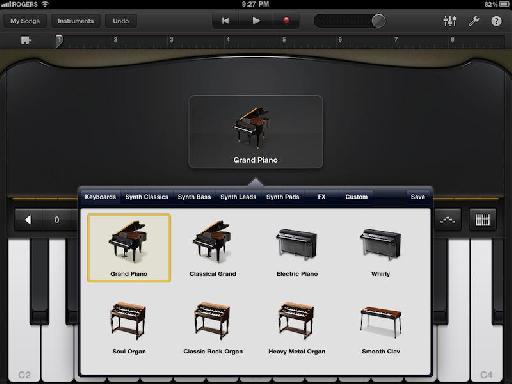 Back in the Studio
As for recording on the iPad 2 with GarageBand, I was finding myself smiling immensely. It's not perfect but considering what we're able to do for an app that's less then $5 on such a thin device just boggles my mind. You get soft synths, guitar amps, loops, sampler and "smart" instruments.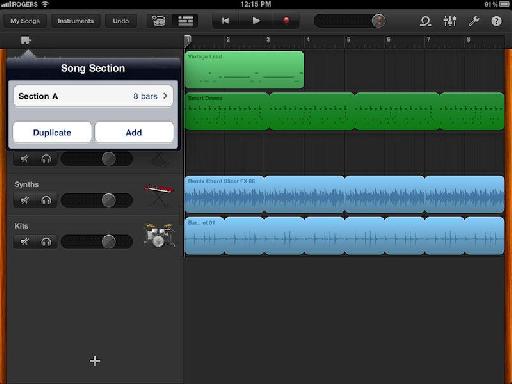 Limitations include the lack of effects other then reverb and delay, the number of song sections you can add (10 total although you could forgo this by doing "Automatic" mode which gives you an unlimited number of bars), no key or tempo changes within a song, and a big one of editing MIDI note/audio data after you've recorded. I also would have enjoyed being able to assign some knobs to filter cutoff, resonance, etc. on my Axiom Pro and record the filter sweeps but still... we're talking $5 and you can do more editing when you transfer the song to GB on a mac!
Get Looping
Just like Garage Band on the Mac, the iPad version has Apple Loops. Great for starting off although I find I can identify more and more of these loops in songs, TV, commercials, etc. The set of loops provided are also only a small set from what you may be used to on the Mac version and I hope we can eventually add more including our own loops. One thing that's annoying is when adding the loops is it will take up the whole section from the bar where you dropped it in right on to the end of the section. So instead of a 2 bar loop being only 2 bars, it will fill up a section that may be 8 bars.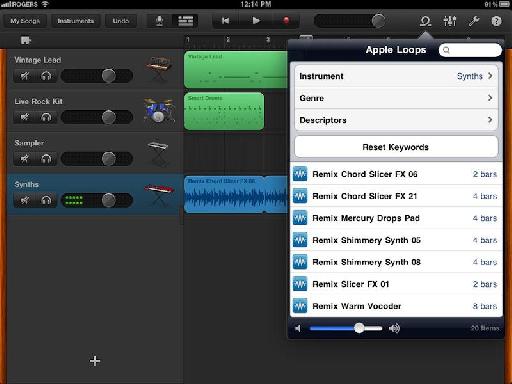 Get Smarter
Apple says that the anyone can be a musician with it's Smart Instrument section which I always chuckle at. To a certain point I understand where they're going with this but eventually it helps to actually know some music theory, etc. A word of advice for the beginner musician... keep track of your chord changes and you'll have a much better sounding song with little chance of chord conflicts between instruments. But even for the knowledgable musician, inspiration can come from these instruments. I especially found the Smart Drums useful with it's "roll the dice" section of random patterns.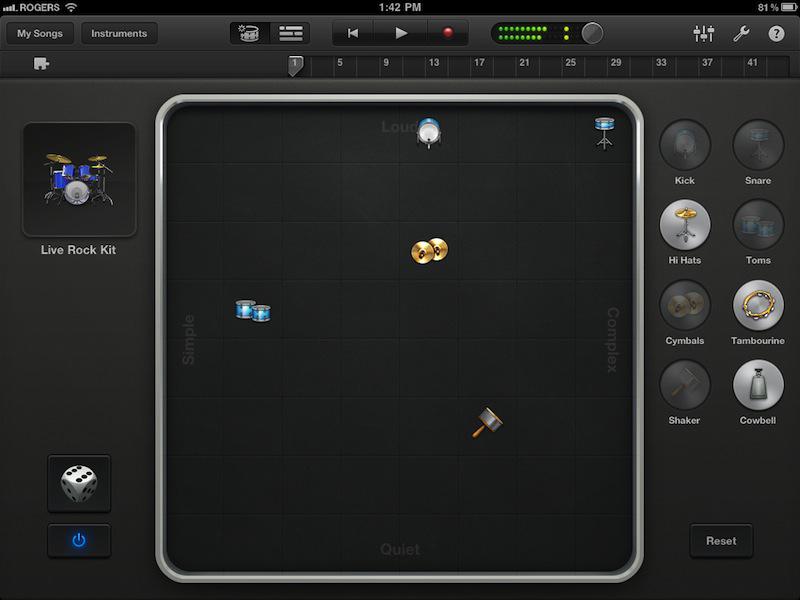 Even piano patterns that you may not have thought of or perhaps you can't play guitar vey well but are able to use the autoplay which "strums" or "picks" notes for you.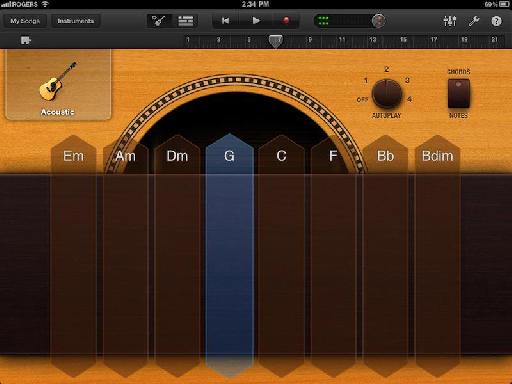 Guitar Input
If you're a guitarist, GarageBand can be become a great practice tool especially with it's amps but you'll need to get an input device like IK Multimedia's iRig or Apogee's Jam to plug in your guitar. GB gives you a section of amps from Marshall to Orange and even pedal options too.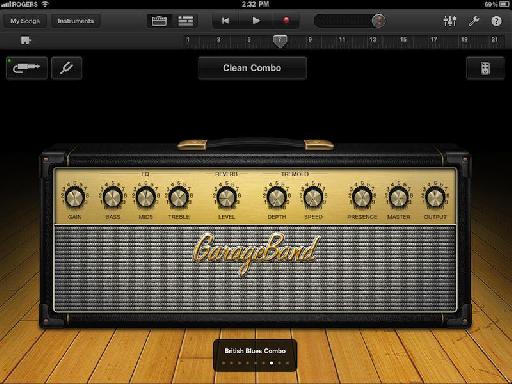 The sounds are not bad and should satisfy most guitarists needs especially for demoing material. In the future, I would love to see MIDI control of the pedals, etc. through the USB camera connection kit and custom presets.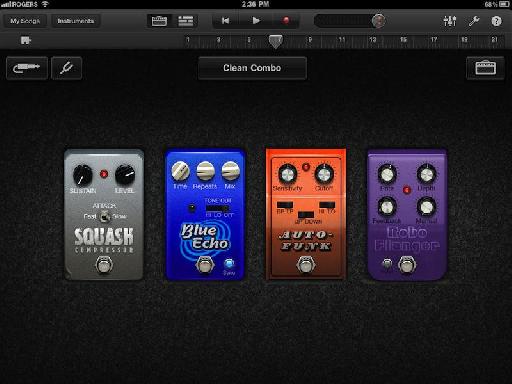 Vocal Input
Vocalists can also get in on the action but, again, for best sound quality, you're going to need something like BLUE's new microphone, the "Yeti Pro" which has a USB connector.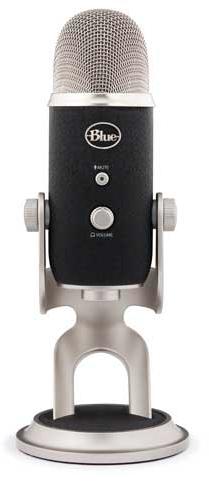 You can record your vocals and then change your voice with effects like "Telephone", "Bullhorn", "Chipmunk", etc. Perhaps in version 2, Apple could also give us some more "useful" presets for songwriters although the "small room" and "large room" aren't a bad start and have some basic compression for dynamic control.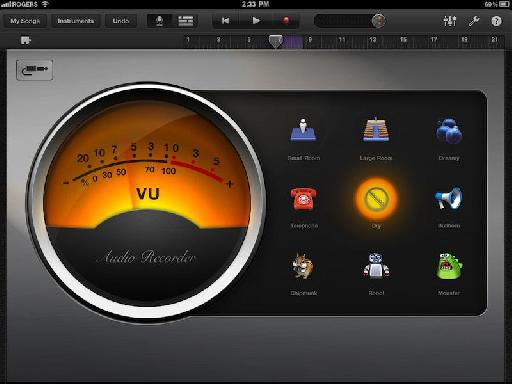 What we have today is just the beginning and I can see updates coming down the pipe that will make GB more powerful. For some other great tips on using GarageBand on the iPad check out Rounik Sethi's article "5 Essential Workflow Tips for GarageBand for iPad"
Till next time... keep rocking!