DUBSHOX H8 est l'effet VST unique combinant différents processeurs en un. Il est conçu pour les styles de musique lourds comme: Dubstep, Drum and Bass foncé / Neurofunk, Electro, EBM, ou techno expérimentale / minimal.
Dubxhox H8 est mieux en combinaison avec d'énormes lignes de base et des synthés de dubstep.
Si vous produisez la drum and bass, breakbeat, dubstep ou d'autres modèles semblables et vous pensez que votre synthétiseur n'avez pas assez genre de sons / couleurs sonores et est manquant énergie de basse graisse ou le caractère lourd analogique nécessaire pour ces styles essayer d'appliquer Dubshox H8 comme effet.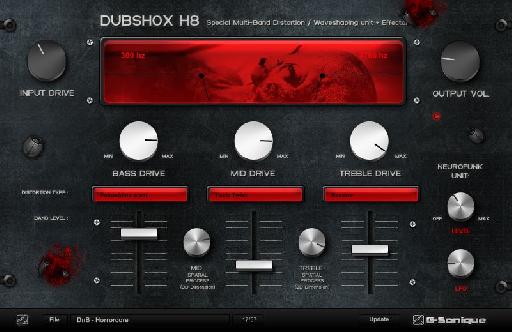 DUBSHOCK H8 combine la distorsion multibande et de l'unité wavashaping avec plus de 40 types de distorsions et façonneurs de son (de l'analogique, le transistor / diode ou à vide distorsions de tubes à waveshapers numériques fou.). Chaque groupe a bouton pour le lecteur (taux de distorsion) et le niveau de sortie de sorte que vous pouvez ajouter de la distorsion lourde, mais sans avoir l'air trop fort.
Souvent lignes de basse à vos favoris pistes producteurs dnb / dubstep sonnent lourd, gras et hautes fréquences ont très vaste espace qui remplissent toutes les pistes et vous vous demandez comment votre artiste préféré a fait? Réponse: Multiband distorsion / waveshaping. Solution facile avec MID et processeurs spatiales des aigus Vous pouvez ajouter 3e dimension à fréquences moyennes et hautes de vos lignes de basse tout garder basse en mono qui est nécessaire si vous jouez votre musique sur grand système de sonorisation à des festivals / clubs.
En outre, vous pouvez ajouter un peu futuriste / post-apocalyptique de son caractère avec l'unité Neurofunk visant principalement pour modèles sombres de la drum and bass.
Regardez la vidéo:
Principales fonctionnalités:
BASS distorsion algorithmes:
Aucun,

Base,
WarpDrive,
Destroyer,
Niveau moléculaire,
Fukushima,
Invasion,
gardien de Dungeon,
Distorsion Parabolar,
Toxicdust,
Thor,
Lourd,
Poussière analogique,
Distorsion asymétrique doux,
distorsion de transistor,
La dose de rayonnement,
MID algorithmes de distorsion:
Aucun,
Doux,
Diode,
Napalm,
Twist toxique,
La radio soviétique,
Neurotech,
Shaper sale,
Poussière d'Armageddon,
Deepster,
Ares,
Fukushima,
Forte dose,
Vide,
Le signal étranger Dusty,
Station de Mars

TREBLE algorithmes de distorsion:
Aucun,
Doux,
Poussière sombre,

Base,
Erreur numérique,
Transistor,
Potion magique,
Réacteur,

Acide,
L'acide 2,

Analogique endommagé,
Tetraformer
- Processus spatial Mid (son 3D) - processus spatial aigus (son 3D) - unité Neurofunk (niveau et le bouton LFO)

Bouton d'entraînement d'entrée et de sortie du volume Bypass switch-ensemble -
- Gestionnaire de presets
Prix ​​standard: 29.90 Eur
Le prix de lancement de 100 premiers clients: 18,90 Eur
Web: http://www.g-sonique.com/dubshoxh8-multiband-distortion.html