DUBSHOX H8 es efecto VST único que combina varios procesadores en uno. Está diseñado para los estilos de la música pesados ​​como: Dubstep, Drum and Bass oscuro / Neurofunk, Electro, EBM, o experimental / minimal techno.
Dubxhox H8 es mejor en combinación con grandes líneas de base y sintetizadores dubstep.
Si usted está produciendo drum and bass, breakbeat, dubstep o otros estilos similares y cree que su sintetizador no tiene suficiente clase de sonidos / colores sonoros y le falta energía de bajos en grasa o carácter análogo pesado necesario para estos estilos intentar aplicar Dubshox H8 como efecto.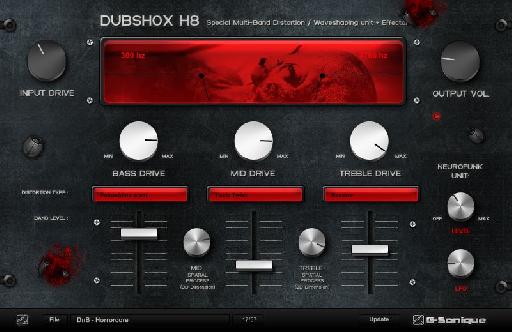 DUBSHOCK H8 combina distorsión multibanda y la unidad wavashaping con más de 40 tipos de distorsiones y forjadores de sonido (de lo analógico, transistor / diodo o de vacío distorsiones tubo a waveshapers digitales locos.). Cada banda tiene mando de la unidad (cantidad de distorsión) y el nivel de salida para que pueda agregar una distorsión pesada, pero sin sonar demasiado fuerte.
A menudo, líneas de bajo en sus pistas productores dnb / dubstep favoritos están sonando pesado, grasa y altas frecuencias tienen muy enorme espacio que cumple todas las pistas y usted se está preguntando cómo su artista favorito lo hizo? Respuesta: distorsión multibanda / conformado de onda. Solución fácil con MID y TREBLE procesadores espaciales se pueden agregar tercera dimensión a frecuencias medias y altas de las líneas de bajo, mientras que mantener el bajo en mono que es necesario si usted está jugando su música en grande sistema de megafonía en las fiestas / clubes.
Además, puede añadir un poco futurista / post carácter apocalíptico de sonido con la unidad Neurofunk dirigido principalmente para los estilos oscuros de drum and bass.
Mira Videos:
Las mejores prestaciones:
Los algoritmos de distorsión de graves:
Ninguno,

Basic,
WarpDrive,
Destroyer,
Nivel molecular,
Planta de Fukushima,
Invasion,
Arquero Dungeon,
Distorsión Parabolar,
Toxicdust,
Thor,
Pesado,
Polvo analógica,
Distorsión asimétrica Soft,
Distorsión Transistor,
La dosis de radiación,
Los algoritmos de distorsión MID:
Ninguno,
Suave,
Diode,
Napalm,
Giro Tóxico,
La radio soviético,
Neurotech,
Shaper Sucio,
Polvo de Armagedón,
Deepster,
Ares,
Fukushima,
De alta dosis,
Vacío,
Señal extraterrestre polvoriento,
Estación de Marte

Los algoritmos de distorsión TREBLE:
Ninguno,
Suave,
Polvo oscuro,

Basic,
De error digital,
Transistor,
Poción mágica,
Reactor,

Ácido,
Ácido 2,

Analógico dañado,
Tetraformer
- Mediados proceso espacial (sonido 3D) - proceso espacial de agudos (sonido 3D) - unidad Neurofunk (nivel y mando LFO)

Perilla de volumen de la unidad de entrada y de salida del interruptor general-Bypass -
- Gestor de ajustes preestablecidos
Precio estándar: 29,90 Eur
Precio de lanzamiento para los primeros 100 clientes: 18,90 Eur
Web: http://www.g-sonique.com/dubshoxh8-multiband-distortion.html