DUBSHOX H8 ist einzigartig, die Kombination verschiedener VST-Effekt-Prozessoren in einem. Dubstep, Drum and Bass Dunkel / Neurofunk, Electro, EBM, oder experimentelle / Minimal Techno: Es wird schwer für Musikstile wie konzipiert.
Dubxhox H8 ist am besten in Kombination mit großen Basislinien und Dubstep Synths.
Wenn Sie produzieren Drum and Bass, Breakbeat, Dubstep oder andere ähnliche Arten sind, und Sie denken, dass Ihre Synthesizer nicht genügend Art von Sounds / Klangfarben und fettem Bass Energie oder schweren analogen Charakter für diese Arten notwendigen fehlen versuchen, Dubshox H8 gelten als Wirkung.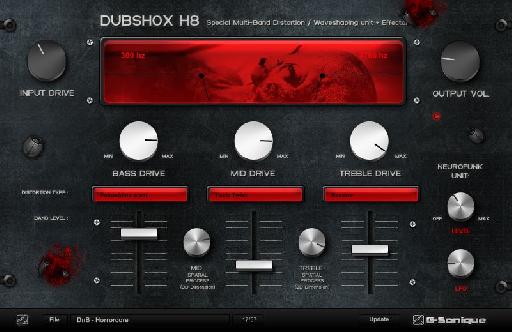 DUBSHOCK H8 verbindet Multiband-Verzerrung und wavashaping Einheit mit mehr als 40 Arten von Verzerrungen und Klangformer (von Analog-, Transistor / Diode oder Vakuumröhrenverzerrungen verrückt digitale Wellenformern.). Jede Band hat Knopf für Laufwerk (Grad der Verzerrung) und Ausgangspegel, so dass Sie schwere Verzerrung kann hinzufügen, aber ohne klingen zu laut.
Oft Basslines in Ihrem Lieblings-Produzenten dnb / dubstep Tracks klingen schwer, Fett-und hohen Frequenzen haben sehr großen Raum, der alle Titel erfüllen und Sie fragen sich, wie Ihre Lieblings-Künstler machte es? Antwort: Multiband Distortion / Waveshaping. Einfache Lösung mit MID und TREBLE räumlichen Prozessoren können 3. Dimension zu mittleren und hohen Frequenzen der Basslines hinzufügen, während halten Bass in Mono, die notwendig ist, wenn Sie spielen Ihre Musik auf großen PA-System auf Festivals / Clubs.
Zusätzlich können Sie etwas futuristisch / post-apokalyptischen Charakter der Sound mit Neurofunk-Einheit vor allem für dunkle Arten von Drum-und Bass-Ziel hinzufügen.
Video ansehen:
Top-Features:
BASS Verzerrungsalgorithmen:
Keine,

Basic,
WarpDrive,
Zerstörer,
Molekularer Ebene,
Fukushima,
Invasion,
Dungeon Keeper,
Parabolar Verzerrung,
Toxicdust,
Thor,
Heavy,
Analog Staub,
Weiche asymmetrische Verzerrung,
Transistor-Verzerrung,
Die Strahlenbelastung,
MID Verzerrung Algorithmen:
Keine,
Sanft,
Diode,
Napalm,
Giftig Twist,
Sowjet Radio,
Neurotech,
Schmutzige Former,
Dust of Armageddon,
Deepster,
Ares,
Fukushima,
Hohe Dosis,
Leer,
Dusty Alien-Signal,
Mars-Station

TREBLE Verzerrungsalgorithmen:
Keine,
Weiche,
Dunkler Staub,

Basic,
Digitale Fehler,
Transistor,
Zaubertrank,
Reactor,

Säure,
Säure-2,

Beschädigte analog,
Tetraformer
- Mid räumliche Verfahren (3D-Sound) - Treble räumliche Verfahren (3D-Sound) - Neurofunk Einheit (Niveau und LFO-Regler)

- Bypass-Schalter-Gesamtantriebs-und Ausgangslautstärkeregler
- Preset-Manager
Standardpreis: 29,90 EUR
Einführungspreis für die ersten 100 Kunden: 18.90 Eur
Web: http://www.g-sonique.com/dubshoxh8-multiband-distortion.html