Follow Action are an often overlooked feature of Ableton Live but they can be a source of great inspiration and add an element of unpredictability to your Live sets. In Part One, we looked at how Follow Actions work, plus a couple of practical examples. In this article, we'll continue our look at practical applications.

Generative melodic variation
Start with a one or two bar MIDI clip containing a melody that you like. Now duplicate the clip and make some variation to the MIDI within. Repeat until you have three or four clips with variations on the main theme. Your clip groups should look something like this:

Follow Actions require all clips to be grouped, one after another in Session view.
You can get as creative as you like with this. Replace the melodies with chords, set a different start point or loop length for each clip. The contents can be anything as long as they are musically related.
Select all the clips in the group and edit the Follow Action properties as follows: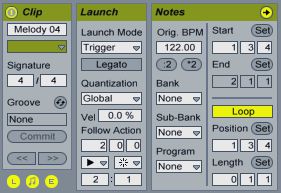 Follow Action properties for the main drum pattern.
The first line of the Follow Actions section tells us that the Follow Action will trigger 2 bars after clip has started to play. The second line tells us that Follow Action A will be 'Play Again'