Follow Action gibt eine oft übersehene Funktion von Ableton Live, aber sie können eine Quelle großer Inspiration und fügen Sie ein Element der Unvorhersehbarkeit zu Ihrem Live-Sets.

Was ist ein Follow Action?
Eine Follow-Action ist ein Clip-Eigenschaft, was passieren wird, innerhalb einer Gruppe von Clips nach, dass der Clip fertig spielen definiert. Eine Gruppe von Clips irgendeine Anzahl der Clips in aufeinanderfolgenden Schlitzen auf einer einzelnen Spur angeordnet ist.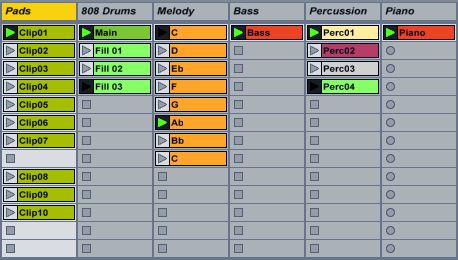 Folgen Sie Aktionen Arbeit in Gruppen von Clips. In der ersten Audiospur hier können wir sehen, zwei Gruppen: Clip01 - Clip07 machen eine Gruppe und Clip08 - Clip10 machen andere.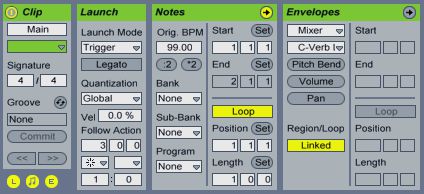 Follow Actions sind einzigartig für jeden Clip und sind in der Clip-Ansicht unter der Registerkarte Starten gefunden.
Es gibt drei Abschnitte zu den Follow-Action-Eigenschaften.
The first line is the "Follow Action Time control". Here you can set, in bars, beats and sixteenths, how long after the clip is launched the follow action will take place.

The next line is the "Follow Action chooser". Two drop down menus which set two different Follow Actions, A and B. The actions are self-explanatory on the whole: Stop, Play Clip Again, Play Previous Clip, Play Next Clip, Play First Clip, Play Last Clip, Play Any Clip, Play Other Clip or No Action.

The last line are the Chance controls. There are two fields, one each for Follow Action A and B. Together, the two fields calculate the chance of each Action being triggered. For example, if field A were set to 1 and field B to zero, then Follow Action A would always be triggered. If field A were set to 1 and field B to 4, then Trigger Action B would be triggered roughly four times as often as Action A.

Jetzt kommt der spaßige bit, sehen wir uns einige praktische Beispiele dafür, wie wir die Follow Actions verwenden.
Zufällig ausgewählte Drum-Fills
Richten Sie eine Gruppe von vier Clips wie folgt:
Clip 01: This will be the main drum pattern. Let's say it's 1 bar long.

Clip 02: This will be the first fill, also 1 bar long.

Clip 03: Another 1 bar fill.

Clip 04: Another 1 bar fill.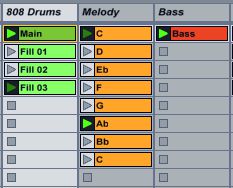 Auf der Strecke 808 Drums sehen wir unser Setup, ein Haupt-Drum-Pattern und drei füllt.
Würden dies einzurichten, so dass die wichtigsten Drum-Pattern wird für drei Bars, nach denen eine der drei Füllungen werden nach dem Zufallsprinzip ausgewählt werden, um zu spielen zu spielen. Nachdem die Füllung für ein bar gespielt hat, wird das Haupt-Muster wieder spielen drei Bars und das ganze Routine wird wiederholt.
Wählen Sie Clip 01 und bearbeiten Sie die Follow-Action-Eigenschaften wie folgt:

Follow Action Eigenschaften für die wichtigsten Drum-Pattern.
Die erste Zeile des Follow Abschnitt Aktionen erzählt uns, dass die Follow Action wird 3 Bars auszulösen nach Clip hat angefangen zu spielen. Die zweite Zeile sagt uns, dass die Follow Action A werden Andere Spielen und Follow Action B gesetzt ist, nichts zu tun. Spielen Andere bedeutet, dass jeder andere Clip in der Gruppe als nächstes spielen wird (dh einem unserer drei füllt). Die dritte Zeile gibt uns ein 1:0-Chance, dass Follow Action A ausgelöst wird. Also in diesem Fall sind wir nur mit Follow Action A. Follow Action B wird nie ausgelöst werden.
Wählen Sie nun alle drei fill Clips. Wir können Batch bearbeiten Follow Action Eigenschaften durch die Auswahl mehrerer Clips, da wir in diesem Fall sie alle die gleichen Eigenschaften haben wollen. Stellen sie alle wie folgt:

Follow Action für die drei fill Clips.
Die erste Zeile sagt uns, dass die Follow Action nach einer einzigen bar ausgelöst. Die zweite Zeile sagt uns, dass FollowAction A eingestellt ist, zuerst und Follow Action B wird nichts eingestellt. Endlich können wir sehen, dass nach wie vor gibt es eine 1.00 Chance, dass Follow Action A ausgelöst wird. Hören wir, was klingt:
[Audio id = "16294"]
Sie können hören, die Füllung ist zufällig nach jeweils drei Bars des Tambours Muster ausgewählt.
Fun eh? Schauen wir uns ein anderes Beispiel ...
Generative Melodien
Erstellen Sie eine Gruppe von MIDI-Clips, die ein einzigen Oktave jeder Größenordnung du willst. Jeder MIDI-Clip sollte eine einzelne Note auf der Skala. Beginnen Sie mit dem Grundton und gehen bis zu einer Oktave höher.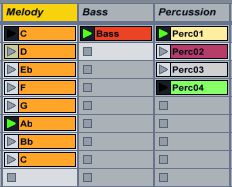 In der ersten Spur, sehen wir die C Aolean Skala mit jedem MIDI-Clip mit einer Note der Skala. Die Follow Aktionen spielen die Waage.
Wählen Sie nun alle Clips. Theyre alle gehen, die gleichen Follow Action-Einstellungen haben, so dass wir sie alle auf einmal machen kann. Stellen sie alle wie folgt:

Follow Action Immobilien für unsere generative Melodien.
Jeder Clip wird auf einer 16tel-Intervallen auslösen. Wir könnten einfach eingestellt Follow Action A eine zufällige Clip abspielen, lässt aber die Chance nutzen Parametern, um ein wenig Struktur in der Zufälligkeit zu injizieren. Set A zu anderen und B Erste Wiedergabe. Dann setzen Chance A 2 und Chance B auf 1 gesetzt.
Die Folge davon ist, dass es ein 2:1 Chance, dass eine zufällige andere Clip nächsten ausgelöst werden, aber es gibt auch eine Möglichkeit, dass 1.02 der erste Clip nächsten ausgelöst. Weil der erste Clip ist der Grundton der Skala ergibt dies die resultierende Melodien einige Pseudo-Struktur. Hier ist ein Beispiel dafür, was könnte dies klingen:
Unsere Generative Melodie mit Follow Aktionen aus:
[Audio id = "16293"]

Wie Sie sehen können, folgen Aktionen können sehr kreativ und sehr viel Spaß. Sie sind perfekt zum Einspritzen einige Unwägbarkeiten in Ihre Kompositionen und sind ein weiterer Weg, um mit Strukturen, Drum-Patterns und Melodien, die man nie von sich selbst träumen würde.
Begleiten Sie mich für Teil 2 bald, wenn Ill durch noch mehr Beispiele gehen.