From Night to Day: Tim Green On DJing & Producing For Daylight Parties
Championed by Sven Väth, Tim Green has evolved his music towards the light with daytime parties now his preferred performance slot. He reveals how to produce and DJ melodic dance tunes for daylight.


AskAudio: Tell us a bit about your background as a producer and DJ. What brought you to where you are now?
Tim Green: So I started DJing and producing electronic music around 20 years ago, learning how to mix and discovering electronic music for the first time. Then I got signed about 14 years ago, in 2006. Since then I've had great fun exploring different sounds and genres, releasing on many different labels. It's predominantly 4/4 electronic dance music, but I've written music in House, Techno, Disco and Deep House genres mostly. The sound I'm known for today is really a culmination of everything ive done and learnt from in the past. But I feel the music I'm making now is finally a sound and style that I am most comfortable with. As it speaks to the heart of what I'm trying to achieve and express. In essence, music that is very melodic, melancholic and honest.



You're venturing into DJing for daylight parties recently. What's been the motivation and drive behind this?
Again it's really me exploring and always searching for the sound or style that speaks to me the most. I like to be very musical, but trying to put a lot of musicality into dance music for clubs can be tricky. If you are DJing at a dark and intense nightclub at 3am, the crowd and vibe is probably not going to want a lot of musicality. It's more likely going to want very rhythmic and repetitive sounds, and possibly a more aggressive sound. Which is fantastic, but i've done that sound for a long time now. It took me a long time to realise it, but I really wanted to be able to express myself more and not be restricted by having to keep my songs simple, or dark. So the daytime parties have really opened up a lot of freedom in my mind. As it's a very different mindset. Still very much about dancing and loud music! But the music is going to have much more thought and musicality in the daytime, usually to reflect the surroundings and vibe that a daytime (and often outside) party gives you.
How does the production process differ when creating tracks for daylight vs after hours club events?
Quite a lot actually. I mean first and foremost, my transition has also gone from a slightly more Techno sound (I say slightly, as I have never been a full on Techno artist!) to a more house sound now. So that in itself requires different ways of creating beats, choosing different drum sounds. Choosing more organic sounds most likely as well, like live instrumentation of voices and real shakers as examples. As opposed to perhaps in Techno, synthetic sounds like drum machines are more likely to be more prominent and used. These are no rules of course, but due to the history and development of these two genres, these are sort of 'tips' that help and make sense a lot of the time. Mainly because of their respective timbres for example, organic sounds can be much more human and softer. Where as drum machines are naturally very rigid and exact.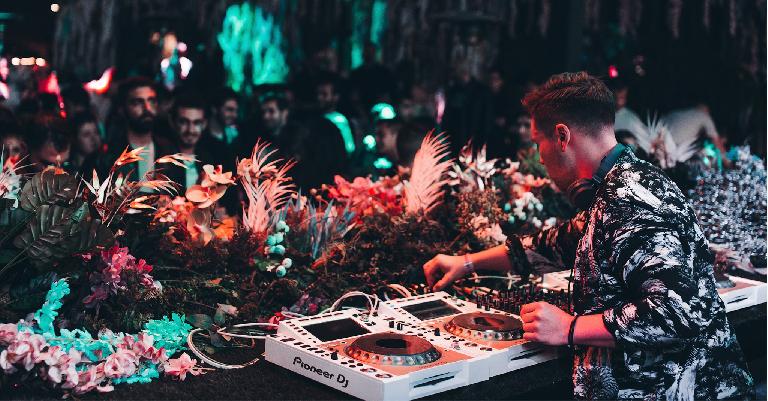 Lost Miracle has a lovely, light, summery-airy vibe. Can you tell us about your approach to creating and mixing the release?
Yeah so one track is a solo production. The track called 'Moho'. This song all started just with an idea of the bassline. The way the pattern of the bassline plays is that the last bar (of the 4 bar pattern) is a 3 note descending riff. I wanted this bassline to always feel like its leading into the next section. It happens every 4 bars, so it happens a lot. But it's really helpful to bring the song along and push. You notice it most on the 2 main drops, when everything comes back in. As the 3 notes play just before, which works really well I think. The rest of the track is just a pure groove song, gets people dancing every time!

'Embre' is a collaboration with me and Sébastien Léger. We live in different countries, so we did it remotely. Via a combination of passing parts back and forth, to also FaceTime video calls etc. But musically the song started at my studio, I had an unfinished song which I sent to Seb. He really loved it and went away and wrote so much more around it! My original song had the main melody and drums which are in the final version. Seb then wrote the awesome chords on the prophet 6, the bassline, added more drums and made the structure. Then from there onwards he sent it back to me, where I did a lot of tweaking, but it was only minor changes. But I always enjoy the long process of getting into the tiny details. Like tiny bits of automation in the drop down, muting parts at different places, giving space to certain elements, making others louder and more prominent etc… We also changed the chord pattern a little bit to fit the main melody, as they were resolving in different keys. The melody is a interesting pattern, as it shifts downwards in semitones towards the end of the loop. All in all, its a pleasure to work with Seb, as his musical ability is amazing, so its easy when working with somebody who gets everything!
Tell us about the software side of your studio setup.
So im a Logic Pro user. Have been pretty much for the last 25 years. It was the second sequencer I ever used. The first was the Atari ST and Cubase if I remember correctly! But that was playing around as a kid. Logic has been what I base all my studio around. But in terms of plug ins, I mainly have plug ins for mixing purposes. Not so many as soft synths. But I use all the FabFilter stuff a lot, especially love the Saturn Saturation Plug in. UAD plug ins a lot as well, the compressor emulations are amazing. Like the API 2500. Also im in love with the Neve 1073 and Vertigo VSM-3 plug ins - really amazing saturation from these to create interesting mixing. Also love some Waves plug ins, PSP plug ins, Elysia plug ins etc… For synths the Uhe stuff is great, plus I love all of Arturia's synth stuff. Great emulations of classic synths. Also still use a lot of the Native Instruments stuff. Kontakt is just amazing, with all of the 3rd party developers, its amazing. Spitfire Audio is one of my favourites. Just great sounding sample libraries. But a lot of the time I use samples for ideas. Organic sounds like voices which I like to play around with and create something new with them. Plus just any sample I find that gives me inspiration, could be a synth note, or a pad. I still work with audio most of the time.

And what about the hardware side? I believe you've got a Minimoog, Prophet 6 and other synths and instruments you rely on?

So I have 3 audio interfaces, 2x RME's and an Apogee Ensemble. Running at 48khz, so I can get around 28 inputs and outputs which I love because I can have all of my equipment connected and ready to record at any point. I have several synths and I feel most of the musical ideas are coming from my hardware than software. I have an original MiniMoog Model D from the 70's. Plus a Moog Voyager. A Prophet 6, Nord Modular G2, Korg Minilouge etc… I only ever buy stuff I get a lot of use out of., So I take a long time to decide on buying something new. But once I do, I will very rarely sell it. I use it over and over again and really get to know it. I also have a few external compressors - my favourite and most used being the Looptrotter Monster Compressor. Its just really versatile and also has a great saturation tube section also, which really can help take some of the digital feeling away from certain sounds when I record it though. I also still love my Alesis 3630 Compressor - such a cheap compressor but I still like to use it on certain sounds!

How have you been coping with the global pandemic? Has it had an impact on how you make and create music?
Well to be honest, in terms of financial, I know there are always people much worse off than me so I dont like to complain. I think the world needs to go through everything right now, as there are more important things happening. I have no idea when I can start DJing again, I think it will not be for a very long time at this rate. But at least I can stay at home and write music as much as I want which I really enjoy and am thankful for, as I can take a long time to finish music. I like to have the freedom to experiment. So right now all this time is a bonus for me that I'd rather think of as a positive. Of course writing music doesn't bring in immediate money, but hopefully it will in the long run. I have always been lucky that I have done well in terms of selling my music, and I have a big back catalog that continues to sell and bring in royalties.
Are there any tips you'd be happy to share with up and coming producers and DJs looking to break into the daylight party scene?
I think the immediate musical family I am a part of right now is very open and welcoming. We all love to hear new music and support new artists where we can. Somebody who is writing great music will always get noticed. But I think to start off with, if this sound and style is your optimum goal, you can definitely find all of us online on our social platforms and send us music to check out. It might take some time, but I think be patient and just try to get your music to all the right people. We will be able to give some loose feedback on music and if its something as DJ's we would want to play in our sets etc…. But within my scene, there is constantly so many new people coming through, its fantastic. Plus it shows that it is completely possible to do so!

Web: https://www.beatport.com/release/moho-ep/2968574