I have been a huge fan of the OhmBoyz delay plug-in since the moment it was released. Although it's now been around for years it's still a staple in my daily studio diet. It has the uncanny ability of making anything sound cool. Never a bad thing!

Here we take a look at one particular aspect of the OhmBoyz system and that is its ability to 'freeze' its delay output, creating tape like, dubby effects. This feature alone makes this little plug-in worth a look...

Step 1 - Loading a Solid Patch

You can perform this little trick with pretty much any OhmBoyz patch. If you are already a user of the plug-in then you could use one of your own patches, or alternatively (as I've done here) load something up from the library.

I've used a nice filtered patch that should really show off the technique I'm going to demonstrate in the next few steps, but as I say you can more or less use any patch. The main thing to note is that this effect will be much more noticeable when using patches with longer feedback settings.

A dry guitar loop I'll be processing here: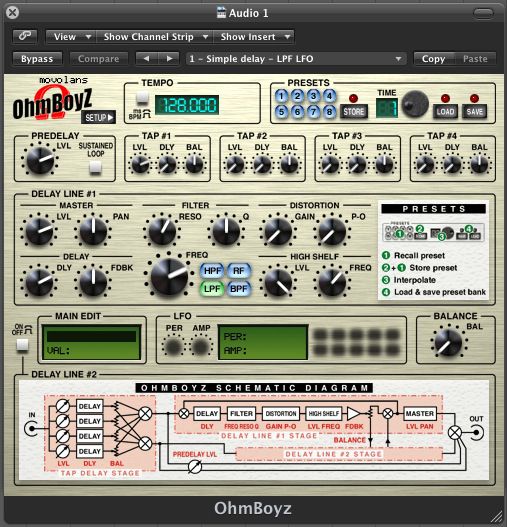 The filtered delay patch I chose to start with
The guitar loop with the filtered delay patch applied:
Step 2 - Performing your Freeze

The actual process for freezing your delay signal is very straight forward. There is a single button labelled 'Sustained loop' that you can hit at any time and the currently delay signal will repeat almost indefinitely. In fact the effect may even intensify and regenerate over time.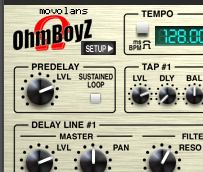 The magic Sustained loop button is hit!
The effect can be really intense and add a really spacey vibe to pretty much any track. The intensity can sometimes get a little out of hand, so watch your speakers and think about using a limiter! I love this effect for remixing and it also works very well when playing live or DJ'ing.
Remember you can employ this effect when OhmBoyz is used as an insert or return effect. One thing to note though is that when you activate the freeze function on an inserted instance of the effect your entire signal will be cut and all you'll hear is the frozen repetitions. If this is a little extreme you may want to switch to a send / return set up.

The freeze is performed right at the end of the loop:
Step 3 - Automating the Results for Maximum Impact

To really get the best out of this trippy effect you need to get some of the plug-ins parameters moving once the delay has been frozen. The best area to head for is OhmBoyz's resonant filter.

Once the delay is firing on all cylinders try recording some changes to the filter frequency, this really adds life to proceedings and can give the effect a really dynamic edge. Other parameters that can be worth a look are the feedback and distortion controls.


The automation added to create movement in the OhmBoyz filter section
The filter frequency is automated for extra impact:
You can download a demo of OhmBoyz here.