In December 2017 Endorphin.es launched their "Life Is A Trip" contest with modular synth specialist Todd Barton on board as an independent expert. On this trip Todd took a Shuttle System modular synthesizer and traveled all over the world, visiting 5 chosen artists from Russia to India, Japan, Canada and France, making a trip around the Earth. You can read our review of the Shuttle Control here.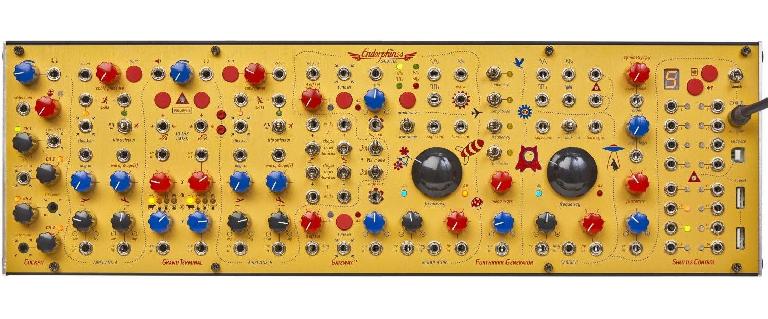 In this FREE MasterClass, Endorphin.es - who designed the synth - will talk with Todd about his interactions with artists during the trip, his acquaintance with the instrument and his approaches into music synthesis. There will even be two raffles held during the event for a chance to win Endorphin.es eurorack modules. It's a great opportunity to learn about sound design and collaboration from experienced synth experts - and all for free!
The MasterClass begins on
Wednesday June 27th, 2018 at 12:00 pm
(PT) / 8pm (UK) / 9pm (CET).
CLICK HERE to enrol now
for free and get a unique insight into this powerful instrument from experts who know it inside out!
Shuttle Features
The Endorphin.es SHUTTLE is a unique performance instrument containing 5 Eurorack modules in one single 84hp faceplate
Shuttle Control (SC)—16 channel USB->MIDI->CV interface with almost infinite possibilities interpreting MIDI events into analogue control voltages—including CV/Gate, random or noise generators, MIDI or tap-clocks, utility LFOs and envelopes
Furthrrrrr Generator (FG)—dual triangle-core VCO with a waveshaper
Grand Terminal (GT)—dual voltage controlled gate with 8 resonant filter modes (ladder, diode, lpg, state variable, comb—dual envelope generators (voltage controlled) with looping/AD/ASR with arbitrary voltage to control slope shapes: from EXP to LIN to LOG without stretching the length of a certain slope (GT)—Cabin Pressure audio FX processor with 8 selected effects (GT)
Cockpit (CP)—4 stereo channel mixer with sidechain ducking
Gateway (GW)—dual 1+1 utility mixer and auto-tuners to scale, offset and invert voltages
The MasterClass is FREE and begins on
Wednesday June 27th, 2018 at 12:00 pm
(PT) / 8pm (UK) / 9pm (CET).
CLICK HERE to enrol now
.