FREE DX7 Instrument: The Best Sounding FM Synth For iPad?
The original Yamaha DX7 synthesizer was a mainstay for popular sounds through the 80s and 90s. Now you can get a faithfully multi-sampled DX instrument for iPad... for FREE!
Let's dive straight in... here's what you really need to know:
This is a completely free multi-sampled DX7 instrument app for iPad with over 50+ sounds, and is multi-sampled from a DX7, DX7II, plus some bonus TX81z presets. It looks really nice, behaves really nice and sounds fantastic. Did I mention it's free?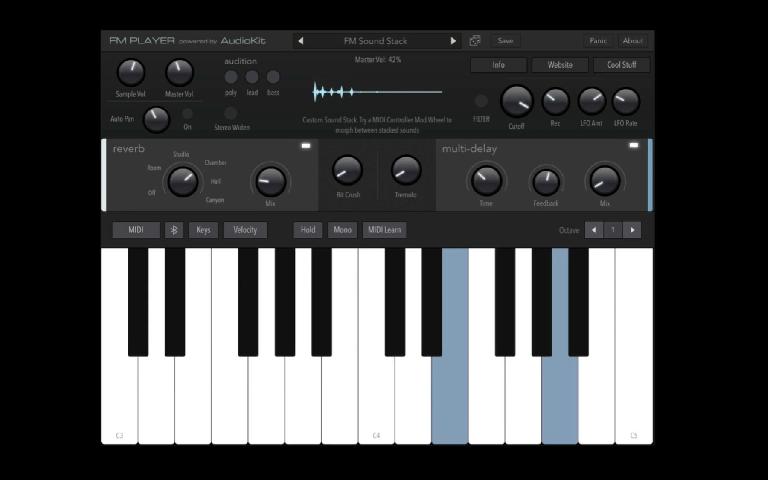 It's been made by the team behind the forward-thinking open-source AudioKit.
Here's the video of FM Player in action: https://vimeo.com/244897673/1ade6f328e
FM PLAYER: CLASSIC DX SYNTHS
Beautiful Free iPad instrument featuring the classic sounds of famous 80s FM Synthesizers.
FEATURES:
Faithful recordings of famous classic presets from original retro 80s FM Synthesizers
Over 50+ presets included, completely free!
Beautiful Reverb, Auto Pan, Bit Crush, Stereo Fatten, and more!
MIDI in (Play with a MIDI Keyboard)
Low-pass Filter: Cutoff, Rez, and Filter LFO
Analog Tape Style Ping-Pong Delay
GREAT for playing Live with a Keyboard: MIDI Mod Wheel, Pitch Wheel, Program Change, Velocity sensitive sounds, and Sustain Pedal support already added
Some basic Inter-App Audio (IAA) integration. Use with GarageBand!
AudioBus 3 support. Use these amazing sounds w/ other apps that support AB3 audio & midi.
All Knobs have MIDI Learn!
Here's what some early beta-testers have said about this free synth: "Sounds LUSH and awesome!" (The Sound Test Room). "Truly sounds like the real deal! DX7 is all about the EPs for me...and this one nails it!" (David A., AudioBus Forum). "The sound quality is incredible! Absolutely amazing! No emulation I've ever heard comes even close to this" (IOSoundDesign, AudioBus Forum). "It sounds fantastic! So crisp and clean. I had a few 80/90's flashbacks on some of those presets. Very cool!" (Eros, AudioBus Forum).
AND...
If you'd love to make your own instruments for iPad and enjoy the FM Player instrument, then stay tuned for 11th December when the team behind AudioKit Pro, the leading open-source audio framework powering millions of app installs, will be releasing the AudioKit ROM Player. This allows YOU to create sample-based instruments using Swift 4 & AudioKit 4... for FREE!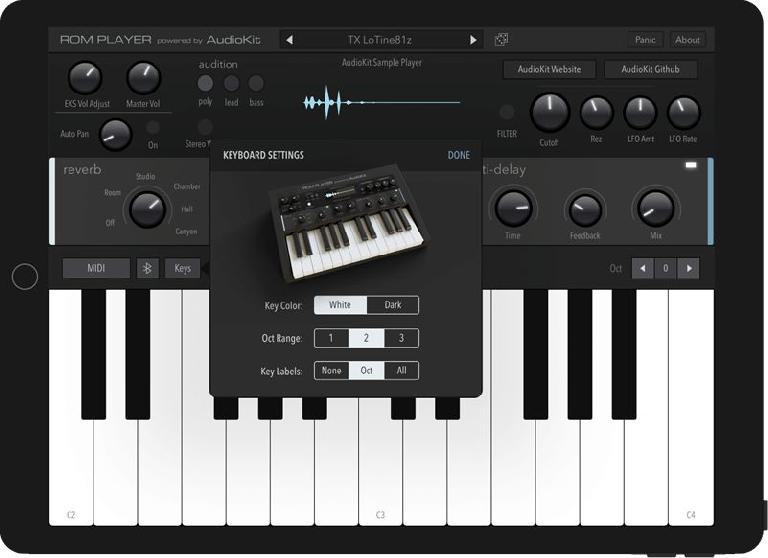 AudioKit ROM Player is a completely free and full-featured professional sample playback instrument example.
This code can be modified to play EXS24, Wave, or Sound Fonts. This code is lightweight and demonstrates how you can make a beautiful sounding, pro-level instrument with a small amount of code.
AudioKit has all kinds of included pre-built filters, effects, and other audio signal processing classes to get you started and help you build the music app of your dreams.
You can even replace the included sounds and graphics with your own creations and upload to the app store! Record your Grandma's Piano, a neighbor's cat, or even your cousin's Tuba, and use this code to make an iOS instrument out of it.