Today more than ever, musicians and producers are travelling for work and creating projects in many different cities. The demands of travel mean that your musical tools need to be portable and lightweight, yet still capable of producing good quality sound.
If you're making music on the road, a portable audio interface is essential for recording, mixing and referencing tracks. Here's a list of four of the best road-worthy audio interfaces on the market today.
Focusrite Scarlett 2i2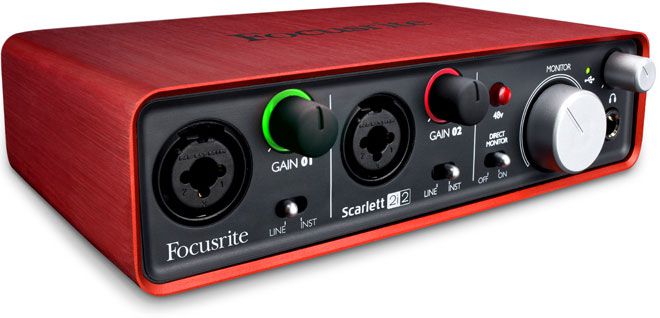 Focusrite Scarlett 2i2
The Scarlett 2i2 is a great choice for producers who are going to be recording vocals and instrumentation. Focusrite has built its reputation on producing some of the best mic preamps in the world and the Scarlett 2i2 features these. The Scarlett 2i2 captures audio with precision and clarity, with 24-bit resolution and sample rates up to 96 kHz.
The interface is housed in an attractive red anodized aluminum unibody chassis, which adds a nice touch of color to studio settings. At only 1.3 lbs, it's very lightweight and portable and easily fits into laptop or DJ bags for travelling. The Scarlett 2i2 is bus-powered by a single USB cable and does not require an additional power supply. This makes it easy to setup and quickly get down to work.
There's a couple of added bonuses included with the Scarlett 2i2 as well. It includes Ableton Live Lite 8 and Focusrite's Scarlett plug-in suite. The plug in suite consists of EQ, compression, gate and reverb, which are all great tools for track creation and mixing.
On the front panel, you'll find 2 line/mic/instrument combination inputs, which are XLR/1/4