Back in mid-2015 we reviewed the Focusrite Clarett audio interfaces... specifically the Clarett 8Pre. We found it had tons of dynamic range, zero noise, high build quality, precise controls, a simple software interface, super low latency... do you need me to go on? In short we loved it.
The good news is the smaller Clarett 4Pre is available now. Here's what Focusrite tell us about this desktop friendly audio interface with four preamps with a super compact footprint:
Clarett 4Pre completes the Clarett range. Bringing the power of 8Pre and 8PreX in a format barely bigger than 2Pre, with four preamps up front.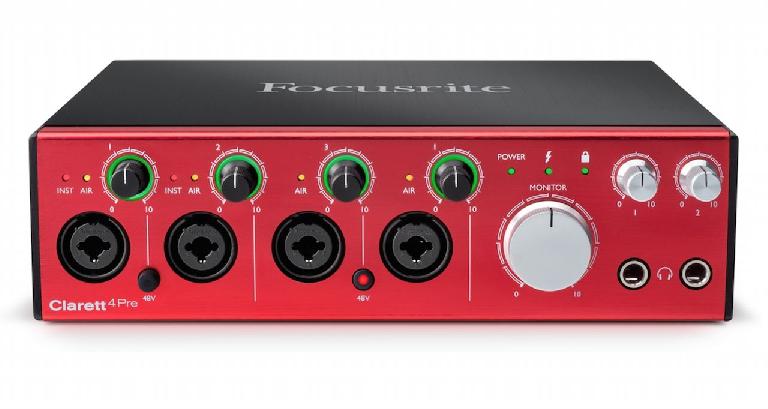 Featuring the same ultra-low latency, 118dB A/D and 119dB D/A dynamic ranges, ADAT connectivity and Control software as 2Pre, 8Pre and 8PreX, 4Pre is Clarett for the home recordist. Or the roaming producer who needs easy access to the best quality mic pres.
If you're interested in being able to use your go-to plug-ins to record and monitor - as if latency never existed - that's now more accessible than ever.
Clarett 4Pre at a Glance
Four mic/line inputs on the front panel for instant, easy access, and a further four line inputs are available on the back
Two high headroom instrument inputs to handle the loudest guitar pickups
Super-low latency Thunderbolt connectivity, allowing you to record and monitor with your go-to plugins in real-time
New Clarett preamps, with 'Air' mode, modelling the classic ISA sound
Best in class dynamic range: up to 119dB
Up to 24-bit 192 kHz audio resolution
Expandable via ADAT
'Gain Halos' to keep levels in check