Fluid pitch is an innovative next-generation pitch bend system, which is not only free of existing limitations, but a revolutionary leap forward in music expressions for all musicians and music producers.
Fluid pitch introduces the World's first Scale-Locked-Pitch-Bend System powered by MIDI to MPE upscale engine, which gives your MIDI keyboard, A smarter pitch bend wheel, the micro tuning edge, plus MPE capabilities.
Using Fluid Pitch, you can experience fluid pitch bending, polyphonic pitch bending, access MPE synths, micro tune individual notes, open new dimensions of creativity in your Music Productions.
Key Features
Scale Locked Pitch Bend System (SLPB)
Set your pitch bend wheel to stay within a scale and key, so musicians no longer have to think where they are using the pitch bend
wheel, giving you access to Fluid Pitch bending.
Real time access to different bend ranges
Users can choose any bend range for your pitch bend wheel and change it in realtime while performing.
MPE Upscale /Polyphonic Pitch Bending
You can bend chords harmonically within a scale by using our MPE upscale engine and upgrade your standard MIDI keyboard to MPE ( MIDI Polyphonic expression )
Microtuning
With Fluid Pitch, you can now de-tune any note up or down up to 100, cents up, giving you access to a whole new world of microtonal, scales melodies and harmonies in Indian ragas and Middle Eastern maqam's.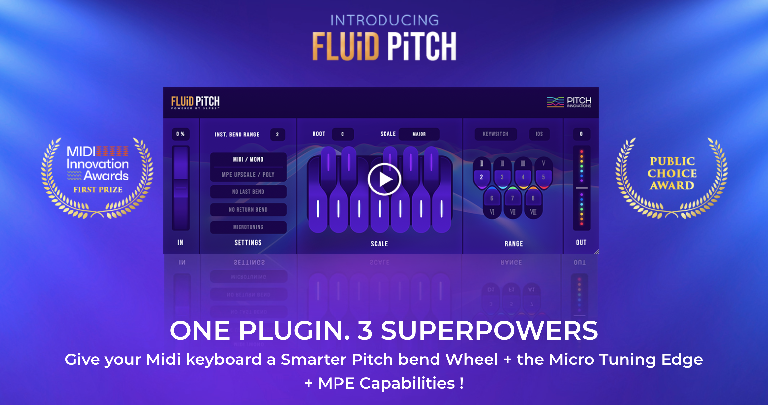 System Requirements
Windows 10 (64-bit)
OS X 10.9 and above
Available Formats:
Price: $49 USD (special price offer ends soon) / Free trial available