Brand new from Flintpope is this totally FREE synth for Reaktor, which you can grab using the link at the bottom of the page. A warm analog-sounding eight-note polyphonic synth that uses just ONE oscillator and various FX to create smooth warm synths and basses, it also includes a SECRET WEAPON to create experimental sounds that will feed your inner experimentalist. OSC 1 is in itself a 4-waveform oscillator featuring Sine, Triangle, Sawtooth and Pulse (with variable pulse-width). So far so standard. However…
THE SECRET WEAPON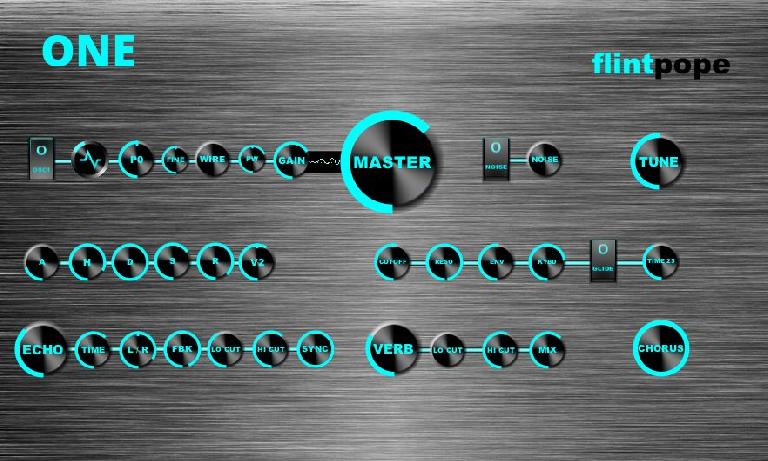 OSC 1 also includes a deliberately incorrectly wired patch that creates a feedback loop distortion effect called "Wire". This simulates the crackling and erratic jumps in volume caused by a dodgy jack-plug in a guitar amp. On a sine wave it produces gargle and on high value pulse waves it goes mad. This is perhaps the USP of this instrument. Use it responsibly!
GLOBAL FX & Controls
VCF with cutoff (also routed via midi CC1 to your keyboard controller strip/wheel) etc…
Envelope ( inc. velocity sensitivity).
Echo (delay) with various parameters inc.tempo sync button.
Glide and Chorus
WHITE NOISE generator
Master Tune
Reverb and overall Master Output Level.
MIDI CC 14-29 inclusive are routed to various useful controls.
There are 23 presets in 3 banks accessible from the drop-down menu at the top of the instrument or by double-clicking "Embedded" in the presets side-pane.
NOTE - If error message received on loading please update your copy of Reaktor to 6.2.2 (R5) via your Native Access.