The new ATMOS from Flintpope is designed for NI Reaktor AND Ableton Live users. If you're into interesting atmospheres, and being able to process and manipulate them for even more interesting results, you're going to love this. And for the super economical price, it's almost a no-brainer.
Here's what Nick from Flintpope tells us about ATMOS, and scroll down for audio examples.
Take 36 new Flintpope ambiences, rack them up in a Reaktor sampler with 17 controllable parameters*. Then double them up to play against each other in a set of 1296 possible combinations. Then treat them with 8 master effects**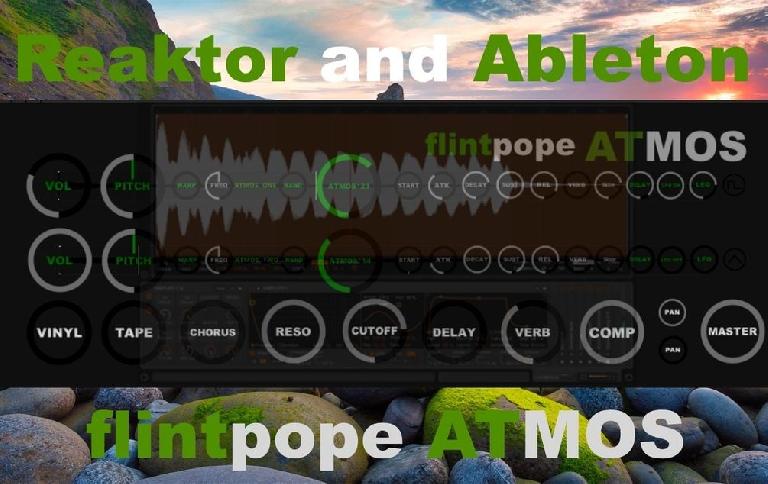 Then you have Flintpope ATMOS for Reaktor 6.
*17 controllable parameters
Each rack features: Volume, Pitch, Warp (a vinyl effect), Frequency Shift, Rand(om selection of sample playback with every key-press), Sample Selector, Start(point of sample playback), ADSR, Reverb, Reverb Size, Delay, LFO (On/Off, Rate and Waveform). The tempo-synced LFO which is routed to the delay for interesting, curious repeat effects.
**8 master effects
Vinyl (crackle), Tape (hiss), Chorus, Fourth order (24 db/octave) resonant filter as used in the Pro-52 virtual synthesizer to provide Resonance and Cutoff, Delay (tempo synced), Reverb and Compression.
All routed to master Volume with pan L and R. Ships with 16 Presets. Infinite user presets are easily created.
ATMOS For Ableton Live
This instrument is also available as an Ableton SIMPLER Pack that utilises the same sounds in a set of 16 Simpler racks. Each rack contains two instances of Simpler with various couplings of the samples. The macro features Volume Dials 1 & 2, Clean Filter 24 Cutoff & Resonance, Delay (Quarter Note), Grain Delay( Ascent), Reverb (Concert Hall) and Chorus (Acoustic Cascade). Deeper inside, another macro enables control of ADSR, LFO Waveform and LFO Sync Rate.
Further to these settings there is a 3 Band EQ and an Upper Ceiling on each instance of Simpler too.
The Pack opens with 2 Ableton Live Sets in Session View….
Set 1 is called "ATMOS1 for SIMPLER with all samples.als" and opens with all 36 sounds arrayed for easy access as drop-samples into the Preset ATMOS1 rack for easy creation of user-racks.
Set 2 is called "ATMOS 1-16 Racks for SIMPLER.als" and opens to display all 16 ATMOS racks as designed by Flintpope. Save each one to your user library for easier access later.