I'm going to have to abstain from gushing about all of the wondrous things we can get out of Kontakt, and focus on just one tiny aspect of Kontakt's immense sampling system: Time and Pitch.
We are going to import a sample into Kontakt, then experiment with altering the sample's pitch independent of time. We are also going to export MIDI regions to a DAW of our choice, (in this case Logic), and play the individual slices of a sample loop.
Step 1 - Importing a Sample into Kontakt
Importing a sample into Kontakt is very easy. We're going to open Kontakt within Logic's arrange window, and then simply drag a sample from the arrange window into Kontakt's Rack.
We're going to use an Apple Loop called 'Vintage Funk Kit 05'.
I converted this file from CAF to WAV using Quicktime. We can also convert the file type in Logic. Kontakt loves WAV and AIFF files. CAF? Not so much.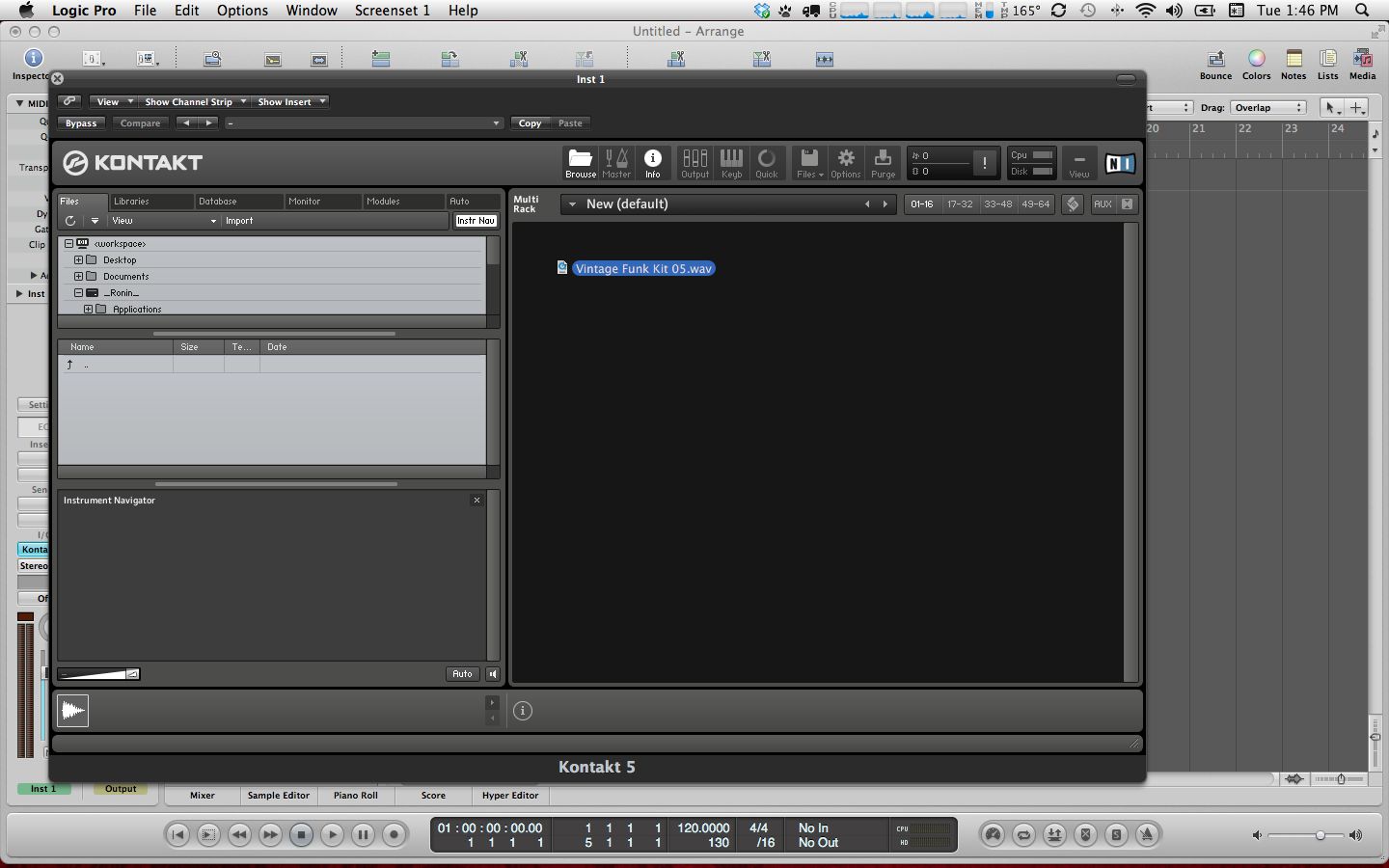 Step 2 - Getting into the Wave Editor
To access pitch and time variables for this sample, we need to first open the Edit Mode to the left of our newly created instrument. After that, select the Wave Editor.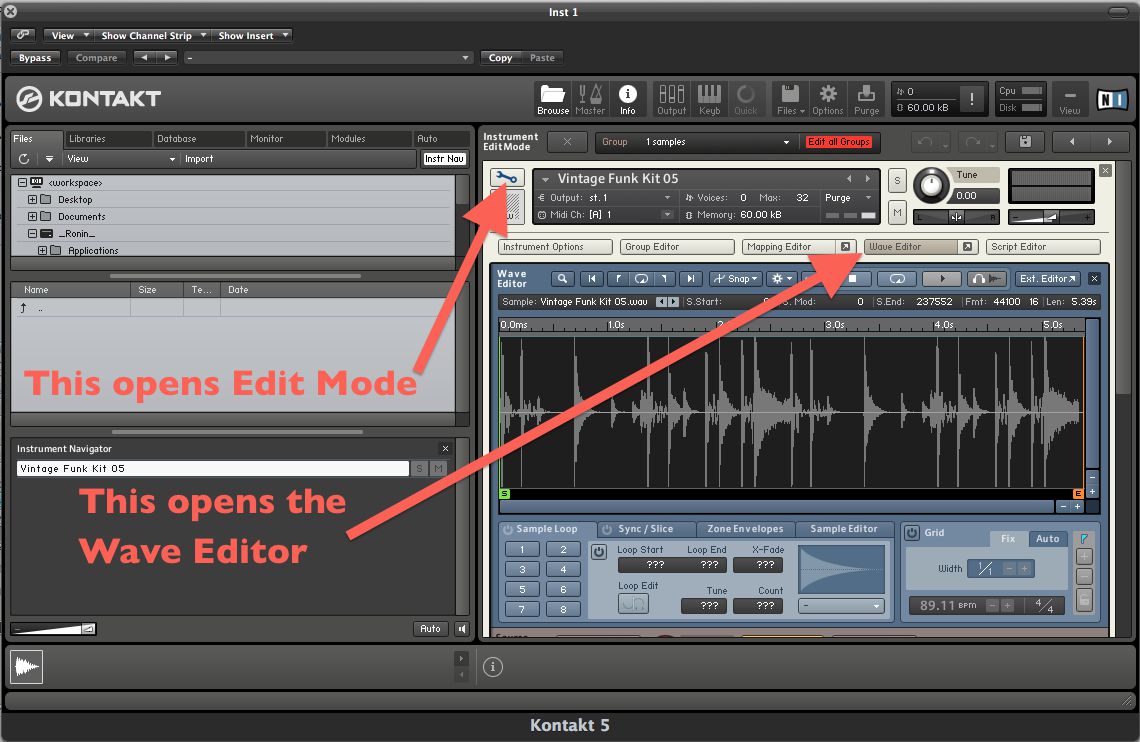 Step 3 - Sync and/or Slice
Now that we're in the Wave Editor, we need to access the Sync and Slice area by clicking the Sync/Slice tab.
Sync/Slice is going to determine how our sample loop gets its timing from our host DAW. It also allows us a way to play the individual slices of a loop using MIDI...
Let's start with Sync mode.
There are two sync modes: Timemachine Pro, and Beatmachine.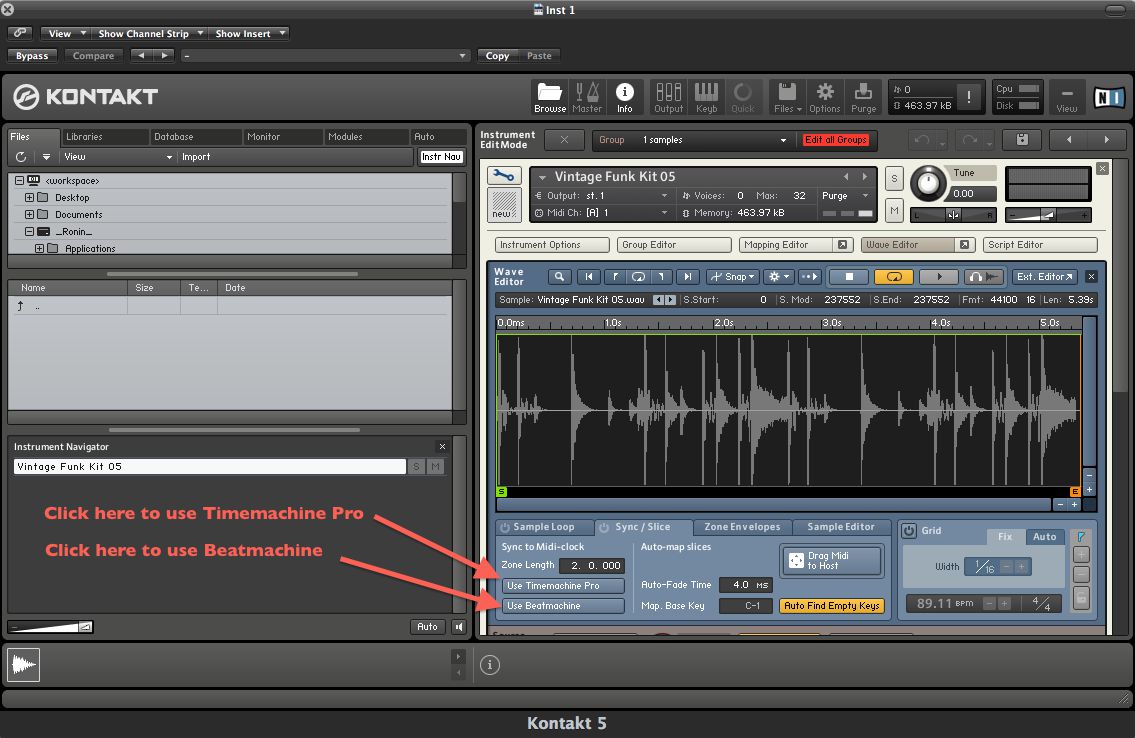 Timemachine Pro will allow a sample to match the tempo of a song while retaining pitch.
Beatmachine will slice a sample into zones that can be played back via a MIDI sequence. Each individual slice is at the original pitch and tempo, and the audio is not stretched or compressed to fit the tempo set by the DAW.
Step 4 - Getting the Tempo Right
Kontakt will attempt to set the bar length of the sample if it is a loop. In our current configuration, Kontakt has guessed that our loop is approximately 89 BPM. That's just about right. We can get it dead on if we select the 'Grid' power button, and change the tempo from 89.11 to 90 BPM. Notice how the grid changed behind the sample to accommodate the new tempo? If we choose to loop this sample, it should loop seamlessly now.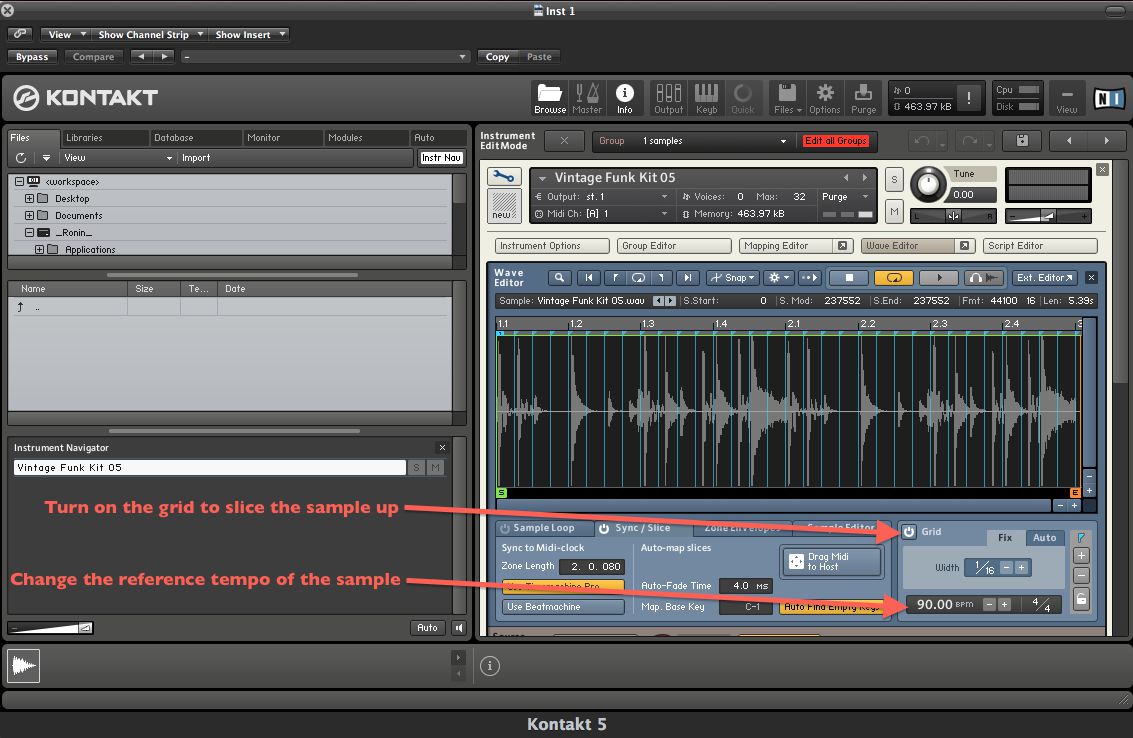 Now listen to the sample using both Timemachine Pro and Beatmachine. Change tempo in the DAW to hear the differences between the two modes.
Step 5 - Turn on the loop
To get our sample to loop, turn on the 'Sample Loop' power button in the tab next to Sync/Slice. Now our sample loop will play back looped and in time.
Step 6 - Control Slices via MIDI
Now, with either Timemachine Pro or Beatmachine enabled, use 'Drag Midi to Host' to get the individual slices of the sample into your DAW.
Click and hold on the 'Drag Midi to Host' button... And drag to a MIDI track.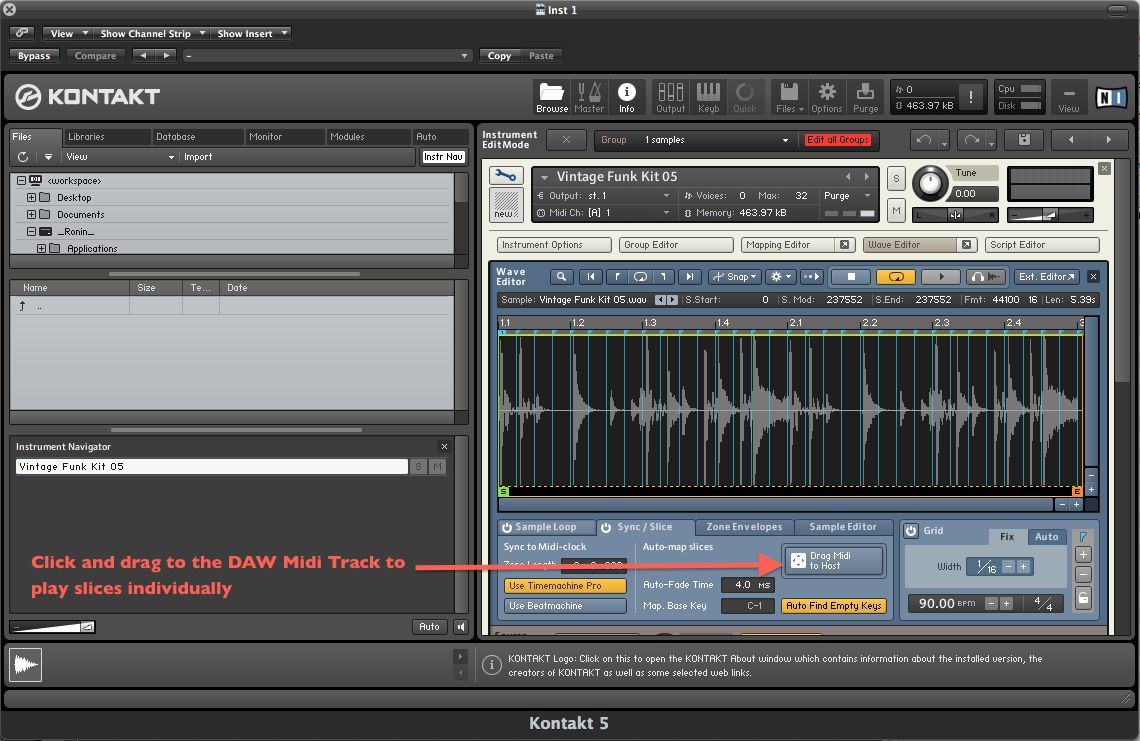 This will create a MIDI region that will play the sliced sample in tempo to the song, and we can now play the individual slices with a MIDI keyboard controller.
This is just scratching the surface of Kontakt's capabilities, but it's a great start to having a blast with this powerhouse sampler.