Flash Sale: Audified U73b Compressor 2, inValve Effects & STA Preamp 2 Now 40% OFF!!
We're excited to bring you this amazing mixing plugin bundle deal for producers and engineers. Audified's new U73b modelled Compressor plus inValve Effects & STA Preamp 2 are now 40% OFF for 7 days!
"Faithful and unique emulation of a vintage German broadcast compressor/limiter unit."
Audified have partnered exclusively with us at Ask.Audio to offer you their incredible emulation of the famous German analog hardware compressor, U73b v2 plus the complete inValve Effects & STA Preamp v2 at an insane 40% off! That's just $149 USD (normally $247) until 1st November 2016!

The U73b was mostly used for mastering between 1960 and 1980. It is an all tube vary-mu compressor/limiter with adjustable release time option. Audified have kept the circuit exactly as it was originally designed and added input and output gain (before and right after compressor circuit) to help with proper adjustment of the compression. U73b v2 is great for mastering, mixing drums, bass, guitar, vocals and voice overs.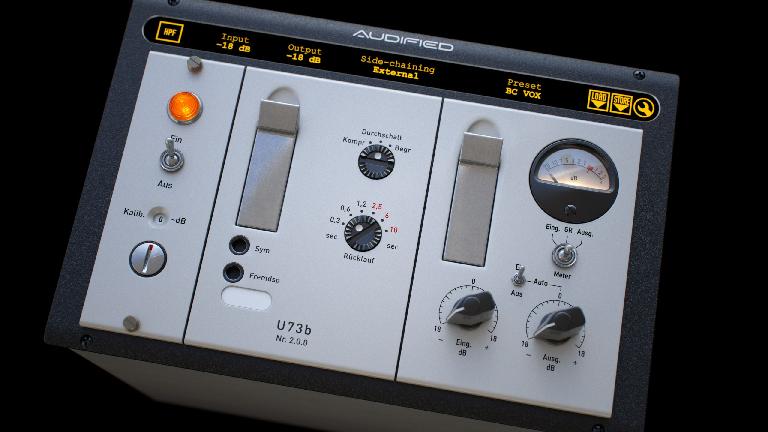 What Tony Vincent (producer, composer, vocalist) says about the Audified U73b v2:
It sounds ridiculously good. There's something about the u73b that just gives it a kind of creaminess, and it doesn't lose any of the beauty in the top end".
But it's not just about the U73b v2 compressor (reg. $149). As part of this deal you'll also get inValve Effects (reg. $49) which are effects plugins that model valve circuits, and STA Preamp 2 (reg. $49) which adds 5 different valve saturation characteristics to your productions.

If you are even slightly interested, we encourage you to jump on this deal as it expires in only a few days.
THIS IS A ONE-OFF DEAL WE'VE MADE WITH AUDIFED. IT WON'T BE REPEATED AGAIN!
MSRP $247 / PROMO PRICE: $149
Please Note: If you are already a customer of Audified's U73b, you will receive a whopping 80% OFF the price of U73b v2 only (no extra plugins included).
Learn More at: https://shop.audified.com/products/u73b-compressor?variant=1032187317