In recent years, Ableton Live has emerged as a dominant force among contemporary DAWs, in particular on stage—so it's no wonder manufacturers have sought to supply the market with controllers designed to provide Live users with the tactile, real-time control they seek. 2009 saw the launch of the very first Live-specific controllers, and since then, many models have seen at least one revision while the seemingly niche market has continued to flourish and expand. Here are five of the best Ableton Live controllers currently available on the market (in no particular order).
1. Novation Launchpad Pro (MSRP €299 EUR)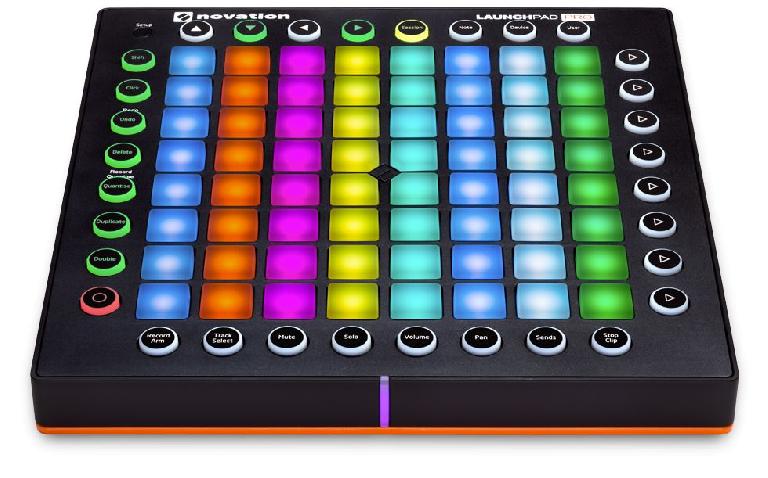 The cornerstone of Novation's Launch series—including the Launchkey, Launch Control, and Launchpad Mini—their recently released Pro version includes a host of new features geared to satisfy Live power users. Compared to the standard 64-pad Launchpad model, the Launchpad Pro adds two sections of eight dedicated mode buttons that provide access to a Scale mode, dedicated Note and Drum rack modes, and direct device access—along with eight workflow buttons such as Undo, Duplicate, Delete, and more.
While the Launchpad has traditionally been among the most travel-friendly Live controllers due in large part to its lack of knobs or sliders and a tidy, square form factor, the Pro version is slightly larger to make room for the extra buttons, while a touch of extra thickness and about 50% more heft make way for MIDI in and out ports and standalone power options that were previously unavailable. Velocity and pressure sensitivity and "hackable" open-source firmware—which seems to indicate feature-rich future updates from Novation are forthcoming—make the Launchpad Pro an enticing option for those in search of sequencing and compositional tools combined with industry-standard clip-launching control in a trim package that should slip into most book bags with plenty of room to spare.
Livid Base II (MSRP $299 USD)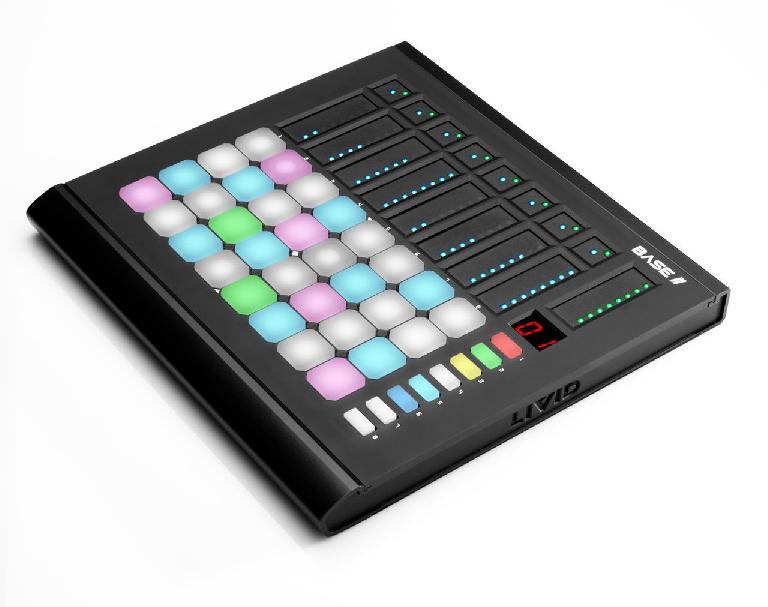 Texas-based Livid has been producing robust, if lesser-known, Ableton controllers with something like cult status for the better part of the last decade. Their latest piece of kit, the Base II, is a portable Live-centric controller primarily comprised of 32 full-color velocity-sensitive pads and nine backlit touch-strips.
Clip launching, note entry, track control, and device control modes are complemented by four banks of user-definable MIDI mapping modes for ultimate customized control. The large pads are arranged in a pair of side-by-side four-by-four MPC-style grids, ideal for those ambidextrous enough to play two parts simultaneously with each hand.
Using touch strips instead of faders doesn't just help the form-factor by reducing bulky protrusions and moving parts, but also allows for concurrent operation of multiple continuous controls via several fingers at once. Competing with the Launchpad Pro in terms of size while offering touch-strip control—at the expense of 32 pads—Livid's Base II is worth consideration from anyone seeking a unique and versatile Live controller in a condensed size.
Akai APC40 mkII (MSRP $399 USD)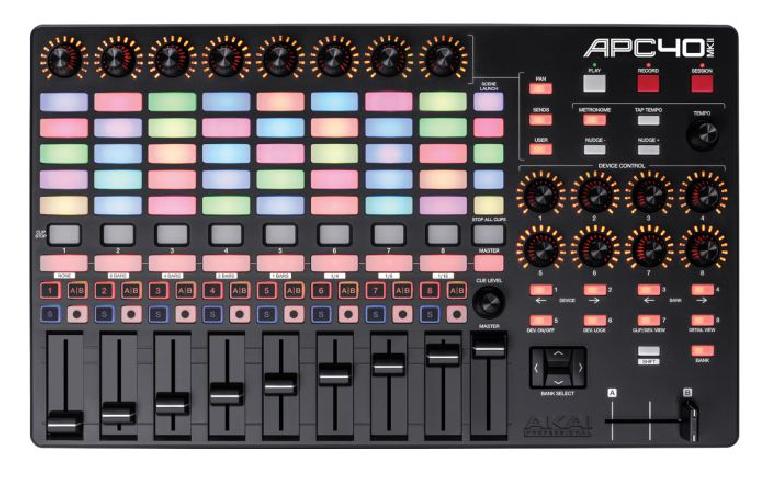 Akai famously released the very first official Live controller way back in 2009: their original APC40 introduced the world to dedicated clip-launching controllers—and we've all come quite a ways since then.
Along with their APC Mini, APC Key 25, and MIDImix, the APC40 mkII is Akai's flagship Ableton controller. Building on the mkI's layout in a noticeably more compact design, the mkII switched to a five by eight grid of full-color, rectangular buttons in lieu of the originals' RGY mini-squares, further emphasizing the controller's clip-launching focus while eschewing attempts to natively integrate note composition capabilities a la Ableton's Push.
That said, the dedicated focus on clip-launching performance makes the APC40 mkII stand out as the most full-featured controller on the market for that particular purpose. Equipped with nine faders, dedicated Clip Stop, Track Select, Mute, Solo, Record Arm, and Crossfader Assign buttons, along with a master channel that includes five Scene launch buttons, Stop all clips, and a Cue level knob, the mkII has everything you need to mix and launch with full flexibility. Sixteen rotary encoders provide even more control, with eight dedicated to device-dependent Macro controls, while the other eight, arranged above the eight channels, are designed to handle channel Panning and Sends, along with a User mode for customizable MIDI-mapped assignments.
Building on the mkI's template for success with expertly conceived and executed performance control features in a tour-friendly unit, the APC 40 mkII should be first on the list for those seeking extensive playback power without needing note entry or sequencing modes.
Native Instruments Maschine Jam (MSRP €399 EUR)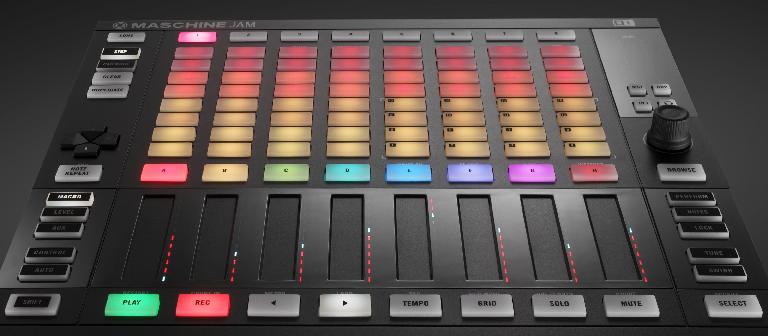 Native Instruments' latest controller, the Jam, was ostensibly designed to work with their Maschine software platform, and apparently does so with aplomb. It's also clear that it was designed to compete with the clip-launching Live-specific controllers out there, and the Ableton Live Maschine Template available for download from their website belies this point.
Combining eight touch strips with more than 32 dedicated function buttons and a by-now-familiar eight by eight grid of RGB pads, there's no question the Jam would be an enticing option for Live users whether NI officially supports that functionality or not. Thankfully, they do—and the unit's versatility and build-quality make it a tantalizing option indeed.
NI's Ableton Live remote script, once installed, provides clip and scene launching, mixer control, device and macro control, along with MIDI note and drum sequencing in a style very reminiscent of Live's own Push. If you already own Maschine and want a controller that doubles for Live, Maschine Jam makes a very compelling case.
Ableton Push 2 (MSRP €699 EUR)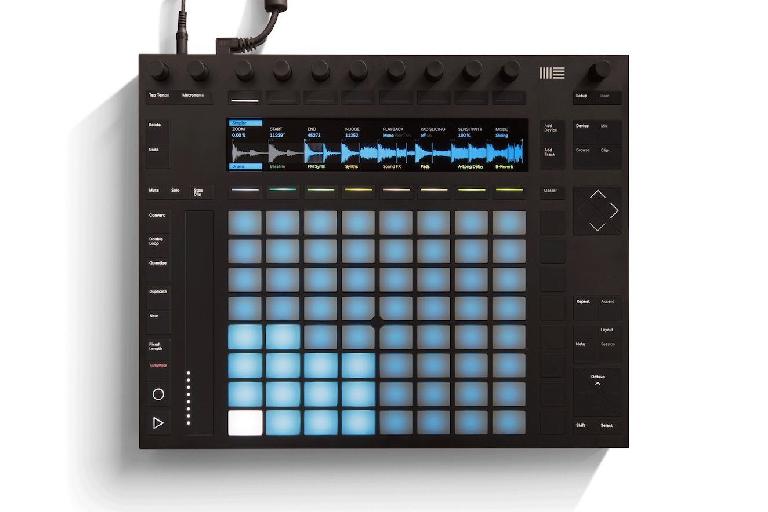 Ableton's flagship Push 2 controller integrates more deeply with Live than any other controller available—as well it should, having been developed by the same company that makes the software. Building on the success of their first Push unit, Push 2 expands on the original template with, most notably, a full-color LCD display—designed to provide instant visual feedback with the goal of eliminating the computer screen from your creative process.
While robust clip and scene launching capabilities remain in play, Push 2 has framed itself more than any other Live controller as a musical instrument unto itself; with a bit of practice, Push 2's intuitive layout helps you control the DAW's entire Session view and build pieces from scratch. Their industry-standard grid of 64 full-color, velocity- and pressure-sensitive pads practically beg for tactile interaction. When using the Scale-conforming note grid and sequencer modes, new melodies and harmonies open up that you may never have created otherwise. And the Drum Rack mode combines MPC-style real-time note entry—with optional note repeat modes—with simultaneous step sequencing for intricate yet immediate rhythm programming the likes of which I have yet to experience elsewhere.
Push 2's eight touch-sensitive knobs and host of dedicated workflow buttons help make building ideas a joy and a breeze. The high-quality yet dense build make it somewhat less appealing as a travel companion, and the higher price point, while initially prohibitive to some, should be considered alongside the steady stream of new Push features Ableton has consistently offered with each incremental software update since the first model was released. If you're a Live user looking for a musical controller at the heart of your studio, nothing compares to Push 2.