First-Look Video: The 1,280 Oscillator Exodus Digital Valkyrie Synthesizer
And yes, you read the headline right, that's 1,280 oscillators! Watch this new virtual analog hardware synthesizer from Exodus Digital in action in a high-quality demo video from SynthAnatomy.
With Superbooth just around the corner there've been a couple of well known brands such as Dreadbox and SEQ that have announced hardware synths in advance. There are some off the radar synth makers, like the UK-based Exodus Digital, that have firmly planted themselves on the map by revealing info on their new virtual analog hardware synth, Valkyrie Synthesizer.
Our friends at SynthAnatomy are at Musikmesse 2018 where the Valkyrie Synthesizer might be the only interesting synth gear news of note. Here's their first-look video showing what the Exodus Digital Valkyrie Synthesizer is capable of using its built-in presets:
... and a second-look video!
According to SynthAnatomy Valkyrie Synthesizer will retail for between €1500-2000 EUR and here are the features:
Engine
Polyphony: Guaranteed contention-free 128 voice channels. A Dual Mode or Dual Filter Patch uses two voice channels per note played. Up to 32 notes (single or dual) per multitimbral part.
Multi-timbrality: 8 independent Parts each with dedicated 9 module multi effects with dedicated audio stream via USB. Each Part can be mixed to one of the four analogue stereo line outputs.
Oscillators
Two primary virtually alias-free Oscillator Groups per voice each with sawtooth, pulse, wavetable and noise available simultaneously. Each oscillator group also has an independent detunable suboscillator with four selectable shapes and two selectable pitches. Real Hard Sync, Ring Modulation and FM (frequency modulation) is available between the oscillator groups.
Hypersaw: 6 or 12 real oscillator hypersaw with adjustable geometric detuning and intensity algorithm.
Wavetables: 4096 18-bit linear PCM single-cycle oversampled wavetables covering a huge range of synthetic and emulated sound sources. Two independent wavetables per voice.
Filters
Accurate emulations of classic analogue ladder filters with low pass, band pass and high pass configurations. 2-pole (12dB/octave) and 4-pole (24dB/octave) responses are available for all three filter types. A Patch can be configured to have linked or independent parallel filters.
Sound generation is all done in custom designed hardware at an incredible 32x oversampled rate and there's ten oscillators per voice (1,280 in total) which can be doubled to twenty by combining two voices. There's two wavetable oscillators available each offering 4,096 perfectly looped single cycle waveforms. Valkyrie's filters are also implemented in hardware and are accurate emulations of classic two and four pole filters. Valkyrie has all the features you'd expect of a virtual analog synthesizer but takes it to the next level; there's hard synchronisation, ring modulation, frequency modulation, wavetables and the hypersaw from heaven waiting for you to experiment with.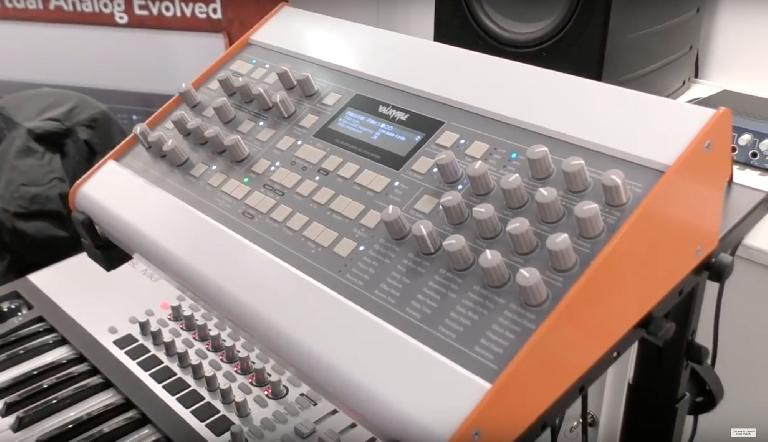 Envelopes
Three fast-response ADSR envelope generators.
LFO's
3 LFOs with 64 wavetable shapes. Monophonic, polyphonic, random, antiphase and quadrature phase settings.
Modulation Matrix:
6 channels with up to 3 destinations per channel.
Effects
Nine module stereo effects unit per Part with a 3-band shelving EQ, a Formant Filter, 5-mode Distortion module, dual Limiters, stereo Delay module, 6-stage Phaser, Chorus/Flanger module and a Reverb module. All 72 effects modules can be used simultaneously without affecting polyphony.
Arpeggiator with 128 preset patterns, chord mode, MIDI clock.
Additional Information
Arpeggiator with 128 preset patterns, chord mode, MIDI clock.
Patch storage: 3,328 in total all of which are user programmable.
Free Editor/Librarian app for Windows and Mac
Processing: 32x oversampled 32-bit hardware sound generation. 96kHz floating point sound processing.
Analogue outputs: 4 balanced stereo pairs using 32 bit DAC at 96kHz sample rate.
USB audio: USB Audio Class 2.0 – 8 stereo 24-bit streams at 96kHz with 48kHz down-sample mode available.
USB 2.0 and legacy (5-pin DIN connector) MIDI
Display: High resolution 256×64 pixel graphic OLED
Full keyboard microtuning capability with MIDI Tuning Standard (MTS) support.
Price: €1,500-2,000 EUR
Availability: 2018 TBC