First-Look: Modal Electronics CRAFT Rhythm Drum Sampler Kit
In this video we look at the new drum sampler kit, CRAFT Rhythm from Modal Electronics. It's surprisingly easy to build (no soldering required) and sounds much larger than you'd expect too!
The Modal Electronics CRAFT synth was last year's big, well small, synth release that helped shake up the digital DIY synth kit market. Despite being so small, it's an incredibly versatile synth with plenty of reasons to love it for its big sound.
So were naturally curious to find out how the CRAFT Rhythm would fare. This time Modal have released a £99 GBP 8-track drum sampler kit with a built-in 16-step sequencer. It can store up to 64 16-bit audio samples and has enough controls on the faceplate for you to do most of your programming, sound design and sequencing right from the device itself. No mean feat considering the size of CRAFT Rhythm.
While, we don't feel quite ready to give this mini beast of a drum machine a full-on review (we still want to become completely familiar with the CraftApp which brings a host of new features to the machine), we decided to build a CRAFT Rhythm from scratch (no soldering or specialist tools required) to see just how long it takes us.
Modal told us it takes about 10 minutes... but how long does it really take?
There's lots to like about the Modal CRAFTrhythm and we'll cover the pros and the cons in a future review on Ask.Audio.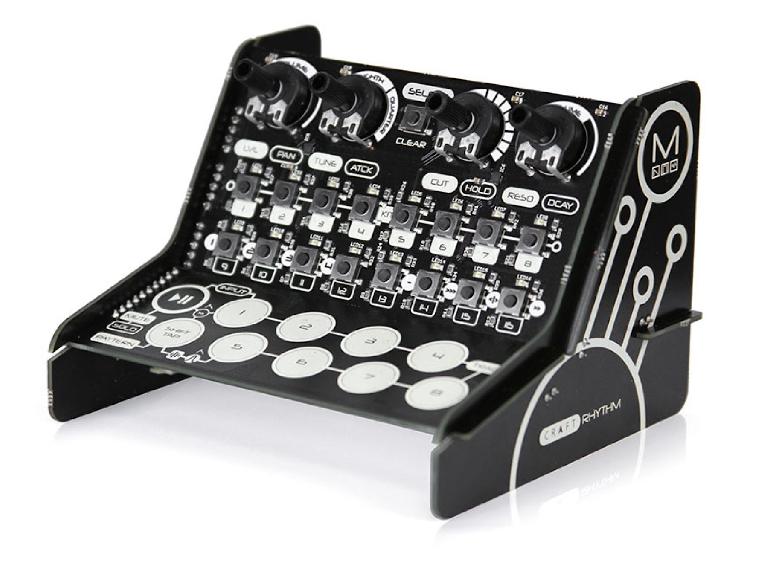 CRAFT Rhythm Main Features and Spec:
8 track drum/percussion sampler kit with a 16 step sequencer, requires no soldering or electronics skills, tools or knowledge
Can store up to 64 16-bit mono samples with a sample rate of 44.1kHz, and using the CraftApp users can upload their own samples
Mixer stage per track with level and pan controls
Low-pass resonant filter per track with a dedicated Attack-Hold-Decay envelope
Amplitude Attack-Hold-Decay envelope per track
Tune control with 3 different pitch modes – SPEED, STRETCH and SHIFT
SPEED alters the pitch by playing the sample faster or slower
STRETCH selects the number of steps the sample will be stretched to fit into, allowing for tempo matching for looped samples
SHIFT activates a pitch shifting algorithm that maintains the same sample length along with a dedicated Attack-Hold-Decay envelope, which works well with samples containing melodic content
16 recallable patterns with up to 16 part pattern chaining
8 recallable kits that store the per track parameters for sonic changes on the fly
Global tempo and tap tempo with a step division for semi-quavers, quavers and quarter notes
Pattern groove control that up to half way increases the swing/shuffle amount and then provides 8 preset grooves that allow for triplets and other non-conventional rhythms
Live input mode that allows steps to be played in while the sequencer is running
Class-compliant MIDI provided over USB connection to host computer, tablet, or smartphone
Headphone and line output
Powered by USB Mini-B or optional AAA battery pack (Adafruit 727, 3 x AAA pack)
Stay tuned for a full Modal CRAFT Rhythm review coming soon to AskAudio...