FingerSonic EXP1 Is a Pocket Sized Synth Workstation, Drum Machine, Sequencer & MIDI Controller
FingerSonic, an Italian music instrument maker, have announced the EXP1- a powerful, portable instrument / synth workstation that ticks a lot of boxes and threatens to shake up the synth market.
Francesco Mulassano, organizer of SoundMit, turned us on to the new FingerSonic EXP1 instrument. At a glance we expected it to be costly, and were pleasantly surprised it's listed as 299€ (V.A.T. included). OK. Let's delve a bit deeper to see more about this curious all-in-one instrument and controller.
The EXP-1 has a drums section (10 instruments), a vintage bassline, an electronic music oriented piano and a polyphonic virtual analog synthesizer engine.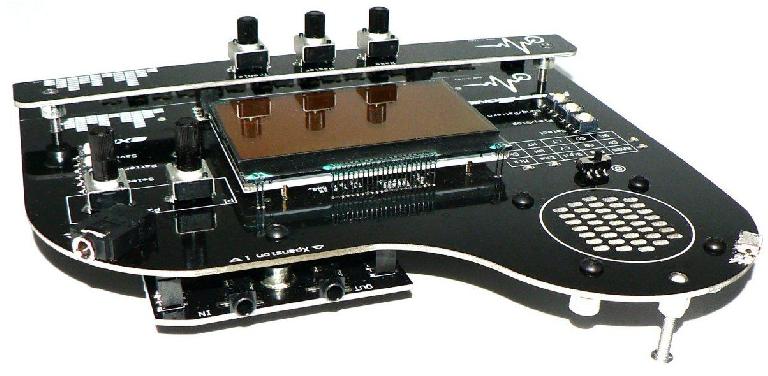 This instrument also contains a 16-step pattern sequencer and 3 arpeggiators. There's a digital mixer a mute function for live performance needs, an LED matrix to select sounds, two rotary encoders to tune synths and drum sounds, a 16 key keyboard for playing live or programing the sequencer. EXP-1 comes complete with a 16 pattern memory and a song mode so you needn't go running to a computer to finish or arrange your sequences.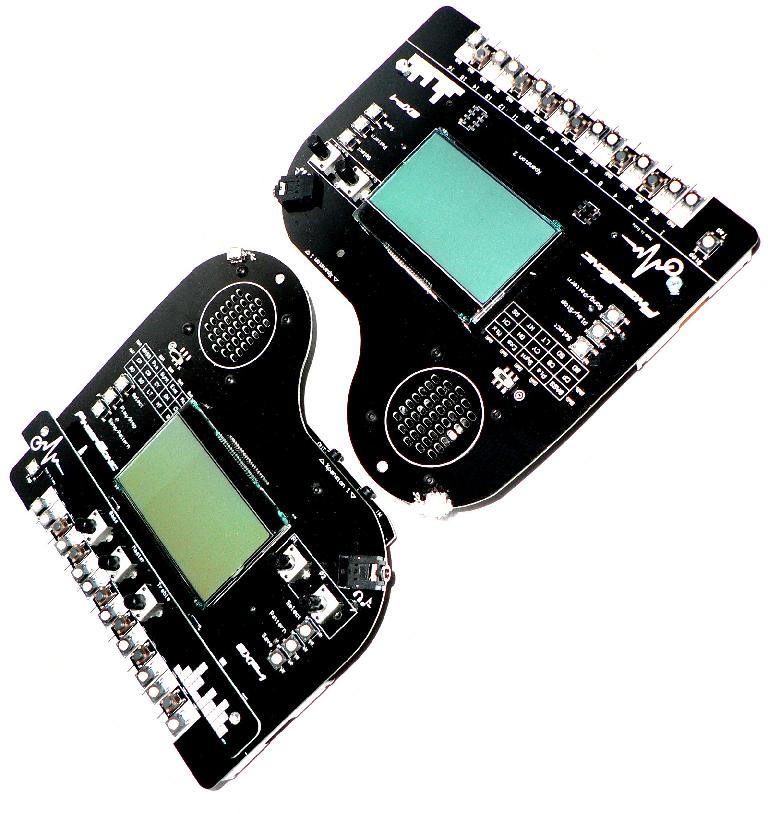 Along with the above there's effects like distortion and reverb built-in per instrument. You can additionally use the EXP-1 as a controller for external instrument thanks to the included USB MIDI and hardware MIDI (optional). FingerSonic have designed the EXP1 to be a standalone instrument and as such it comes with a built-in speaker and a port for headphones / amp.
EXP-1 is expandable. The Gold edition comes already fully loaded with all Xpansions and accessories available factory mounted. "The EXP-1 features an open source System EXclusive protocol. By doing so FingerSonic strongly encourages the hobbyst and the enthusiast to program their own software to edit the internal parameters with no limits!"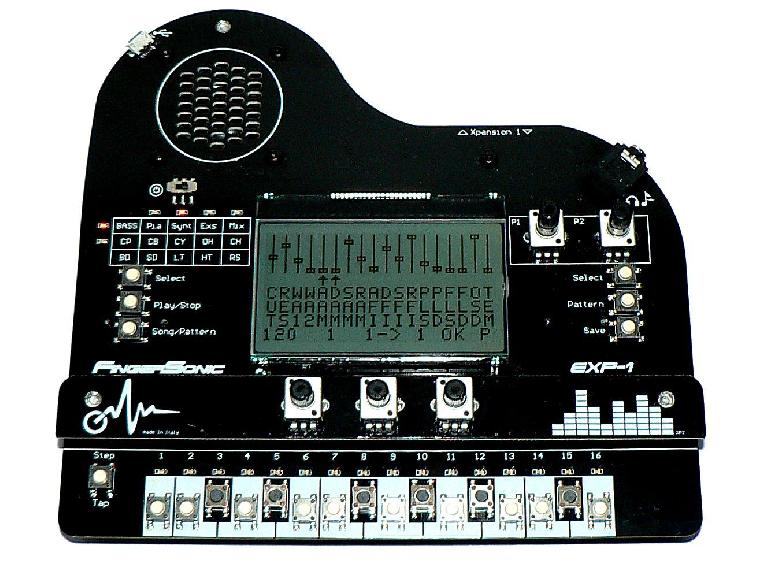 Technical specifications
CPU:
120 mhz ARM CORTEX M4
1 MB Flash
196 Kb Ram
32 Kb Eeprom for user data
Power supply
6 X 1.5V AA batteries or through USB port.
I/O:
USB 2.0 High speed
3.5mm Line out / headphones
8 ohm 1 Watt internal mini speaker
3.5mm MIDI input & output port (Only for Gold version or with Xpansion2 optional)
Display
128 X 64 graphical FSTN display
Firmware
FingerSonic FaderOS EXP-1 V 1.0
Audio
Sample rate 44,1Khz
Bit depth 16 bit
Channels: 1 stereo
Virtual analog synthesis
Multitimbral
15 voices total
Dimensions
173 X 161 X 44 Gold edition/Xpansion 1 mounted
173 X 161 X 39 Base edition
The FingerSonic EXP-1 will be officially introduced to the world at SoundMit in Torino, Italy between the 3rd and 5th of september 2017.