FingerSonic Announces Synset FM, 8-Voice Poly Synthesizer With Sequencer
Fancy a 6 operator FM synth with 3 dedicated operators for FM drums packed in an 8-voice synthesizer with a built-in sequencer? FingerSonic's new Synset, just announced, might appeal.
Days before Superbooth 2018 begins, FingerSonic have announced and demoed their new synth, Synset. Scroll down for a video demo below.
Here's the official info on Synset from the FingerSonic website.
Amazing FM synthesizer with 6 operators and 8 voices of polyphony
SYNSET FM is a complete 6 operators FM synthesizer with the addition of 3 dedicated FM drums channels, a sequencer, 2 arpeggiators and an effect section. The programming of the voices is very user friendly, thanks to the FaderOS and the 5 encoders. 2 more controls are provided to control your prefered effect in realtime. No limit to experiment with FM synthesis and create your own amazing sounds.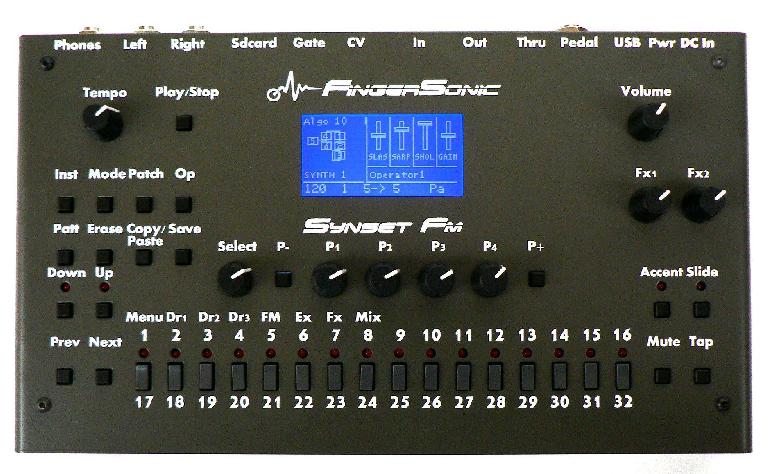 5 parts pattern sequencer and 2 arpeggiators
The SYNSET FM is designed to be very intuitive and provides everything you need for easy and quick music creation. You will be able to program great patterns and build a complete track without the need of a computer or other instruments. All this is controlled by a user friendly 16-step sequencer. A digital mixer is present to set every instrument level and a special mute function is featured for easy and quick live stage usage. A 16 keys keyboard allows to program the patterns or even play live with various modes availables (Sequencer, Live or Arpeggios). When edited, it is possible to save the complete pattern context on 16 availables pattern memories. A song mode is also available to assemble your patterns and make a complete song.
Control your existing gear
SYNSET FM has a dedicated external track allowing to simply control another instrument through USB, MIDI or CV/Gate interfaces.
FX section
An FX section is also present providing delay, chorus, distortion and even a resonant lowpass filter with LFO.
Complete and professional connectivity
The presence of USB, MIDI and CV/Gate allows the instrument to be interfaced with the widest range of instruments and devices. The MIDI implementation is very complete and allows to control all synth and sound parameters.

Technical specifications
CPU:
216 mhz ARM CORTEX M7
1 MB Flash
512 Kb Ram
64 Kb Eeprom for user data
Power supply
12v DC external adaptor (included).
I/O:
USB 2.0 High speed B connector
6.35mm headphones
2 x 6.35mm line output (L & R)
3 x DIN MIDI input, output, thru
3.5mm CV/Gate interface 1V/Octave
Display
128 X 64 graphical FSTN display with backlight
Firmware
FingerSonic FaderOS FM edition V 1.0
Audio
Sample rate 44,1Khz
Bit depth 16 bit
Channels: 1 stereo
FM synthesis: 6 operators, 32 algorithms, 8 voices of polyphony, 3 dedicated FM drums channels
Multitimbral
8 voices total
[Via: Facebook]
Dimensions: 283 X 167 X 54 mm
Design, colours and specifications are subject to change without notice.
Expected to be available for sale on summer 2018
Price: TBA