FabricKeyboard Is A Multi-Sensory MIDI Music Controller Made From Textiles
Imagine a stretchable, flexible, textile-based MIDI controller with a whole range of sensory inputs, from gesture to touch to pressure to proximity. That's FabricKeyboard.
As its name suggests FabricKeyboard merges the flexibility of textile material and a music keyboard. But it doesn't stop there. Irmandy Wicaksono and Joseph A. Paradiso, via MIT lab, have formed the concept of an expressive and deformable musical interface.
In terms of flexible, forward-thinking musical interfaces, the Miu Miu gloves spring to mind for their wearable motion-based control. Then there's the ROLI Seaboard Rise, of course, which brings a different, more fluid (and rubbery?) feel to the traditional piano keyboard. Fabrickeyboard puts as many music making sensors on a squeezable, textile sensor, and it appears to work quite well.
In short, we're talking about a controller that uses "multi-layer fabric sensors that detect touch, proximity, electric field, pressure, and stretch are machine-sewn in a keyboard pattern on a stretchable substrate. The result is a fabric-based musical controller that combines both the discrete controls of a keyboard and various continuous controls from the embedded fabric sensors. This enables unique tactile experiences and new interactions both with physical and non- contact gestures: physical by pressing, pulling, stretching, and twisting the keys or the fabric and non-contact by hovering and waving towards/against the keyboard and an electromagnetic source."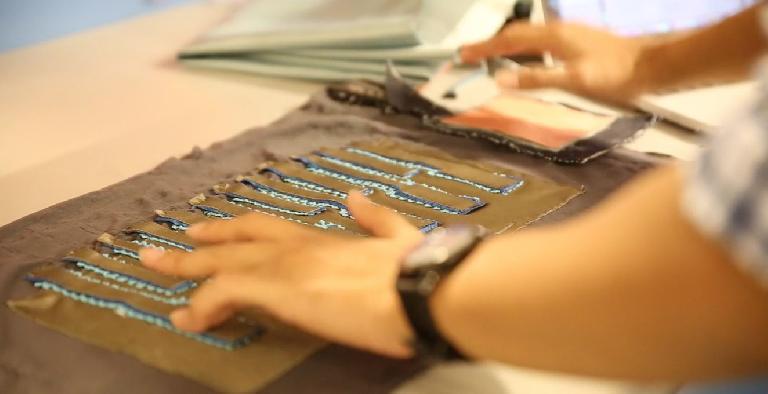 There's also a fabric-based ribbon controller and trackpad (we'd call it an XY pad) for really expressive performances, and it's very possible to make something very similar to this yourself too. Making a ribbon strip to control a synth isn't as hard as you might think, you just need to know the right materials to look for... (old VHS tape, for example).
But anyway, the video above is well worth watching to see how this unique concept for a music controller operates. Now just because it's cool, flexible and unique doesn't mean it'll translate into being a controller musicians would want to use on a daily basis. It certainly could be more convenient to carry on the road, especially if it can double up as a blanket ;-)