FabFilter has just released a new major version of the Pro-L limiter plug-in with four brand-new limiting algorithms, a new true peak limiting mode, extensive standards-compliant loudness metering, surround support, interface enhancements and much more.
New limiting algorithms
Pro-L 2 adds a brand-new 'best for all' Modern algorithm, together with Aggressive for EDM and rock, Bus for single-track limiting, and a new Safe algorithm that was carefully tuned to avoid distortion at all times.
True peak limiting
The new true peak limiting feature makes it extremely easy to hit a maximum true peak target. Just set the output level to the desired value, enable True Peak Limiting: that's it!
Loudness metering
With improved true peak metering and extensive loudness metering that's compliant with the EBU R128, ITU-R BS.1770-4 and ATSC A/85 standards, Pro-L 2 is the perfect fit for any loudness normalization job.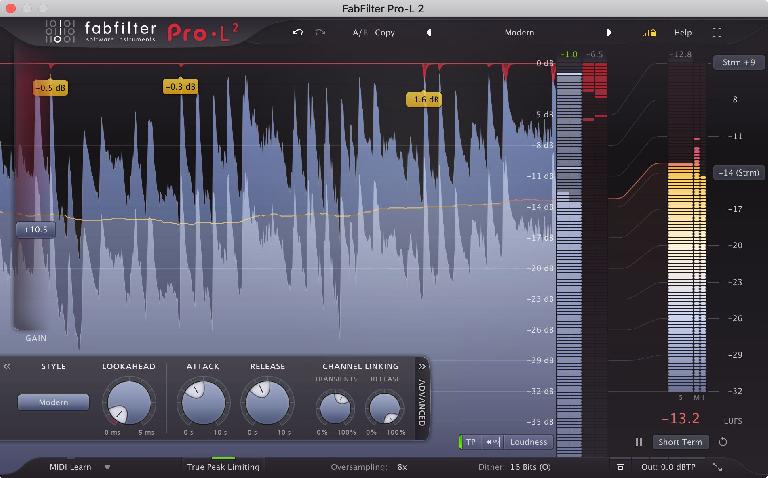 Pro-L 2 Key Features
Great transparent sound combined with maximum loudness
IMPROVED - Eight different limiting algorithms, all with their own character and purpose
NEW - True peak limiting
IMPROVED - Unique real-time level display with peak gain reduction labels and new innovative display modes
IMPROVED - Up to 32x linear-phase oversampling
IMPROVED - Highly accurate output and gain reduction metering including true peak metering
NEW - Extensive loudness metering with support for the EBU R128, ITU-R BS.1770-4 and ATSC A/85 standards
NEW - Surround support including Dolby Atmos 7.0.2 and 7.1.2 formats with flexible surround channel linking
NEW - Optional DC offset filter
NEW - External side chain triggering for stem mastering
NEW - Unity Gain option to easily listen to the effect of the current limiting at unity gain level
NEW - Audition Limiting option to listen to the difference between the input and output signal
Adjustable meter scale, including K-System support
Low CPU usage
Separate channel linking for both the transient and release stages
Advanced dithering with three different noise shaping algorithms
GPU-powered graphics acceleration
Double-click text entry of parameter values
Adapts to stereo, mono and surround audio formats
Adjustable look-ahead, attack and release settings
Optional Compact interface layout
Supports common Pro Tools hardware control surfaces
MIDI Learn
Undo/redo and A/B comparison
Smart Parameter Interpolation
Extensive help file with interactive help hints
Available in VST, VST3, Audio Units, AAX Native and AudioSuite formats (all both 64-bit and 32-bit), as well as RTAS (32-bit only)