One of the defining characteristics of music produced using digital tools is that it is by default very clean. Hard disk recording adds none of the gentle distortion of tape, and signal generated from virtual instruments is unaffected by any 'real world' factors since it remains entirely within the computer. This can be a good thing if it's what you're after, but some people like to add an element of imperfection back into their productions. This doesn't just have to mean sticking an amp sim on a channel (although you can!) but it can also mean chopping and mashing up audio to bring more edge to it. Let's look at some of the ways you can make this happen in Cubase.
1: Add some crunch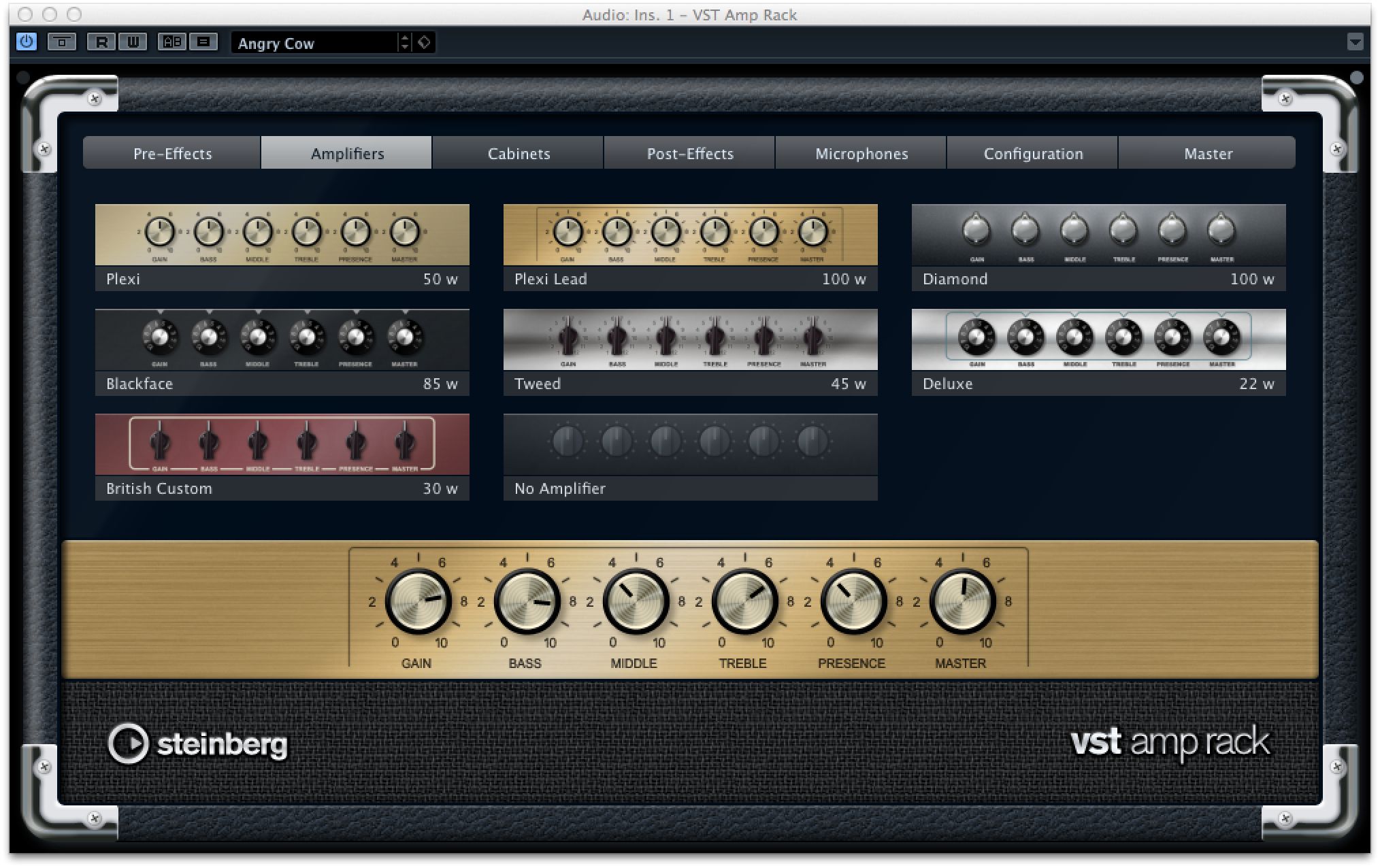 Using an amp simulator plug-in is a great way to add bite to a clean recording.
Maybe the most obvious but nonetheless still effective way to dirty up a sound is to add an amp simulator or distortion plug-in to a track from Cubase's built-in tools. A little crunch will give it some edge, or you could try really pushing the limits to get a much harder effect. You might not want to have this effect present through a whole track as it could become irritating to the listener, but used sparingly and at the right points it can be very effective.
2: Use extreme time stretching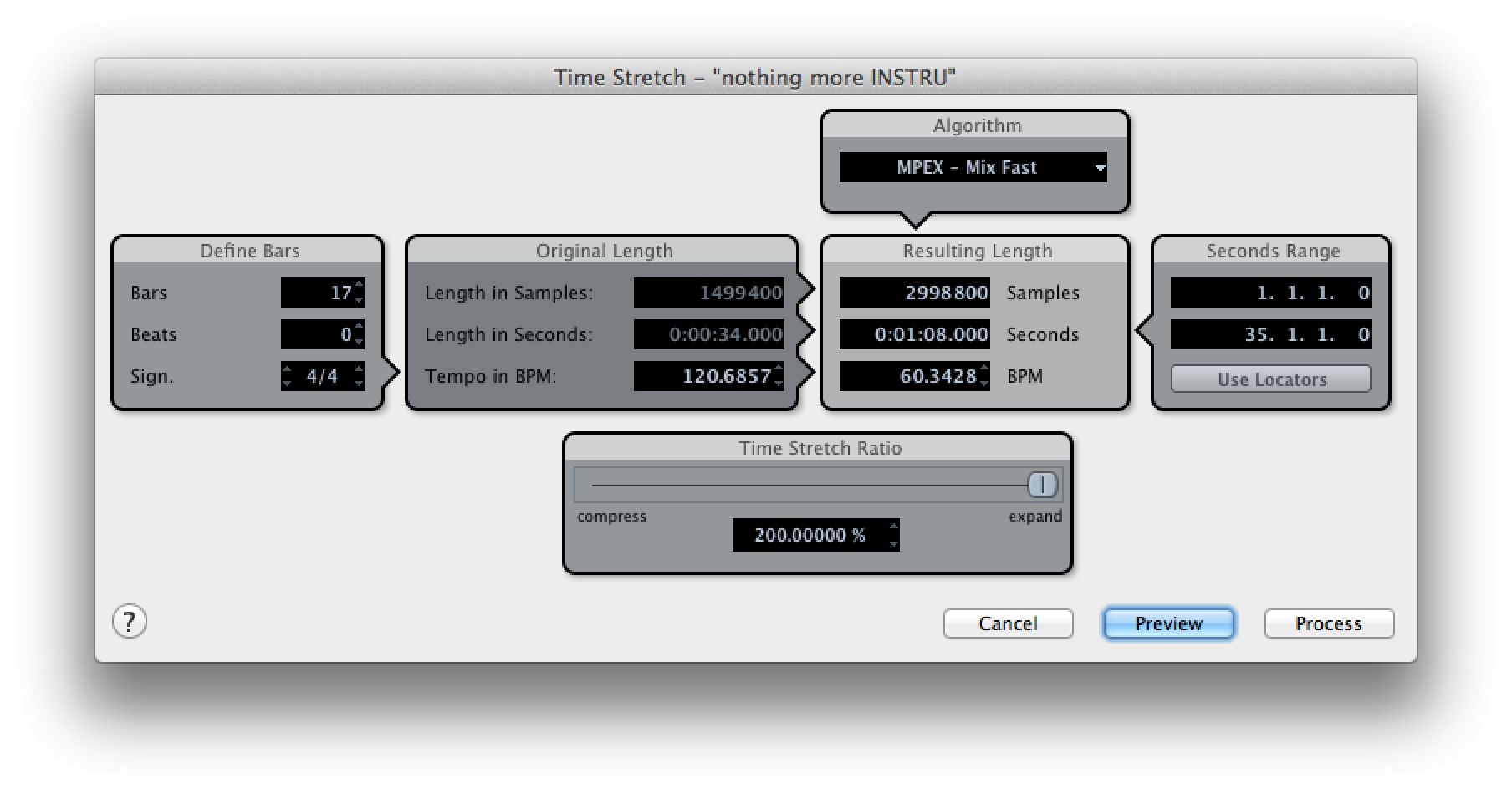 Take your audio to the extreme with time stretching.
Cubase is really good at accurate time stretching, but you can also take things really far and get some interesting effects. Right-click on a clip or choose Audio > Process > Time Stretch and in the resulting window, try pulling the time stretch amount out as far as it will go. The effect will be a sort of granular, hyper-slowed down effect that you might recognize from movie soundtracks or experimental electronic music.
3: Time stretch more quickly
You can do the same thing by selecting the Time Stretch pointer tool and dragging a clip out on the timeline. Using this method lets you drag it to slow it down by theoretically as much as you like, regardless of the original tempo. Of course you can do the opposite too, greatly speeding a sound up by shortening it.
4: Mess about with pitch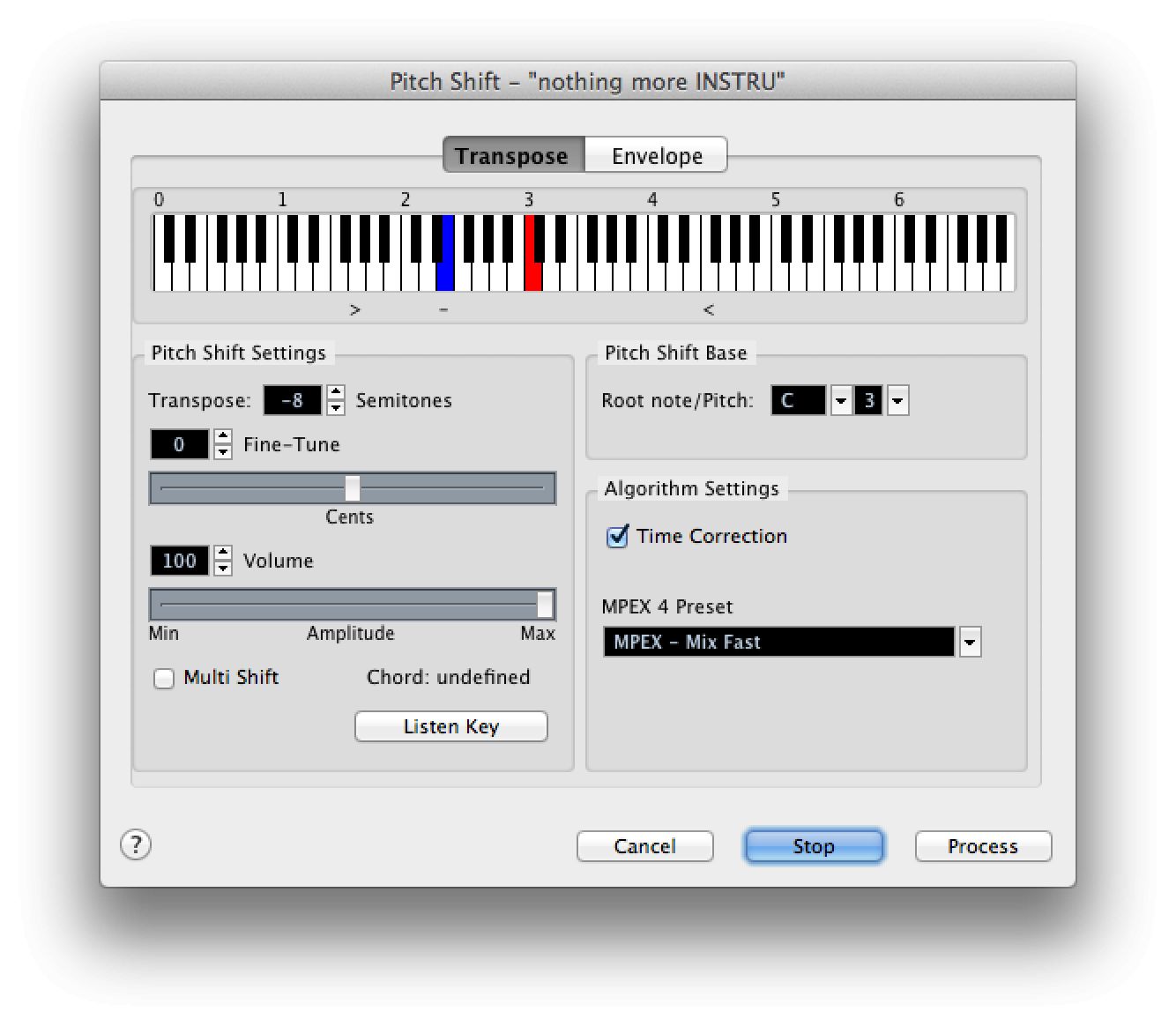 Get interesting results by pitch shifting your audio without affecting the tempo.
Also in the Process menu you will find a Pitch Shift option and this can be used to dramatically alter the pitch of an audio clip without changing its tempo. Note that if you do want the tempo to change, you can untick the Time Correction box here and Cubase will really mangle the clip. Use the Preview button to hear the effect before you decide, and hit Process to make the changes.
5: Change the sample rate
Yet another option in the Process menu is the tool to change a clip's sample rate. If you enter a significantly lower sample rate to what the clip is originally at, you can simulate some pretty weird speed and pitch effects. Dropping the sample rate to 10000 for example seems to give a chipmunk effect!
6: Warp your audio
Cubase's VariAudio and Audiowarp technology is mostly used for correcting the timing of recorded audio parts, but it can also be used for creatively manipulating that timing. Double-click a clip to open it in the Sample Editor and then go to the Audiowarp section on the left. Turn on Free Warp and then click to add warp markers inside the clip. You will then be able to move sections of the waveform about without affecting other parts or the length of the clip. This is a clever way for example to make one or two notes, words or beats in a clip go faster or slower but then return playback to the normal speed for the next word or note. Without this warping technology, this would be really hard to achieve.
7: Explore VariAudio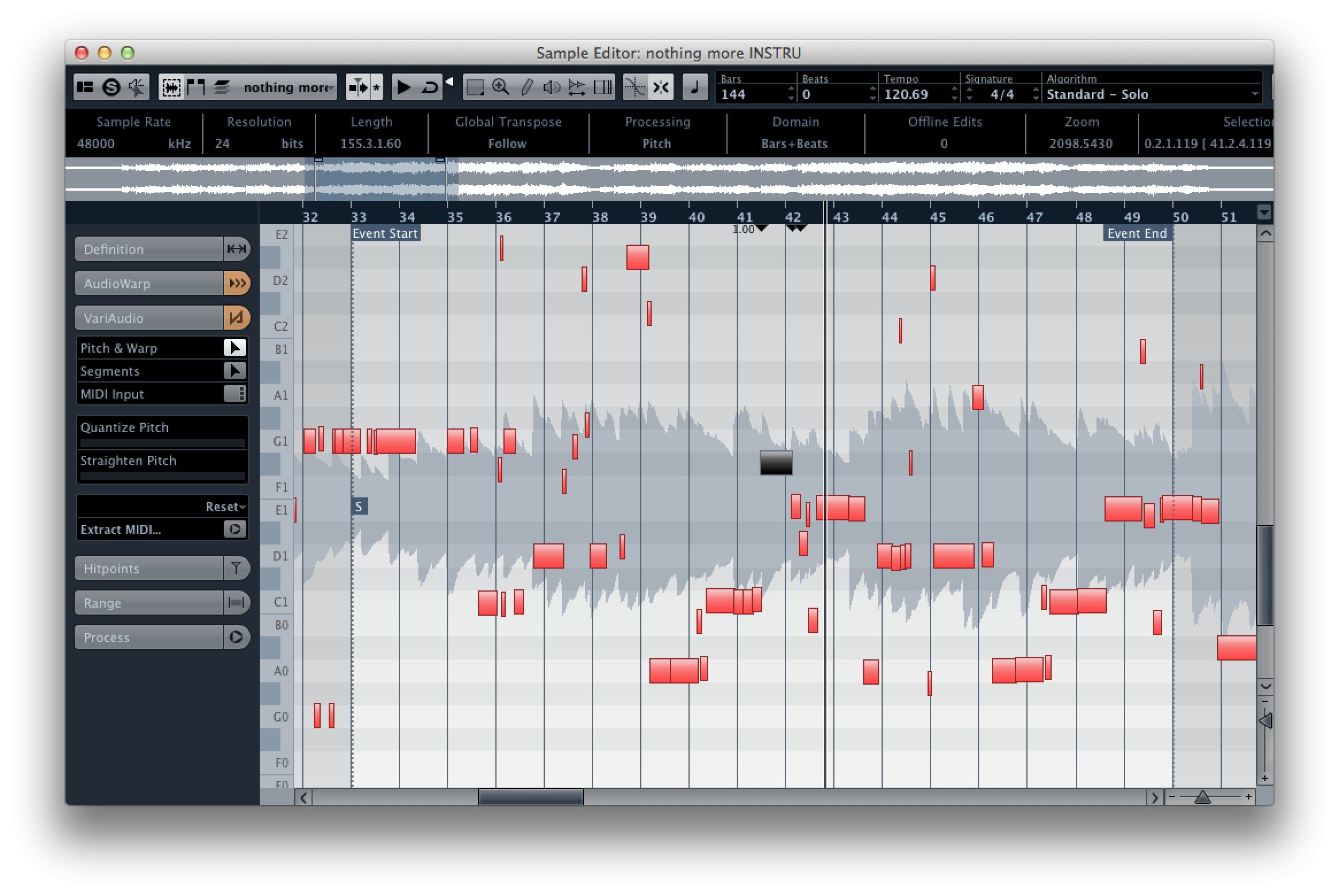 Who said VariAudio can only be used on monophonic material?
From the VariAudio tab, turn on Pitch and Warp. Cubase will analyse the clip and then show you the pitches contained in the clip as a series of points in the display. These can be freely edited to change pitch and timing, and while it's supposed to be used with monophonic audio parts for the purposes of correction, it can be used with any audio for more experimental results. Try moving a few points around and you'll find it easy to bend and twist the pitch and timing in interesting ways. It's even possible to get a sort of wobbly turntable effect by moving a few pitches around.
8: Slice up your parts
From the Audio or right click menu, choose Hitpoints > Calculate Hitpoints. Then from the same menu, choose Divide Audio At Hitpoints. This creates a load of slices at the transient markers and essentially chops up your audio part on the timeline for you. From here it's easy to manually move, delete or re-order slices to create completely new parts. It's a bit like being able to make REX files directly in the sequencer.
9: Process effects in-place
You can apply effects directly to a clip so they only affect the clip itself and nothing else on the track, nor are they processed in real time like inserts are. Right-click on a clip and choose Plug-Ins then select an effect. Make your settings, preview the results and then click Process when you're happy. This is a good way to add lots of processing to a clip without having to run lots of plug-ins in real time.
10- Get crazy with MIDI parts
Rather than programming MIDI parts using a keyboard, load up an instance of an arpeggiator or the Beat Designer plug-in as a MIDI insert on a track. Use the grid or other settings to dial in some crazy patterns that you couldn't have played by hand, and you will quickly come up with some extreme MIDI parts!