In our last article, we looked at ways of extending the functionality of the Akai APC40 using MIDI remote scripts. Whilst this is undoubtedly the most integrated and 'tidy' way to change the APC40, it's not the most flexible unless you have experience programming in Python. For the average Live user, it means accepting someone else's vision of how the APC40 should work.

In this article, we'll be looking at another more accessible way to customize your APC40 - Max For Live.
Max For Live is a modular style programming environment available right within Live and it allows access to Live's internal parameters, including those of the APC40, without having to program a line of code. Max For Live is included in Live 9 Suite and can be purchased separately for Live 9 Standard users.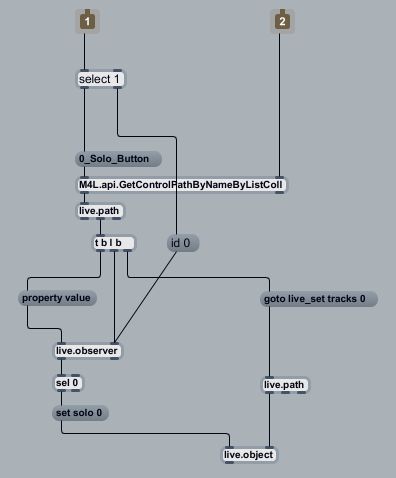 Max For Live offers direct access to not only the APC40's inner parameters but also Live's allowing the user to connect them together in previously unimaginable ways.
It's outside of the scope of this article to teach Max For Live programming, but we'll be looking at some of the best publicly available Max For Live devices which re-imagine the APC40 in new and wonderful ways.
Isotonik by Isotonik Studios (£17.99)
Isotonik is arguably the most complex and mature Max For Live APC40 device. It is built primarily for DJs, turning the APC40 into a DJ mixer. It offers looping functionality, automatic follow actions, DJ-style EQ controls and "smart effect" such as beat repeats, stutters and reverse.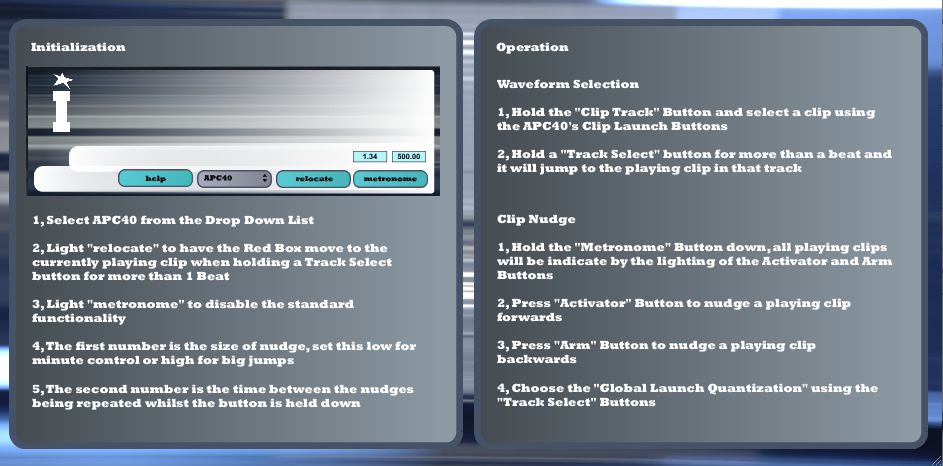 Isotonik LE 8.3 offers a free taster of the full Isotonik device.
There's a great deal of customization available in with Isotonik, allowing any DJ to setup encoders and other controls to do a variety of things. You can even configure how the LEDs around the APC40's Track and Device Control encoders behave, so you get exactly the kind of visual feedback you prefer. Customizations like this really highlights the flexibility of using Max For Live because once these preferences are made, you can simply save the Max For Live device to your library again and all your customizations will be saved along with it.
Get Isotonik LE 8.3 free here: http://www.maxforlive.com/library/device/137/isotonik-le
More information about Isotonik here: http://isotonikstudios.com/isotonik_max4live_akai_apc40/
Drum-o-box Step Sequencer by FBO (free)
Drum-o-box is a sequencer inspired by Roland style drum machines. It's a pattern-based sequencer made up of 16 step patterns which can be up to 8 bars long. Up to 8 patterns can be stored and recalled at any time.

Drum-o-box turns your APC40 into a full on Roland x0x style drum machine!
This device outputs MIDI and so can be used with any MIDI device inserted directly after it in the track or even external hardware instruments. The APC40's Clip Launch and Scene Launch buttons have been converted to live controls for the drum machine and even show the 16 steps of the currently selected pattern and bar scrolling along in real time. There's even a very clever buttton to copy the current pattern to a MIDI clip.
It's a great example of what can be achieved in Max For Live because it completely changes the core focus of the APC40, turning it into a live performance drum machine. If you find that you don't use your APC40 so much when it's in the studio, Drum-o-box could be the perfect device, allowing you to program beats away from the mouse.
Download Drum-o-box Step Sequencer here: http://www.maxforlive.com/library/device/944/drum-o-box-apc40-step-sequencer
APC40 Utilities v2.0 by Nonagon (free)
Not every device has to drastically change the APC40's functionality. Here's a great example of small device which tweaks the system.
APC40 Utilities allows four basic functions. "Metro Scroll" uses the Track Selection buttons as a scrolling metronome which syncs to the Live transport. "Momentary Solo" changes the Track Solo/Cue buttons to react momentarily, so the Solo is only active whilst you have the button depressed. "Illuminate Stop" uses the Clip Stop buttons to indicate when the clip on that track is coming to an end. And finally "Track Select Takeover" allows you to use the Track Select buttons to momentarily enable up to four parameters on two different devices - ideal for engaging beat repeats or other effects on the fly.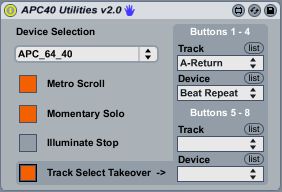 Sometimes small tweaks are all you need. APC40 Utilities 2.0 proves that not all Max For Live devices need to be huge and daunting.
APC40 Utilities 2.0 is one of those simple Max For Live devices which, if you are learning Max For Live and the APC40, is worth opening up and studying. It's well programmed and neatly organised.
Download APC40 Utilities v2.0 here: http://maxforlive.com/library/device.php?id=1024
Conclusion
Hopefully these two articles have demonstrated just how flexible the APC40 controller can be. And this doesn't just apply to the APC40. Any MIDI controller can be customized in exactly the same ways. It's a testament to the open way in which Ableton deal with communication between Live and hardware devices. MIDI Remote Scripts offer a vast universe to explore if you happen to be a skilled Python programmer, but Max For Live offers a great deal of the same functionality in way that's much easier to grasp, although it will still take time to learn.
With Live 9, Ableton also introduced the groundbreaking Push controller which offers even mores flexibility, and we hope to see the community turning this new instrument into previously unimaginable and fun devices.
Find out more about the Push controller here in our Push tutorials:
http://www.macprovideo.com/tutorial/push-101-create-perform-with-push
http://www.macprovideo.com/tutorial/push-201-jordan-rudess-pushing-the-limits