So you've bought an Akai APC40, and it's very useful, but can it do more? The answer is yes and there's a pleasing array of different options. Whether you are a producer, DJ or live performer, the APC40 can be tailored to your needs in a variety of ways.
In this article we'll be looking at MIDI remote scripts. These are scripts which define a specific MIDI controller and how Live will interact with it. Live comes bundled with scripts for most popular MIDI controllers and the default APC40 script is the one you are probably already using. To see all the scripts installed, just go to Live's MIDI preferences page.
Making your own MIDI remote scripts is only for the headstrong. If you know programming languages, particularly Python, you may want to try making your own. Hanz Petrov's blog has some excellent tutorials on starting out with remote scripts.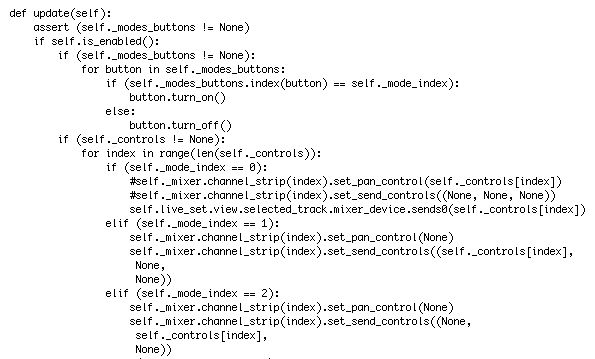 Writing your own MIDI remote scripts isn't for everyone. Luckily there are some excellent pre-made scripts out there.
If programming isn't your bag, or you'd just rather spend the time making music, then here are some amazing pre-made scripts...
APC64-40 by Hanz Petrov (free)
Hanz Petrov put together a blog on how to hack and edit MIDI remote scripts. It's a fascinating read and is probably the best place to start if you want to program or edit your own scripts. He has also been kind enough to offer his own APC64-40 script as a donationware download.
Rather than drastically changing the APC40's functions to suit specific purposes, as the other scripts reviewed here do, it leaves all the original APC40 functions in place and adds to them via various modes which can be accessed via shift-clicking certain buttons. There's a 64-step sequencer which represents a very impressive showcase on just what can be done with remote scripts, and additional modes for clip launch matrix, faders and track control knobs. There's far too much functionality to go into detail here, suffice to say that anyone with an APC40 should download and install this. It's a great all-round script.
Installing MIDI remote scripts is easy, download and copy Ableton's MIDI Remote Scripts directory:
Mac OS X: /Applications/Live 8.x OS X/Live.app/Contents/App-Resources/MIDI Remote Scripts/APC_64_40
PC: C:Program FilesAbletonLive 8.xResourcesMIDI Remote ScriptsAPC_64_40
Download Hanz's APC64-40 script here: http://remotescripts.blogspot.co.uk/p/apc-64-40.html
Find out more about MIDI remote script programming at Hanz's blog here: http://remotescripts.blogspot.co.uk
Glitch Factory by Mr Bill and Will Marshall ($20)
If you use Ableton Live in a live performance capacity, then Glitch Factory may be for you. It is both a MIDI remote script and a Live performance template designed to work together to allow live performance and mixing of stem-based live sets. If you have ever wondered about how to put together a live set of your music using Ableton Live, Glitch Factory is a fascinating insight.
It has been put together by Australian producers, Mr Bill and Will Marshall, and was made for their own live performances. Because of this it may or may not work for your own live setup, but it's an amazing look into someone else's Live world and a good example of just how much the APC40's functionality can be altered towards a very specific goal.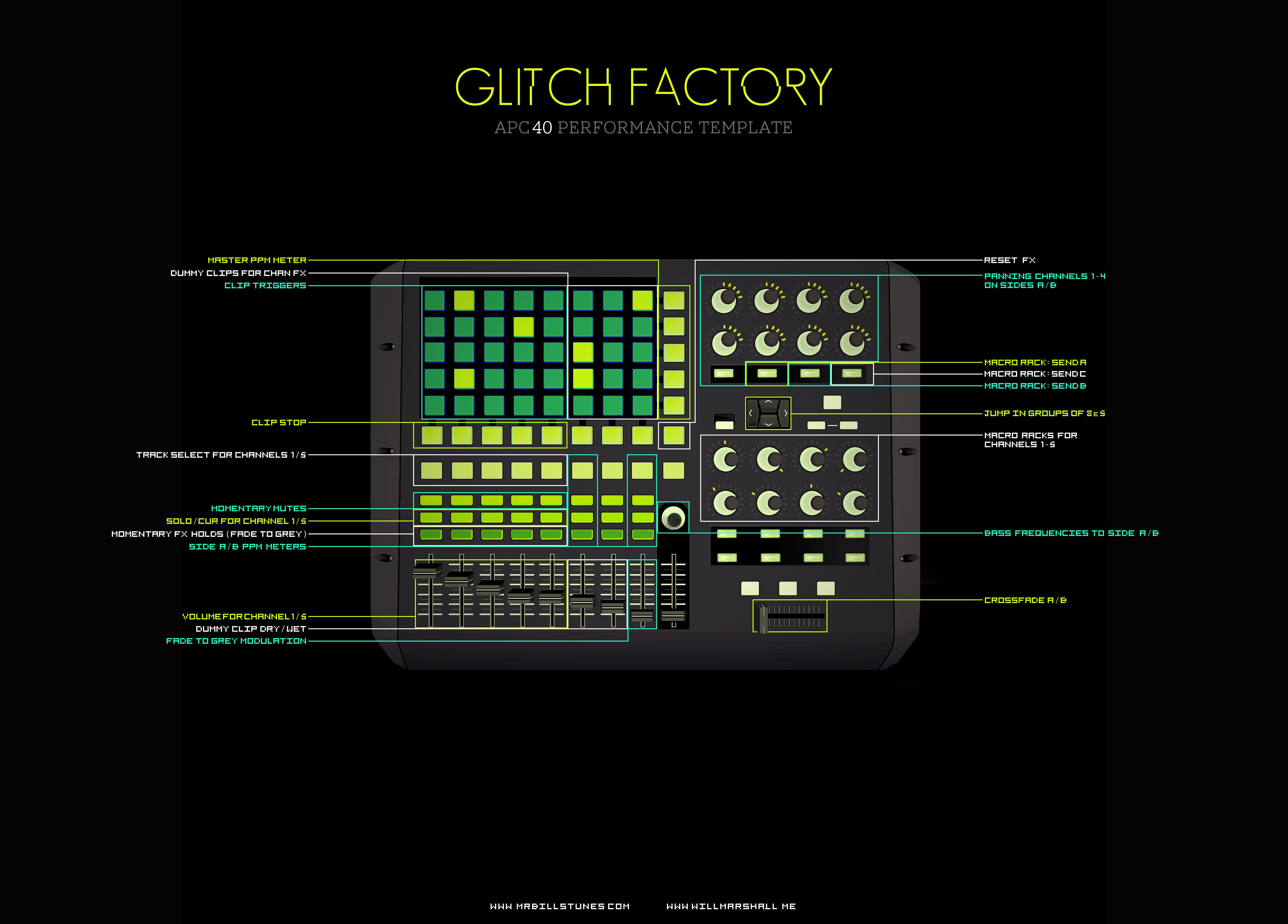 Glitch Factory remaps your APC40 into a lean mean live performance machine.
Music stems are allocated to 2 groups which allows DJ style crossfading between tracks or elements of tracks. There's also a very comprehensive effects setup with specific effects programming for drums, bass, melodies etc. as well as a huge suite of send and master effects all of which are designed to be tweaked live. There's even PPM meters that display on the APC itself so you don't have to be looking at the computer screen.
It is well worth exploring as the duo clearly know their stuff and poking around in someone else's Live set is always an education.
Find out more about Glitch Factory here: http://willmarshall.me/products/glitch-factory
APC40 DJ Template by Ill Gates ($50)
Another live performance remote script plus template package. Ill Gates is a San Francisco based producer and DJ who has teamed up with Will Marshall, who did Glitch Factory, to make a DJ template for his own live sets.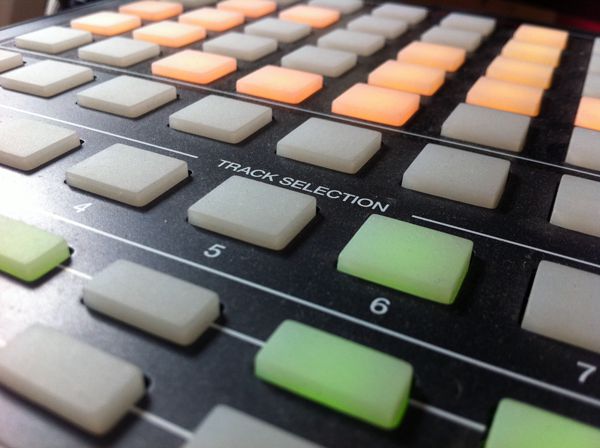 Those buttons can be used for more than just launching clips!
This one is aimed more at the DJ and turns the APC40 into a DJ controller. It's similar to Glitch Factory but offers another take on live performance with the APC40. There is a template Live project with everything set up for you, you just add tracks and go. There's some innovative and useful ideas here such as the 'smart' volume controls which use filters to make better sounding crossfades. It also comes with a big selection of effects racks which are cleverly mapped to the APC40 to allow the DJ to insert momentary effects into the set.
There are two versions of the template, one which mixes tracks internally in Live and another which outputs the tracks to separate outputs on your soundcard if you still want to use a 'proper' DJ mixer.
Find out more about the APC40 DJ Template here: http://illgates.com/2011/07/ill-gates-apc40-dj-template/
In part two of Extending the use of your Akai APC40, I'll be looking at how you can use Max For Live to expand the functions of your favorite controller and we'll be looking at some great patches that do just that.
Stay Tuned! Part 2 is here:
http://www.askaudiomag.com/articles/extending-the-use-of-your-akai-apc40-in-ableton-live-part-2-of-2