Paris, France, December 18th, 2020 — French electronic instrument developer Expressive E presents not just a new software synthesizer, but an original concept in synthesis, Noisy. This hybrid of physical modeling and subtractive synthesis is built on the principle of acoustic resonance—the natural phenomenon behind the sound of vibrating strings.


Noisy's intuitive interface and multidimensional sound design system produce lively and organic sounds with extraordinary expressive potential and complex textures and articulations. Yet behind the scenes, parameters are seamlessly optimized in real time so that no matter what you adjust, the sound always remains highly playable.
Noisy is now available in VST and AU plug-in formats for macOS and Windows 10 at an introductory price of $/€89 until December 31st, discounted from the regular price of only $/€149.
Hear Noisy in action by watching this demo video:
A World of Resonance
When the strings of an acoustic instrument are hit, they vibrate and go into resonance, creating timbres that constantly and vividly fluctuate as they dissipate. Noisy recreates this organic response by sending noises into a suite of resonators. The random, continuously changing behavior of the noise enlivens the sounds with unique character.
Each resonator has an acoustic and a subtractive dimension. The "acoustic" side emanates from optimized comb filter technology, while the electronic, subtractive synthesis side applies resonance to traditional waveforms, a new concept called Resonant Oscillators.
Multidimensional - One Preset, Many Sounds
Noisy has been designed to generate highly playable, multidimensional sounds, whose textures and articulations can be easily combined and manipulated. Every preset has four distinct dimensions of sound design, which can be used on their own, or combined seamlessly with each other. In addition, a preset layering system lets you mix the dimensions of two different presets, allowing endless possibilities for sonic creation.
Expressive FX - Enhance and Articulate
A complete tool set of expressive effects allows you to go much deeper into enhancing your sounds. The FX section is ideal for real-time manipulation and easily creating fluid articulations, breaks, drops, etc... Convenient FX macros make it easy to explore the boundaries of expressiveness.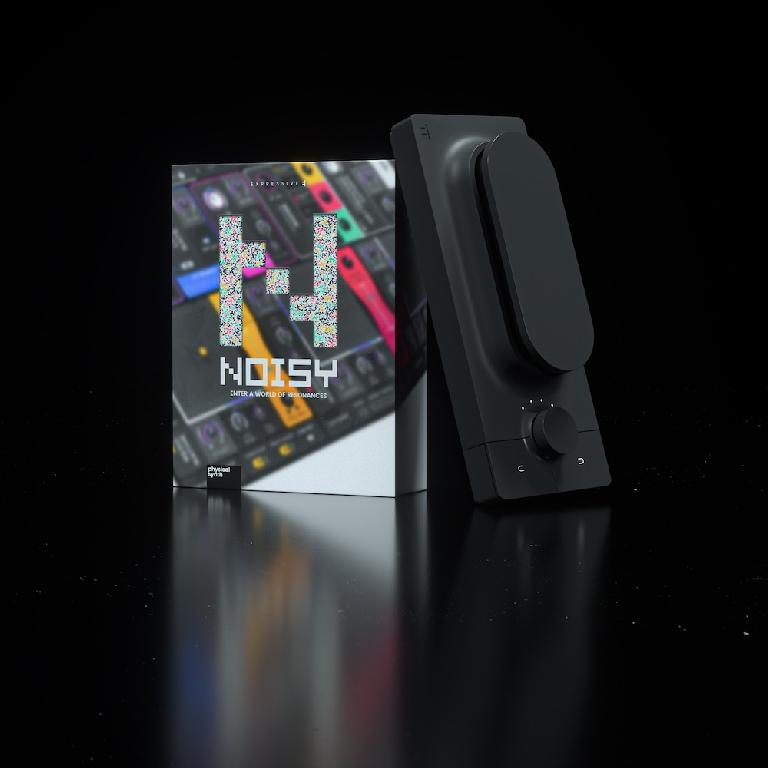 Intuitive Interface -> Exciting Results
Noisy's color coded graphic interface makes it easy to understand each section of the synth at a glimpse. Everything is laid out for a simple yet powerful preset-making experience—you can quickly adjust all the parameters and modulation systems in just a few clicks. What's more, behind the scenes, everything is optimized so that there are never dead zones in any sound. Sensitivity curves and ranges are continuously scaled in the background so you can focus completely on creativity.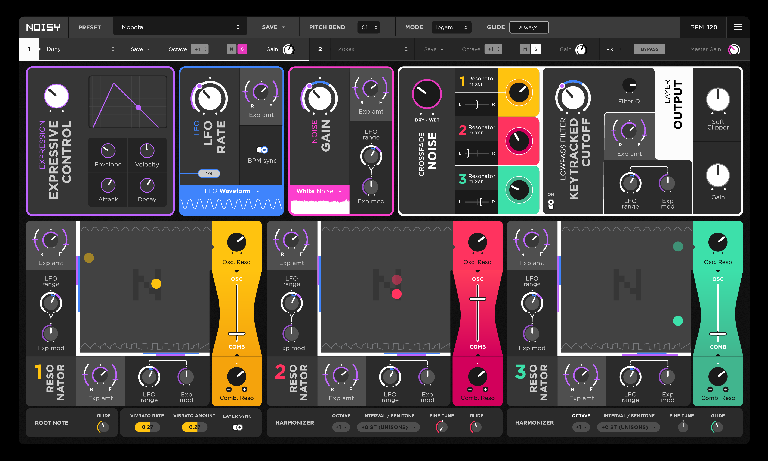 If you want to know more about Noisy, please check out this walkthrough video:
Perfect for Touché and Touché SE
Noisy's four sound design dimensions are an ideal playground for Expressive E's Touché and Touché SE. Fully compatible with Touché and its software companion, Lié, Noisy will push Touché to another level, while Touché will place a whole new universe of sounds and playing articulations at your fingertips.
Watch video Touché + Noisy:
For more information about Noisy, visit www.expressivee.com/61-noisy