La distorsione è uno degli strumenti più utilizzati nella moderna toolbox DAW per la fornitura di tracce e si mescola con tutto da sottili gloss per gustoso grunge di over-the-top grind. Ci sono tonnellate di grandi plug-in di terze parti che forniscono questo trattamento utile, ma la maggior parte DAWs anche venire con il proprio set di tappi per aggiungere la grinta desiderato e Pro Tools non fa eccezione.
Pro Tools Pletora di polverizzazione Plug-Ins
Ci sono diversi plug-in integrati distorsione trovate sotto la categoria Armonica a Pro Tools inserire menu. Quelli sguardo malato in sono: Eleven gratuito; SansAmp PSA-1;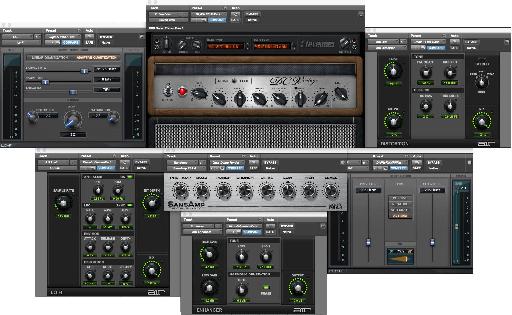 Fig 1 Pro Tools Plug-ins.
Questi Go To
I wont finire il classico rubinetto scherzo spinale, perché Avid ha fatto per noi, chiamare il loro high-end ampli per chitarra modellatore Eleven. Mentre Eleven non è un libero comprendono, Eleven è gratuito, con lo stesso layout, ma solo due amplificatori generici alla spina (Vintage Crunch and Modern Overdrive), piuttosto che le decine di specifici modelli classici incluso nel suo fratello maggiore. Undici gratuito fornisce tutto il necessario per prendere una, ha traccia di chitarra elettrica pulita e rendere il suono come se fosse stato registrato attraverso un vero e proprio amplificatore, con simulazioni di entrambi preamplificatore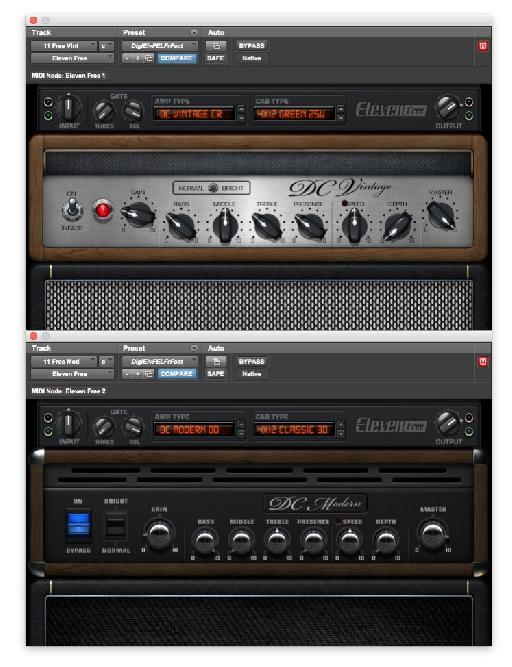 Fig 2 Eleven gratuito.
Audio Esempio 1 Eleven libera amplificatori modellati:
[Id audio = "34447"]
Modellazione un Modeler
Pro Tools SansAmp PSA-1 è un modello digitale di un amplificatore analogico modellatore. L'unità di montaggio a rack originale (ancora disponibile da Tech 21) utilizza transistor FET per simulare la distorsione tubo di circuiti amplificatori classici, e questo plug-in fa un ottimo lavoro di modellare originali vasta gamma di tonalità di distorsione. SansAmp non è solo per la chitarra, sembra grande, in dosi molto più piccole, si può scaldare il basso, chiavi, e, altre tracce.

Fig 3 SansAmp PSA-1.
Audio Esempio 2 SansAmp alla chitarra
[Id audio = "34445"]

Fuzzy Logic
La spina AIR distorsione, invece di sparare per il tubo crisi, come i due precedenti, si propone per il suono di distorsione transistor, come con molti pedali classici. I vari controlli consentono di modellare il carattere della distorsione, da più di un overdrive (IC clippingthink Tube Screamer) al suono fuzz classico (bipolare / germanio transistorsthink Fuzz Face). Questo può sembrare grande da solo o come front-end per un amplificatore simulazione (pulito) tubo. E, ancora una volta, non lo basti pensare guitarit può aggiungere qualche bella crisi a tutti i tipi di piste.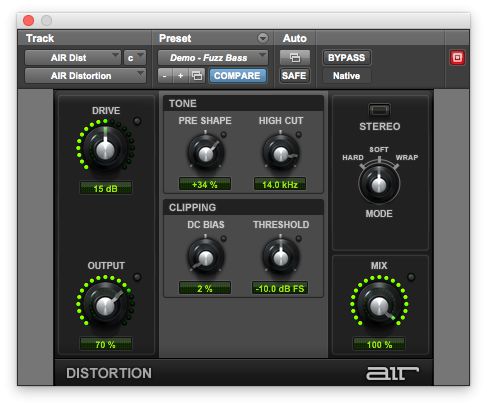 Fig 4 AIR Distortion.
Audio Esempio 3 AIR distorsione alla chitarra
[Id audio = "34446"]
Digital decimazione
Pro Tools non ha uno, ma due plugin Lo-Fi, uno dalla collezione originale e uno della divisione AIR specialità . Plug-in Lo-Fi (noto come Bit-Frantoi in altre DAW) creare distorsione digitale del tutto brutto principalmente riducendo la risoluzione di bit, che può andare da un fizz luce per una rottura salivoso completo, e riducendo frequenza di campionamento, che produce Aliasing digitale, aggiungendo bande laterali che possono conferire un bordo metallico (questo può richiedere un suono in territorio synth reale). Ciascuno dei due plug-in alla spina qui aggiunge le proprie rughe, con la versione AIR compresi chicche aggiuntive come LFO e Busta Mod.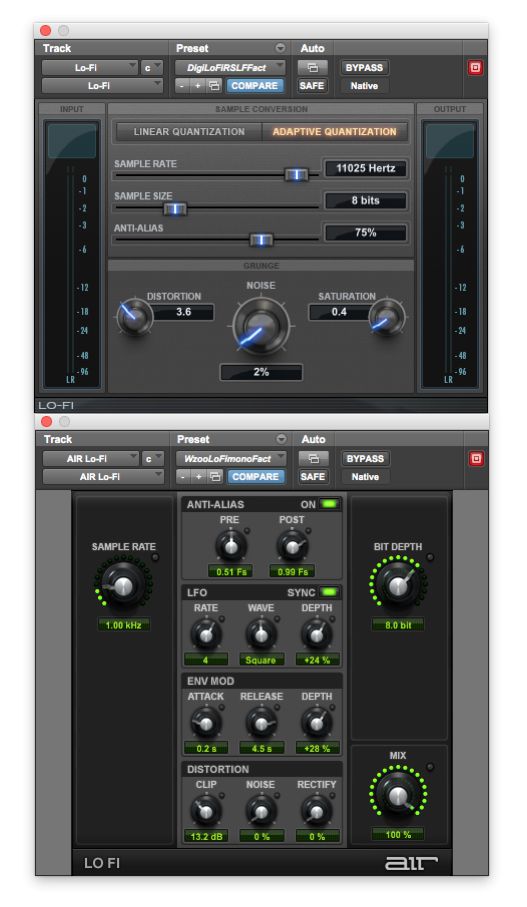 Figura 5 Lo-Fi
Audio Esempio 4 Lo-Fis distorsione digitale:
[Id audio = "34448"]

Double Down
Recti-Fi distorce l'onda da rettifica, che inverte la polarità di una metà dell'onda, rendendo cicli all-positivi o tutti negativi. Utilizzando l'opzione Alt-Max, e combinando il segnale rettificato con l'originale, in grado di ottenere un effetto come quelle stompbox ottava duplicatore classici.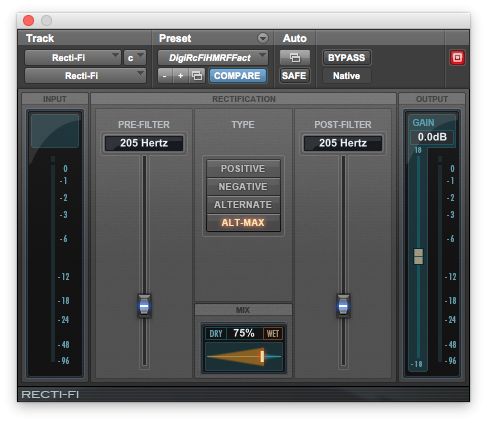 Fig 6 Recti-Fi.
Audio Esempio 5 retti-Fis ottava effetto raddoppio:
[Id audio = "34450"]
Sono Così Eccitato ...
Infine, l'AIR Enhancer non è davvero un plug-in di distorsione, di per sé, la sua un eccitatore (che si chiamava eccitatori uditive). Exciter sono progettati per aggiungere un po 'di luminosità o presenza sottile ad un segnale, ma lo fanno generando quantità appena percettibili di distorsione armonica, quindi la loro inclusione qui. Se spinto troppo, Enhancer, come qualsiasi eccitatore, rivelerà la distorsione armonica dietro l'effetto, ma usato in quantità giudiziosi, si può aggiungere una bella freschezza ai segnali, come alternativa a EQ.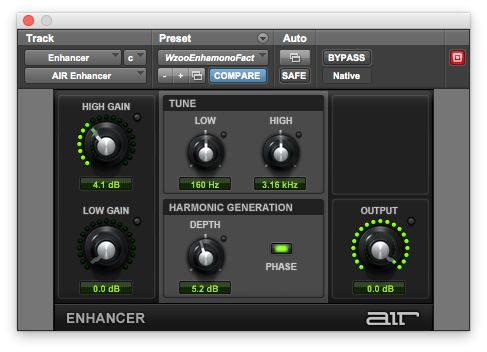 Fig 7 Enhancer.
Audio Esempio 6 Enhancer emozionante chitarra acustica:
[Id audio = "34449"]

Quindi questo è Pro Tools collezione di strumenti di distorsione. Tutto sommato, offrono praticamente qualsiasi tipo di bordo, crunch, macinare, fizz, o lo splendore che si può desiderare, e mentre le spine di terze parti sono sempre una gradita aggiunta alla stalla di effetti, questi può certamente ottenere il lavoro fatto, quando pulito solo costerà tagliarlo.