Live 10's enhanced Max integration brings a number of improvements including a revamped set of powerful Drum Synth modules. Located in the Max for Live Instruments section of the browser, the included Kick, Snare, Clap, Tom, HH, Cymbal, FM, Clang, and Sampler modules are denoted by a DS. Generating a wide range of easily automated synthetic drum sounds, just drop them on a MIDI track, or better yet inside a Drum Rack, to start designing your drums.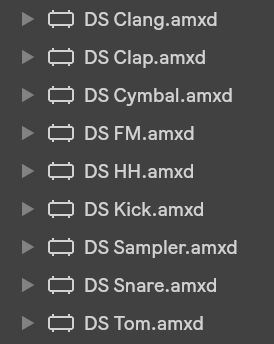 The DS family
Kick It
Where else to start but the bottom? DS Kick's thick sub oscillator can easily be tuned in Hz, with a handy note display making it easier than ever to anchor your low end in key with an entire track. The attack slider softens the onset of this otherwise punchy instrument, with a Click toggle providing more defined high end to cut through the mix with full-spectrum impact.
The default sound is rather clean and has more in common with an 808 than a 909 – but the Drive slider adds welcome distortion for grittier production needs, while OT adds a mid-range resonant tone reminiscent of a 909 if that's more your style. Decay and an optimized pitch Envelope dial round out the kick shaping controls with all the contour you're likely to need.
Based on sound quality, frequency response and ease of use, it quickly took over as my default kick patch. The low-end response is pure, thick and easily controlled, making it a joy to work with. Curiously, it doesn't feature MIDI note input which would allow it to moonlight as a sub bass synth – but of course, the beauty of Max for Live is it can be edited by users, and opticon93 has already modified DS Kick to do just that with the free Green Kick Max patch: http://www.maxforlive.com/library/device/4680/green-kick
Snare & Clap Attack
DS Snare comes in three primary flavors defined by the available filter toggles: LP, HP, or BP. Tone control gradually adds a white noise layer, the texture of which is controlled by the Color amount. The main body of the snare sounds more or less like a mid-range sine wave, and although it comes with a Tune control, there's oddly no note display – though a Tuner placed after could reveal and help guide the key easily enough. The resonant body tone can be a bit loud, and with no discrete volume control or balance between that and the noise, even with the HP setting I found I needed an Auto Filter to scoop out unwanted low frequencies. Meanwhile, the Decay dial is perfectly calibrated for tight clicks and rim shots on one end, and a sufficiently sizable smash on the other.
Providing a welcome variety of downbeat accents, DS Clap comes with a Sloppy control to determine how much flam and timing variation there is from one trigger to the next, while Spread provides variation in the stereo field. Tone adjusts the frequency response, Tune sets the actual pitch, while Decay and Tail combine to control Clap's duration. With just a few easy tweaks, you'll have funky claps cutting through your mix – while the Sloppy and Spread controls inject enough humanized randomness for even the most laid back indie disco jam.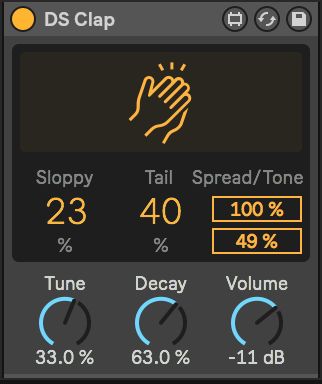 Tuning Up
A pleasingly thick DS Tom with both note and Hz display for the Pitch control fills out the mid-range with aplomb. Bend controls a pitch envelope within appropriate range, from taut-skinned punch at higher values to flatter resonant thuds at lower settings. Tone deliver filtered noise for added texture, while Color adjusts both the character of both the optional noise and primary timbre. Throw a few DS Tom instances on a Drum Rack and you'll be well on your way to propulsive tribal techno.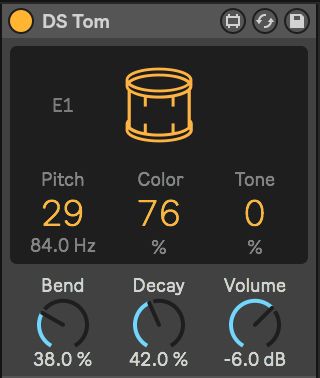 At restricted settings, the surprisingly versatile DS FM module perfectly replicates a tuned clave, again with note display making the Pitch control easy to dial in for diatonic usage. The relatively pure sine tone can be extended by the Decay, while Tone effectively sharpens the result; Decay automation at higher Pitch and Tone settings could create some interesting Triangle-like patterns. Feedback instantly transforms the default clean tone into noise, while the FM Amount and Modulation sliders quickly warp these impulses into laser blasts and futuristic bleeps ready-made for the next Drexciya tribute record.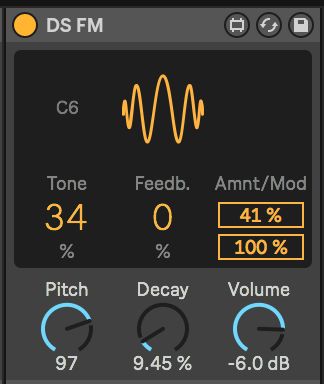 DS FM, set to stun
Providing another approach to tuned percussion, DS Clang is all about classic cowbell sounds. Two square-sounding oscillators are controlled by the Tone A/B sliders, while Noise can be added along with a high pass Filter cutoff control. The Clave toggle provides metallic ping up top, while Repeat can be used to add a rattling extension to the upper register. It's a bit odd there's no note display included with the Pitch control here given its prevalent tonality – though presumably this is due to the complexities of multiple oscillators; nevertheless, a Tuner device can remedy this oversight easily enough.
The High End
Synthesized hi hats make a lot of sense in dynamic electronic productions, especially for vintage electro enthusiasts. Coming in two flavors, White produces more conventional results, while Pink is the way to go if you want a more metallic sound to slice through your mix. Tone controls the sharpness either way, with two filter slopes available: 12 or 24 db. Pitch dramatically shifts the overall timbre, while the Attack can be softened for more shaker-like results.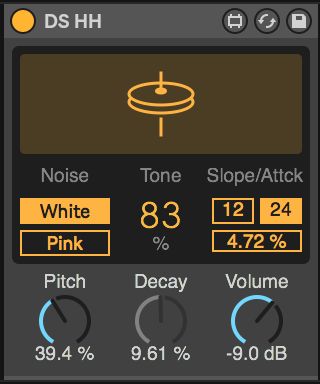 Hats set up to shake (with modulated Decay)
PRO TIP: To create a classic open and closed hat relationship with the DS Collection, place DS HH on two drum rack pads; set the open one to a long decay and keep the other short. Then go to the Chain view of your Drum Rack, enable the I·O view, and set them both to the same Choke group dropdown number; doesn't really matter which one so long as nothing else is assigned to it. Make sure the closed hat is on the higher chain, and you're all set.
Rounding out the collection, DS Cymbal delivers classic electronic splashes with simple Tone, Pitch, and Decay controls, while DS Sampler strips everything down to creative one-shot essentials: Start, Length, Decay, and Tuning; a Shaper provides welcome saturation and thickening, while the optional Loop mode delivers delightfully digitally results at shorter Lengths.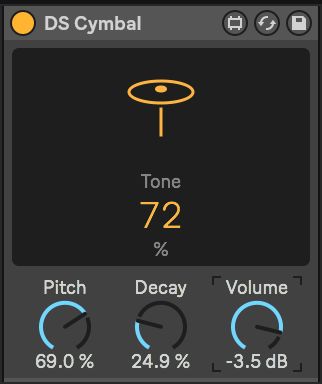 A synthetic cymbal symbol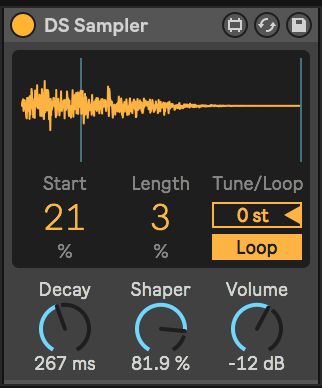 The DS Sampler: for when even the Simpler isn't quite simple enough
Sweet Synthetic Suite
Versatile, great sounding, and easy to use, the DS Collection adds a new dimension to any electronic producer's tool kit – especially considering the dynamic possibilities opened up by modulation and automation of device parameters. It's not hard to imagine new sub-genres inspired by these tools pushing them to new limits. Included with Live 10, the DS collection represents a significant yet understated value enhancement to Ableton's latest workstation.