The FH-1 'faderHost' is a USB MIDI Host in an 8HP Eurorack module, allowing you to directly connect a USB MIDI controller to your modular synthesizer.
Using a suitable connector box (e.g. this) "USB MIDI controller" here includes an iPad or plain old computer.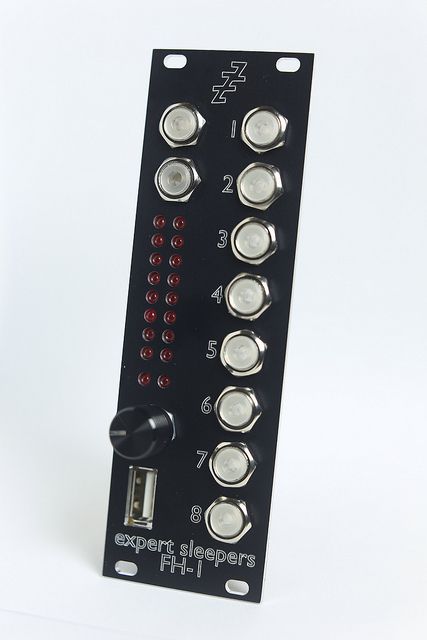 Expert Sleepers FH-1.
As well as simple direct control of the output CVs from MIDI CCs, the FH-1 also offers
LFOs on each output

Step sequencers

Polyphonic MIDI/CV conversion

and much more

with a Faderfox UC3:
with a Korg NanoKey:
with a LaunchControl XL:
with an iPad running TouchOSC:
Preliminary Specifications
The FH-1's preliminary specifications are as follows (subject to change):
Panel width: 8HP

Module depth: 43mm

Current draw: 70mA on the +12V rail, 30mA on the -12V rail (100mA total)

plus the power requirement of the attached USB device.

Outputs: 8

Digital-to-analogue conversion: 14 bit

Voltage range: jumper selectable between ±5V, 0-10V, 0-5V

Inputs: 2 digital inputs for clocks etc.

USB socket: Type A

The front panel is drilled for both Doepfer and Analogue Systems mounting holes (using a 'slot' rather than a single round hole). The power connector is a Doepfer standard 10 way IDC, with -12V furthest from the top of the board.
Pricing & Availablity
The FH-1 will be unveiled at the NAMM show, January 2015, and is expected to be available around April 2015.