TempoRubato is the developer of NLog Synth, which was among the first high-quality performance synthesizers for the iPhone platform. They've also recently updated their product line with NLog MIDI Synth (among the first iOS synths to support external MIDI control) and NLogSynth PRO for iPad.
I immediately fell in love with NLog Synth when it was first released, both for its great sound and its high degree of programmability. (The original NLog Synth, now called NLog Free Synth, is not only a great deal - it's free! - but also an excellent platform on which to begin learning the mysteries of analog synthesis.)
Now TempoRubato is about to release its first product for OS X, called NLogPoly Synth, in both standalone and Audio Unit versions. Let's take a look at it and see how it measures up to its iOS predecessors.
[See the end of this review to find out HOW TO WIN NLogPoly Synth and other fantastic prizes - Ed]
First Impressions
When you first launch NLogPoly Synth, you see a keyboard with a number of patch slots above it, and above that, controls that let you modify the built-in sounds or create your own from scratch. Everything happens in this one window; you click the buttons along the top edge of the window to select different functions within the window. The program ships with 192 built-in sounds, which you can play either with the built-in keyboard, with an external MIDI controller, or with the Mac's QWERTY keyboard. To load one of those sounds, you select a patch slot above the keyboard, click the Load button at the top of the window to open the banks window, choose a bank, choose one of the three pages in each bank, and click on a patch to load it:

And those sounds are excellent - rich, powerful, virtual analog sounds that compare well to softsynths costing many times more. And while we're at it, how much is NLogPoly Synth? - $24.99 through the Mac App Store, which is an outstanding price for a Mac app that sounds so good and offers such programmability. Once you purchase, you then get a link to download the Audio Unit version of the synth, which will run in any standard AU host. You do need to have the standalone app installed to run the AU, however.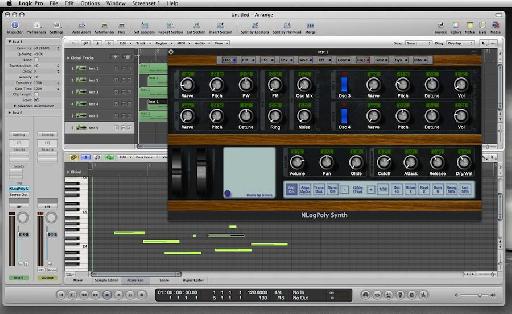 What's Inside

NLogPoly Synth is, like the other NLog Synths, based on a fixed-architecture analog synth structure - that is, unlike fully-modular synths in which you create patches by connecting modules together with patch cords, NLogPoly Synth is designed more like a classic Moog Minimoog, where you can't really change the order in which the modules are patched.
But that shouldn't be considered a liability - there's an enormous variety of sounds you can create even within this fixed architecture. NLogPoly Synth includes a total of four oscillators per patch, along with two filters, two LFOs (low frequency oscillators), frequency and ring modulation between the first two oscillators, 3 envelope generators, delay, reverb, and EQ effects, an arpeggiator, and extensive modulation routing capabilities. And there's an assignable X-Y pad for further performance control.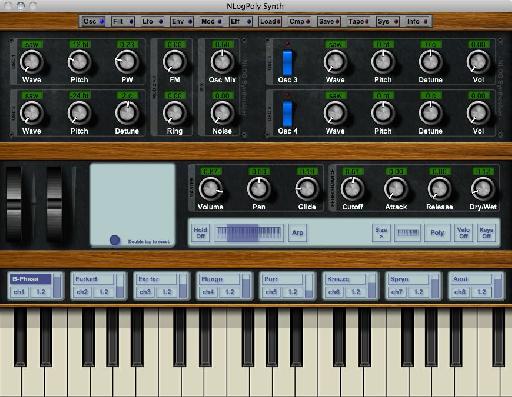 Listen Up
Take a listen to some impressive sounds created with NLogPoly Synth for Mac:
Furkett:
HiPass:
Implex:
Ruzzia:
A Step Up

Now, all these features are included in NLogSynth PRO for iPad, but where NLog Poly goes beyond is that you can play up to 8 separate sounds at once, each on its own MIDI channel and own audio output if desired - that's what those patch slots above the keyboard are for - for potentially hundreds of simultaneous voices, depending on your processor speed of course.
Features like these in a $99 application would be outstanding; in a $24.99 app, they're incredible. If you're into authentic analog sounds and programmability, NLogPoly Synth is a no-brainer - just buy it.
macProVideo.com Competition (NOW CLOSED)

To celebrate the release of NLogPoly Synth for Mac we're running a very cool contest with some excellent prizes! Find out how YOU can win below.
To enter all you need to do is tell us "why you think NLogPoly Synth rocks" in a comment at the bottom of this article. That's it! (Only one comment per person is allowed).

Winners will be selected by a random draw on 1st June 2011 and announced on this page after that date!
Here's what YOU can Win:
** 1ST PRIZE **
NLogPoly Synth for Mac

NLog for iPhone or iPad

** 2ND PRIZE **
NLogPoly Synth for Mac

NLog for iPhone or iPad

** 3 x RUNNER-UP PRIZES **
Excited? We are too! So go ahead and add a comment below to have a chance to win one of the fantastic prizes above! And share this competition with your followers and friends via Twitter and FaceBook.
PRIZE WINNERS!!
1st Prize : Kelvyn

2nd Prize: Bret

3rd Prize: Lokey

3rd Prize: Pat Buckna

3rd Prize: Lung

Congrats to you all! We'll be in touch very soon with details on awarding your prizes! If you didn't win then check out the NLog range of synths here: