These days, you've got to have your product locked down tight if you're planning on doing a bread and butter synth that even hopes to compete with reigning champions like Massive, Rob Papen's line and the reFX synths. Even free synths like Synth1 can even be some stiff competition. With this in mind, when I was asked to review Hybrid 3, a synth I've never encountered even in the earlier versions like Hybrid, I was curious to see how it would hold up… Well, it does.
What is Hybrid 3?
In a nutshell, it's a synth that emulates classic analog synths with some serious warmth. It also rocks two extremely versatile step sequencers that work as arps, gates, and tons of modulation possibilities. But, where it really shines is really with the Hype Engine, Doubling and Analog Warmths. Seriously, go through the patches and your jaw will drop from thickness.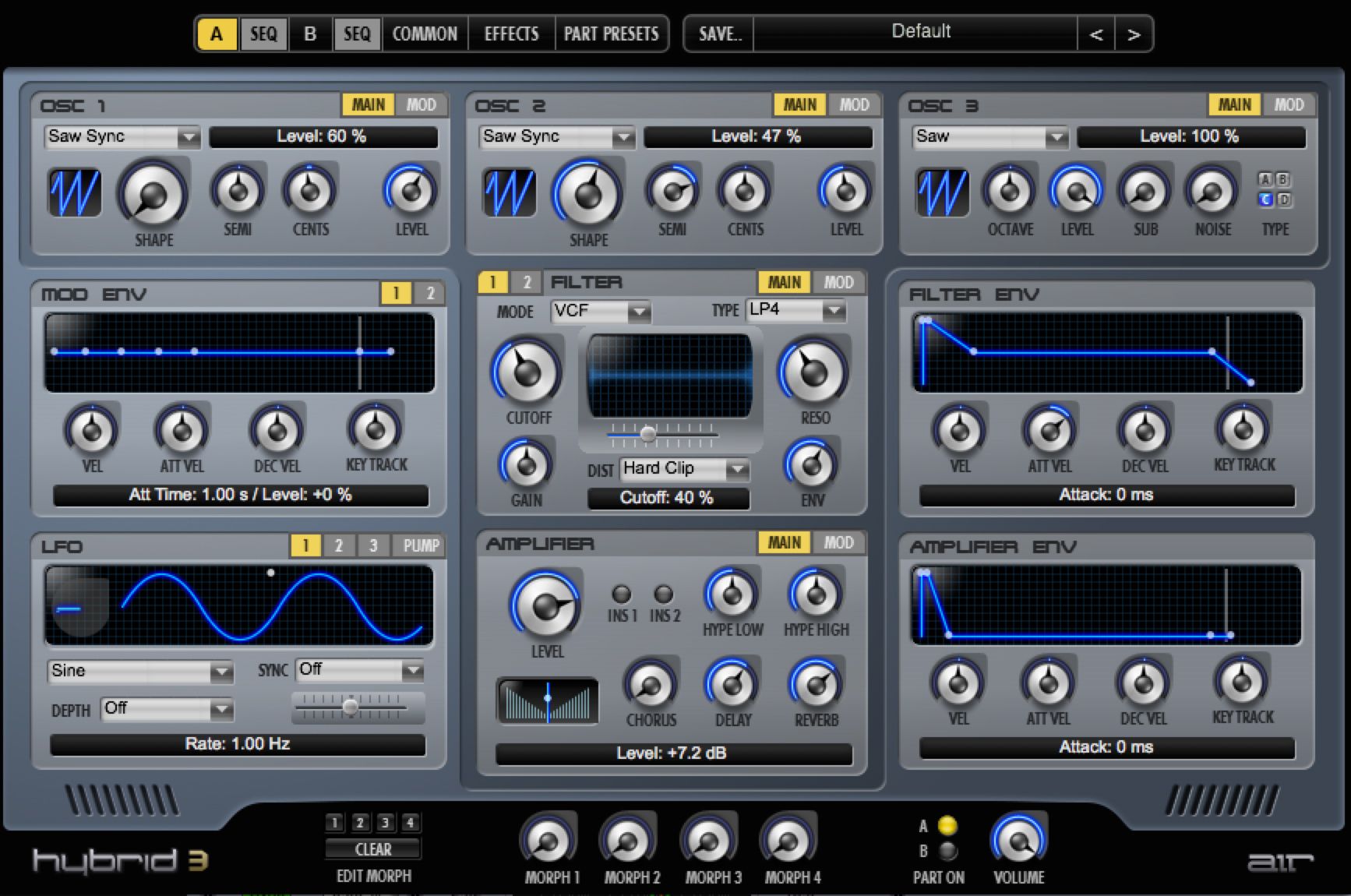 The Presets are a Feature, here…
You can look at my other reviews and you'll note that I don't tend to bring up presets much. This is one of the first time that I'm going to start and say that these presets are amazing. There are so many basses that sit perfectly in the mix while still having a pump that you can even feel in headphones.
The basses aren't all that rock... Actually everything does. The pads, however, really impressed me. I'm a real sucker for lush, warm, creamy synth strings, pads, and choirs. Hybrid 3 delivers.
What I found particularly impressive was how good they sound, and how light it was on my CPU. The only other synths that really do what Hybrid 3 does, and that I mentioned earlier, are much harder on a CPU. I was able to run three instances on a very dated computer (2008 MacBook Pro) and I didn't have any hiccups the way I do with some of the other power synths.
New Features!
Much of the richness and depth of the patches, besides coming from extremely nice oscillators going through some amazingly robust filters, would be due to the Hype Algorithm, which has adjustments in the Amplifier section and is nicely backed up by the new Doubling features in the Common section. The Step Sequencer also got a nice update with the ability to link steps, which is amazing for getting some interesting rhythms going. And, while this isn't a new feature, I was particularly impressed with the ability to be able to import MIDI into the Step Sequencer, so that you can use Hybrid 3 like a phrase synth. I've only seen this feature in one other synth, the Z3TA+ from Cakewalk.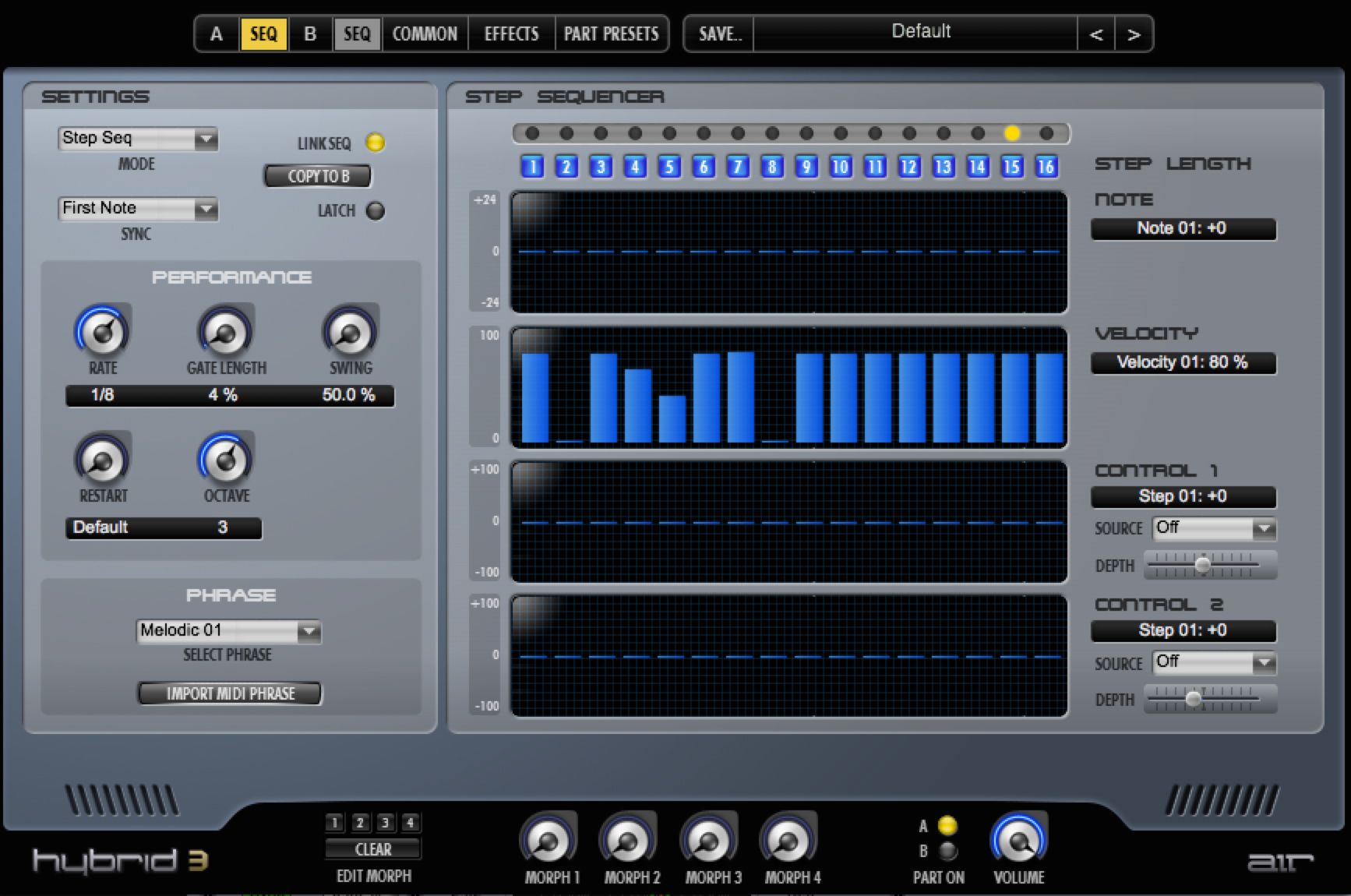 Conclusion
I was skeptical going into this review, as Hybrid 3 is a synth that doesn't necessarily do anything that new… At first glance. However, I was floored by how good it sounds while still being so easy on the processor. And, again, the presets really do cover all the bases. If you're a dance producer, composer, or even a DJ, you're going to be extremely happy with Hybrid 3. It's a synth that can fill many different roles and doesn't take much. It's a workhorse synth, plain and simple.
Pros: The best instant gratification I've encountered in a synth in a long time. Fulfills many roles and is easy on the processor.
Cons: The setup was a little frustrating. Not that big of a deal, however.
Price: $149.99