Tem sido 11 anos desde a versão 1.0 foi liberada sobre um mundo desprevenido e
Registro adeus, Olá Áudio
Quando lançou seu primeiro Propellerheads sequenciador de áudio, Registro , muitos de nós se perguntou por que suas características não estavam fundidas diretamente no Reason. Bem, a Razão 6 agora combina todas as características da Record. Assim, gravação de áudio e edição de áudio estão todos aqui. No passado muitos músicos de estúdio ligado Reason to Ableton, Logic, Cubase, etc via Rewire, a fim de fazer uso desses outros programas de áudio e habilidades seqüenciamento. Agora, parece Razão 6 pode ser considerado um DAW de pleno direito em seu próprio direito.
Razão 6 pode gravar faixas de áudio ilimitado e que também possui um editor de comp. Isto permite ao usuário gravar um desempenho vezes múltiplas e, não apenas escolher o melhor tomar, mas escolher as peças de cada performance (ou tomar) e combiná-las para fazer o perfeito desempenho registrado.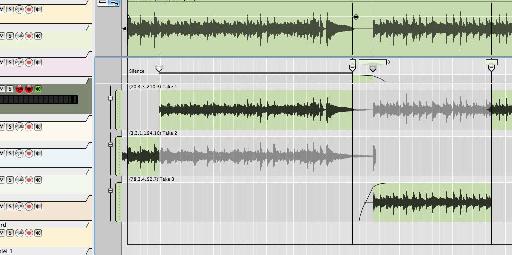 A inclusão de um maior motor de sequencer tempo com base significa que você pode facilmente executar todos os tipos de tempo de alongamento e truques transposição para mudar o tempo e / ou tom da música inteira ou partes individuais de áudio. E, todos os seus não-destrutivo também.
Posto de mistura
Cada DAW tem uma mesa de mistura, assim o que é tão especial sobre o incluído em razão 6? Cada recurso de canal de uma massa de controles para EQ, dinâmicas, efeito envia, inserir efeitos, com roteamento flexível de compressão de ônibus opções e, claro, uma seção fader. Então há também uma seção destinada ao compressor Mestre uma maneira rápida e fácil de dominar a sua música. Não impressionado ainda? OK. Você precisa verificar o som e as opções de roteamento. Propellerheads tenha modelado sua mesa na 9000K renomado SSL. Isso equivale a EQ e compressão modelado na SSL 9000, que é uma coisa muito boa!

Rack Em Up
Efeitos de três novas também foram anunciados. Heres um breve run-through:
Pulverisor: Se você precisa de sujo, crocante de compressão, esmagado ou distorção aplicado ao seu sinal de áudio este poderia ser o único a visitar.

O Echo: Propellerheads descrever este como o melhor de ambos os modernos e analógico, mundos velha escola por atraso. Uma ênfase é lugar no The Echo sendo usado como um efeito de desempenho jogável.

Jacaré: Sendo um amante de efeitos gated, esta tripla interesses portão filtrada me mais. O sinal de som alcançar o Jacaré é dividida em três canais que podem ser processadas separadamente. A idéia é que cada canal do som, seja ele um som synth plana ou um loop de bateria, pode ser transformada em complexo de texturas rítmicas ou loops torcida. Jacaré também possui sua seção de efeitos próprios, onde a distorção, modulação eo atraso pode ser aplicado a cada um dos três canais de forma independente.

Netuno: Propellerheads sempre foram altamente considerados por sua tecnologia time-stretching. Neptune fornece correção de afinação diretamente voltado para aqueles que desejam transpor os vocais naturalmente. As características de síntese de voz permite ao usuário fazer novas harmonias e criar todos os tipos de efeitos estranhos e maravilhosos.


O que mais?

Balanço : É uma interface de áudio USB 2 projetado por Propellerheads com algumas características muito interessantes. Apesar de ser um 2 in / 2 interface, Balance tem toda uma gama de insumos para que você não pode precisar que misturador separado depois de tudo.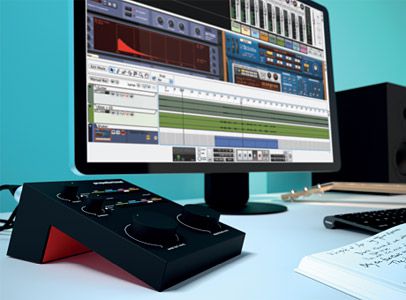 Projetado para ser extremamente fácil de usar, Balance tem uma característica destacam-called Clipe segurança. A interface de registros de duas versões do sinal de entrada para canais separados (um a um menor volume). Se a gravação de clipes em qualquer lugar que você tem um pedaço de backup de áudio que você pode usar em seu lugar. Muito inteligente.
Upgrades: Razão 6 é devido ao navio em 30 de setembro de 2011. Há uma gama de
Versões
Reason: 449 USD

Reason Essentials (Record + some elements of Reason): 299 USD

Balance with Reason Essentials: 499 USD
E finalmente: Propellerheads Reason anunciou que seis serão totalmente 64 bits!
Então, qual sua opinião sobre o novo anúncio da Razão 6? Animado sobre Balance? Avise-nos por popping seus pensamentos em um comentário abaixo e fique atento para macProVideo.com notícias sobre tutoriais de vídeo Razão 6 .